Best Moving Truck Rental Companies of 2023
Everyone is looking for a way to reduce the cost of moving from one home to another. A few dollars saved on moving your household items during your relocation activities can go a long way in buying new furniture, new appliances, and all sorts of things for your new home.
While there are many ways to save the cost of moving, going for DIY through moving truck rental is one of the best options to consider.
Moving by rental truck is an integral part of a DIY move. This option shouldn't be a strange method for many people who have previously moved, as your so-called moving company does also use the truck to convey the load and would still charge you higher.
In this new generation of moving, you can save yourself stress and cost by renting a moving truck and as well as movers to help you load your stuff and enjoy the ride with a truck driver or drive it yourself.
By doing all these, you have saved yourself some cash that would have been cast away by hiring a professional moving company.
Apart from saving some bucks, there are benefits associated with renting a moving rental truck. You would be able to decide your move schedule and monitor how some delicate items are loaded into the truck.
Above all, you can only enjoy all these advantages if you choose a reliable moving truck rental company for your move.
There are many of them out there, but only a few can give you what you want. iMoving had researched top moving truck rental companies and came up with the best 5 companies you can consider for the job. Read on to discover.
Overview of Moving Truck Rental Companies
Truck rental companies are part of the moving industry that allows consumers to hire large vehicles such as trucks, pickup vans, and cargos, in which all the boxes containing their belongings are loaded and conveyed to their new homes. This is simply referred to as Do-It-Yourself (DIY). DIY is as simple as:
renting a truck at a nearby facility,
load it with your stuff (either loaded up by self or hire loaders or relatives to help you),
hire a driver or drive the truck yourself to your new home,
unload the truck the same way it was loaded and
return it to the owner.
With this method, you can only spend between $200 and $1000 based on the distance of your new location. While few moving truck rental companies can make this possible, some can turn the process into a nightmare.
There have been some cases whereby moving trucks rented by consumers broke down, and consumer's items missed in the process. Is this what you pray for? No! This is the reason we came up with this list of the best moving truck rental companies that can get the job done for you.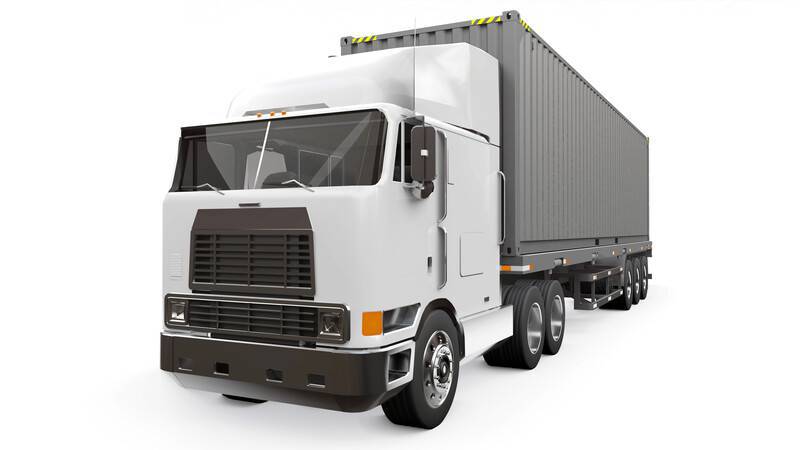 Top 5 Moving Truck Rental Companies in The United States
Our recommendations evolved from a series of research and customers' reviews about the scope and integrity of each company.
These companies have been tested and trusted to be the best among others. Let's look at them one after the other:
1. UHAUL® Truck Rental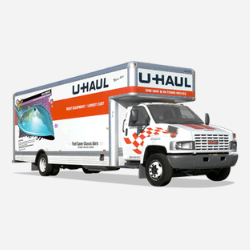 U-Haul® is one of the pioneer companies that introduced DIY move, and since then, the company had been living up to responsibility regarding truck rental services.
The company has one of the highest locations in the US and Canada with over 15,000 locations altogether after Penske. This is the second-highest compared to other truck rental services in the same category.
So far, U Haul has been reviewed to deliver on its core mandate of renting out different sizes of trucks. You can easily reserve your chosen truck online, or any nearest location in the United States and Canada, and your reservation will be processed without fail.
However, the company may have its shortfall. For example, you might be deceived to purchasing stuff during online reservation because those product quantities have been pre-input for you.
This is one of the reasons for booking on the phone through a customer service representative or visit the nearest location is advisable against online reservation which can be frustrating sometimes.
Apart from this, U Haul is the best overall as regards the availability of a wide range of truck sizes and many locations or pick-up centers. Also, the company will pay you for any inconvenience caused by the company. In summary;
Locations
Over 20,000 in the U.S. and Canada.
Available Vehicle Types and sizes
Trucks: 10'-, 14 -, 15'-, 17'-, 20'-, 24'-, 26'- foot
Trailers: Cargo - Utility – Car
Pickup Cargo Vans:
Ubox® Containers
Website: www.uhaul.com
Pros

Cons

Provides service for more than 20,000 locations
Makes online booking easy
Offers many different sizes of truck
Have moving trucks that have low decks and "EZ-Load" ramps
Offers moving trailers rental in various sizes

Changes reservations when there is low truck availability

 
2. PENSKE® Truck Rental
Penske's® has stepped up its game in the moving industry with its outstanding truck rental services which continue to serve the logistics and commercial needs of its consumers.
The company offers both local and long-distance move with its pickups and trucks based on the size of the load. With its over 50,000 centers located in the United States and Canada, Penske has the highest branches so far.
Apart from truck services, Penske also offers towing services to consumers who want to tow their broken-down vehicles. All their prices are fair and negotiable, as their agents are available to help consumers find a discount in a view to reduce their cost of moving.
However, the company's trucks are small in size only effective for the specialized move. Also, it is advisable to make inquiries about available offers to get the best deal regarding price and value.
Besides this, Penske has overall better customer service with lots of safety information on their platform and effective handling of complaints in case you are intimidated by their truck drivers or have issues with their truck. In summary;
Locations
Over 1,000 in the United States and Canada.
Over 2000 pick-up/drop-off centers and home depots
Available Vehicle Types and sizes
Trucks: 12'-, 16'-, 22'-, 26'- foot
Tow Dolly
Car Carriers
Website: www.pensketruckrental.com 
Pros

Cons

Present in all the states in the country and Canada
Offers four various sizes of truck
Offers numerous discounts
Provides many coverage options

Local moves more expensive than U-Haul and Budget
3. BUDGET® Truck Rental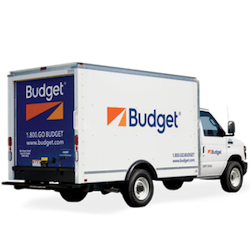 When you talk of competitive prices compared to other truck rental companies on this list, give it to Budget® Truck Rental. This has been attributed to its varieties of discounts available in the company to lower the cost of moving.
It has over 1,700 locations across the United States but has not expanded like U-Haul and Penske. It is one of the reputable truck rentals with GPS for easy location; hence, if you don't like asking for direction, Budget is the right service for you.
The prices charged by the company for its truck vary based on the time of use. For example, if you book Budget truck rental in advance (especially between Sunday and Thursday), you stand to enjoy a great deal.
However, it is not that easy to make changes to your reservation especially if you book online. Most of the complaints are redirected to the local representatives.
Apart from this, Budget gives you a guarantee on your reserved truck and as well as your choice of pick-up location; hence, it is very easy to plan your move. in summary;
Locations
Over 1,700 in the U.S. and Canada
Available Vehicle Types and sizes
Trucks/cargo vans: 12'-, 16 -, and 24'- foot
Car Carrier
Trailers
Car Dolly
Website: www.budgettruck.com
Pros

Cons

Present across the whole United States
Long-distance moves are charged lower costs
Offers instant online quotes
Provides discounts for sections such as military members, students, and others

Charges more for add-ons than U-Haul

± Has only three sizes of moving truck

 
4. Enterprise® Truck Rental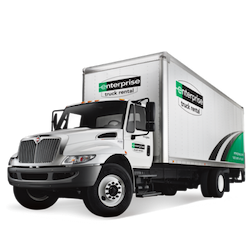 Enterprise Truck Rental is one of the best truck services in terms of a wide range of operational fleet vehicles including different sizes of trucks, cargo vans, pickup vans, and parcel vans for various sizes of moves.
With its over 270 locations in some states of the US and its continued expansion to other states, the company has been serving the relocation needs of its consumers for more than a decade.
Apart from truck service, Enterprise is also into services such as hand trucks, larger box truck rental, and as well as furniture pads to ensure a smooth and safe move.
However, it only charges on mileage rates if your distance of the move is over 300 miles; below this, it charges flat rates for all. Enterprise Truck Rental's website stands out among its' competitors.
The platform is so equipped with the content required by consumers to choose the best size or location for their truck needs. You can easily reserve your need online or through a phone call to a representative.
It has been reviewed to be the best for local or instant move using its small or medium-size truck based on your move. In summary;
Locations
Over 270 location across 44 states of the US
Available Vehicle Types and sizes
Straight Trucks: 24'- foot and 26'- foot
Cabover Trucks: 16'- foot
Stakebed Trucks: 16'- foot and 24'- foot
Cargo Vans
Pickup Trucks: ½ ton, ¾ ton and 1 ton
Parcel Vans: 15'- foot
Website: www.enterprisetrucks.com
Pros

Cons

Offers the most types of moving vehicle on our list
Available across the US and Canada

No 1-way rentals
Online pricing not stable
5. Ryder® Truck Rental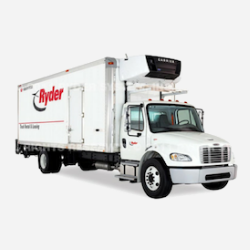 Ryder Truck Rental offers spacious trucks to accommodate any size of items you may want to move.
If you are looking for a lot of space or want to move specialized items such as temperature-sensitive or weather-resistance materials, consider using Ryder Truck Rental.
The company has a flexible reservation and cancellation if you must do it. Overall, they have the most affordable prices, especially for their size categories.
Ryder Truck Rental has varieties of trucks and van sizes for different moving sizes to ensure you get value for your money.
If you want to move a 1-bedroom apartment, what you would pay is quite different from when you are moving a 3-bedroom apartment. In summary;
Locations
Over 500 pick-up stations across the United States
Available Vehicle Types and sizes
Van Rentals
Truck Rentals: 20"- foot and 26"- foot with life gates
Trailer Rentals: (Only for Business Customers)
Tractor Rentals: (Only for Business Customers)
Website: www.ryder.com
Pros

Cons

Offers different weather-resistant moving trucks
Affordable pricing
Flexible reservation and cancelation
Excellent customer support service

Long-distance moves not always available
Different services all over the locations
The following table displays the best moving truck rental companies: 
| | |
| --- | --- |
| No. | Moving Truck Rental Companies |
| 1 | UHAUL® Truck Rental |
| 2 | PENSKE® Truck Rental |
| 3 | BUDGET® Truck Rental |
| 4 | Enterprise® Truck Rental |
| 5 | Ryder® Truck Rental |
How Much Does it Cost to Rent a Moving Truck?
It is a fact that renting a moving truck is less expensive than hiring a professional mover. Despite this, if you are new to the truck rental process and don't know how the rental cost is calculated, you may find the final price surprising.
A moving truck rental is popularly known as the Do-It-Yourself (DIY) moving option and is a nice alternative for both local and interstate moves.
Although it is very easier to understand how a rental truck is priced, there is also much confusion about the cost of a rental truck.
You will find a detailed breakdown that will explain everything to you about the cost of moving truck rental.  
The Average Cost of Renting a Moving Truck 
Daily rental of a moving truck starts from an average of $20 for the smallest moving vans up to $100 for larger moving vehicles.
However, the daily rental rate for moving trucks is different from the overall cost of renting a moving truck a day as the overall price is determined by finding the sum of all applicable charges, including taxes to the normal rental price.
Here is the full formula:
Overall rental price for moving truck = rental fee + mileage fee (for short moves) + fuel fee + insurance costs + cost of requested extra moving equipment + environmental fee + Taxes.
Below is the detail of the factors that affect the overall cost of the rental moving truck: 
1. Size
The size of the vehicle determines the daily cost of the rental. Meaning that the larger the moving truck, the costly the rental.
Smaller moving trucks of 10 ft. and 12 ft. generally costs about $20 to $30 per day.
Medium moving trucks of 14 ft., 15 ft., 16 ft., and 17 ft. generally costs about $40 per day. 
Larger moving vehicles of 20 ft., and 22 ft. generally costs about $40 to $80 per day. 
The largest moving trucks of 24 ft., and 26 ft. generally costs about $60 to $100 per day. 
The rental rates for some sizes of moving trucks may be lower or higher based on the particular moving truck rental company. 
2. Type of Move
The moving truck's rental cost is affected by the type of the move, whether local or long-distance move: a mileage fee is applied during a local move and is usually between $0.59 and $1 per mile. However, truck rental is only available for a day and must be picked and returned at the same location.
This implies that you won't spend beyond $300 to rent a moving truck for a local move.
For a long-distance move, you won't be charged a mileage fee, but the rental provider may give you certain mileage you have to maintain, although you can always purchase additional mileage.
Your move will likely take many days, and you will need to return the rental truck at a location different from your pick up location. That means that the long-distance rental cost for your moving truck may be as high as $5,000.
3. Timeline of the Move
The overall price for moving truck rental is dependent on the timeline of the move. That means the number of days it took to use the rental truck.
Moving truck rental duration may span a couple of days to weeks based on the distance between your current and destination home. The rental provider will surely charge you the fee per day for every 24 hours. So your moving distance will tell on your overall bill.
4. Additional Service
Additional service required by your move increases the rental cost of your moving truck. You will have to pay extra for additional supplies, moving accessories, equipment, packing supplies, and so on that, you requested for your relocation.
The final price will also be affected by the pick-up and drop-off addresses, the popularity of the route, and the type of insurance policy you opt for.
Also, note that there may be some extra fees, and you may need to make an upfront deposit to book the right size of the moving truck for your desired moving date. Make plans for any addition to the rental cost of the moving truck during your budgeting as you will be paying for parking, fuel, meal, road tolls, and lodgings while on the move for a cross-country relocation. 
5. Moving Date
Rental rates for moving trucks vary based on the date of the move. An increase in customer demand leads to an increase in rental rates.
You will be paying more for moving truck rental at the start of a month, during holidays, or on the weekend due to an increase in demand for moving truck rental.
Additional Moving Truck Rental Fees and Costs
You must clearly figure out all the possible charges and fees that go into a moving truck rental to avoid or plan for them alongside your budget. 
Additional driver fee: There are specified drivers for the rental moving truck, so make sure they are all included in the rental contract. During your moving truck rental, you can add about 3 extra drivers to the rental agreement, which goes for $14 to $20 per day for each driver.  
Charge for a young driver: Many moving truck rental companies charge drivers under the age of 18 to 23 years at around $25 daily. 
Fee for late return: The moving truck rental company will charge you for the additional day you hold the moving truck after the expiration of your supposed drop off date. This fee may be up to $40 to $100 per extra day for long-distance moves. 
Extra mileage fees: Going past the specified mileage in your agreement on a 1-way rental will lead to an extra charge of about $0.85 to $1 per mile. 
Gas fee: The fuel level will be noted during pick up. Upon returning the vehicle, if the gas is not up to the marked level, you will be charged for it, and some moving truck rental providers will charge you around three-times over the normal cost to refill the tank before you return it.  
Cleaning fee: A cleaning fee is applicable if the moving truck appears dirty upon return, a condition that wasn't so during pickup. 
Damage fee: You must return the rental truck in its original condition during pickup to avoid the damage fee. In the event of any damage to the vehicle by you, a penalty will be charged to you. The amount will be based on the level of the damage.  
Cancellation fee: Cancellation policy differs from one Rental Company to another, but you can often cancel your booking up to 48-hours before the agreed pickup time without being charged for it. You will be required to pay a fee for cancellation after that window expires.
Cost-Saving Methods When Renting a Moving Truck
Moving truck rental costs can greatly add up after calculating the related costs and fees.
Find the ways to get the best deals when renting moving trucks and how to lower your related rental expenses to the barest minimum. These tips will be of help: 
Select the right time to relocate: As discussed earlier, moving truck rental rates are on the high side during peak seasons when most house moves are performed, and the demand for moving trucks is higher.
Plan your relocation to fall on a weekday during the low-demand season when availability is much so you can get less-expensive rental rates and the lowest mileage price. 
Look for an affordable relocation truck rental provider: Obtain moving truck rental quotes from 3 to 4 rental companies to determine the cost of renting a moving vehicle from them.
Make a comparison of the offers and carefully check the inclusions in the rental quotes.
Check for the applicable charges and surcharges, look into your options for insurance, factor in the requirements for return and special conditions, and so on, and go with the best truck rental company for you. 
Select the right size of the rental moving truck for your relocation needs: If you rent an undersized moving truck for your move, you will have no choice but to make several trips from your old home to your new one or to leave back some of your possessions if you are relocating to a long distance.
When you rent an oversize moving truck for your moving needs, you will end up paying for some unused truck space and also subject your possessions to a greater risk of damage due to the excess room for them to slide and shift around all through the move.
Both cases will result in you wasting money, so you must carefully pick the perfect moving truck size for your need.  
Look into rental truck discounts: In some cases, moving truck rental companies provide amazing promotions to lower your rental rates or offer free mileage to attract more customers.
So, when searching for less-expensive moving truck rentals, look out for student discounts, seasonal discounts, military discounts, membership discounts, or other offers to help you save money.
Additionally, make sure you ask your preferred rental company for special offers and packages. 
Avoid additional fees: You can avoid additional costs associated with moving truck rental. More tips include:
Buy additional miles before your move if you think the allotted mileage will not be enough for your need.
Do not pass the rental time before you return the moving truck.
Make sure the fuel in the rental truck is the same as it was during pick up during return.
Make sure the rental truck is returned cleaned and in good shape.
Report any existing damage to the moving truck such as dings, scratches, minor dents, or any complex damage before leaving with the truck to avoid being charged the damage fee.
Frequently Asked Questions
Conclusion
Renting a moving truck is a great way to save on costs of moving up to 45% if you don't want to stress yourself or involve in hassle moving activities. However, choosing the right truck rental company is vital to achieving your goal of reducing the cost of moving; else, you may spend even more.
iMoving had researched and listed top truck rental companies you can consider for your DIY move. You are free to choose from the list based on your move. Have you used a moving truck before? You can drop your comment below.