Total of 3 carriers in
Cheyenne
Clydes Affordable Moving
Cheyenne

Cheyenne, WY

4.11
5

Years in Business

2

Trucks

8

Workers
Johnson Storage & Moving Company
Cheyenne

Cheyenne, WY

3.77
35

Years in Business

6

Trucks

13

Workers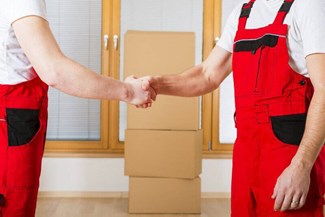 Cheyenne Movers
An overpriced, sub-par moving company can make your move the hassle that it doesn't need to be. iMoving offers families, individuals, and couples another way to go about finding a reliable, affordable Cheyenne moving company.
iMoving connects you with the most dependable long-distance movers and local movers in Cheyenne and can help you with other moving services such as transporting your car or storage.
Instead of spending days and weeks researching moving companies, try iMoving's referral service. We put you in contact with movers that have at least two years of moving experience, are properly insured and licensed, and have stellar customer reviews.
Here are just a few things you can expect from iMoving.
Honest Pricing: The quotes you receive from us are binding and cannot be changed, even on moving day.
Customer Payment Security: Your money is held with us for 7 days after your move is complete. This gives you the time to make sure your belongings are in proper condition and update us if anything isn't as it should be.
Pricing Security: If your mover cancels, we'll find you a new moving company that has the same quote as your prior mover. If you need to cancel your move, a cancellation fee is not charged to you as long as it is before moving day.
When you work with us, you can expect us and every mover in our network to honor the standards we are committed to. Start with a quote from iMoving and see how easy moving can be.
Moving Services in Cheyenne, WY
Packing and unpacking: If you just don't have the time to pack your entire home, a Cheyenne moving company can do it for you. Under your direction, they will properly secure any items you don't want to secure yourself. Moving companies also unpack your things once they've made it to their final destination.
Storage: There are two kinds of storage available; full-service and self-storage. Full-service storage is taken care of by a company. They pick up, store and deliver items at a future date. Self-storage is usually more affordable and entails the renting of a storage room or locker; you are responsible for
Local moving: Some Cheyenne moving companies can only handle moves less than 50 miles or within the state, while some can handle moves going longer distances. iMoving lets you know whether a company is local or long-distance.
Special handling: Large, fragile items are a concern when moving. Many companies offer professionals experienced in moving these kinds of items.
Tips for Your Cheyenne Move
Get everything you need for packing in one trip
Packing can be overwhelming on its own, but throw in constantly running out of tape or boxes and it becomes worse. Avoid this by sitting down and making a list of everything you'll need for packing. Then go to the hardware store and get every single thing on that list. By setting aside a few minutes, you can
Maintain organization
Don't try to pack your entire house at once. Try to pack one room at a time, not starting another until the entire room is complete. By focusing on one room at a time, you'll be able to keep the packing process under control.
Purge
Take the opportunity to get rid of things around the house you haven't touched in years. Those boxes that have been sitting in the garage, basement, and attic since the last move probably don't need to come with you on your next one. Any clothes you can't fit anymore or are no longer a part of your style can be donated or sold. Moving is a great time to do a bit of spring cleaning.
Pack an essentials kit
Be prepared for the first week of your move by packing a box that has everything you need in case unpacking doesn't happen as expected. Maybe work is more stressful than it should be or you are busy wrapping up other projects that need your attention. In any case, this box will help you get through the initial week of your move.
Pack liquids together
By keeping all your liquids in one box, any spills stay contained. You won't have to worry about clothes, furniture, or fabrics possibly being ruined. To keep the chances of your liquids leaking low, wrap plastic around the openings of each container before putting the lid back on. 
What to Know about Cheyenne, WY
Beware of those Greenies
Moving to Cheyenne welcomes you to a friendly feud between states. Their rivals? The people of Colorado, jokingly given the name "Greenies" due to their license plates. Apparently, you can spot those things a mile away.
Great Nightlife Scene for Young People
Cheyenne has grown into a bit of a hotspot for the younger residents of Wyoming. It has some great bars you'll want to visit including The Outlaw Saloon.
Frontier Days
Cheyenne boasts the largest outdoor rodeo in the world. Get ready for 10 days celebrating the American West. You'll see some of the biggest names in country music, get to attend a rodeo or two and witness a grand parade that features original floats from 1926. It's not every day you can see American's past come to life.
Wyoming State Museum
The history of the state is preserved at this museum. You'll learn the history of the state's mining industry and examine how the presence of humans has affected wildlife. The museum is family-friendly, offering hands-on activities for children to dress up in costumes or participate in scavenger hunts.
Paul Smith Children's Village
Take your kids here to learn about sustainability in a fun, yet educational way. They can wade in ponds, build sandcastles, sit for storytime or find the secret garden that houses a puppet theatre. Every space is interactive and teaches them about gardens.
Cheyenne Botanic Gardens
The cactus and rock gardens are a bit expected in a windswept state like Cheyenne, but it offers more than that. The botanic gardens also showcase plants and events from the 1700s, 1800s, and 1900s in three separate plazas. You'll find an antique tractor and old steam locomotive and there are also community gardens where volunteers grow food, giving the surprise to senior citizens.
With everything waiting for you in Cheyenne, let iMoving help get you there as smoothly as possible in order to start enjoying it all.