What Are the Costs of Moving From Los Angeles to Las Vegas?
Ensure you are prepared for your upcoming relocation from Los Angeles to Las Vegas by reading the breakdown of moving costs by our iMoving experts.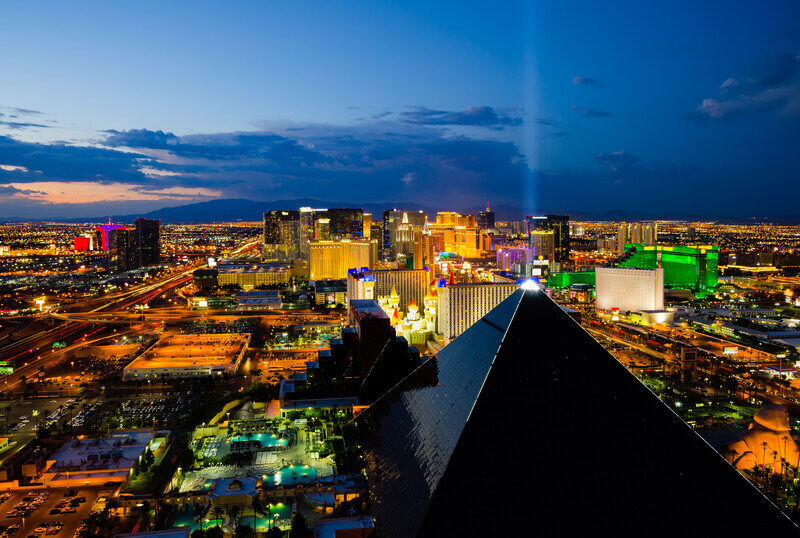 The costs of moving from Los Angeles in California to Las Vegas in Nevada range from $2,000 to $8,000, based on the size of your move and the specific services you request from relocation companies.
By hiring top-rated movers, you can ensure your upcoming move is a seamless one. Before you contact any moving companies, though, use a moving cost calculator to better help you understand the criteria these companies use to determine the cost of interstate moves.
The very best movers offer a full slate of moving services, including packing and unpacking, loading and unloading, heavy and delicate item relocation, and more. If you want your upcoming move to Las Vegas to go smoothly, find the very best movers in Los Angeles that are available on your desired moving date.
How Much Does an Interstate Move Cost?
The bulk of the costs of an interstate move are determined by a few key factors. These include the size of your move, distance between your origin and destination zip codes, specific services you request from the movers, and time of the year when you are moving.
Moving from Los Angeles to Las Vegas costs more if you have belongings that can fill up a four-bedroom house, compared to a studio apartment's worth of possessions. Movers can supply you with a smaller moving truck when you have fewer items to transport, while it also takes the professionals less time to pack, load, unload, and unpack fewer belongings.
You may have an inclination to choose the relocation company that is offering the very lowest rate for your move to Las Vegas, but that may be a mistake. Some movers offer extremely low rates at first, but end up increasing the price of your move at the last moment.
Rather than selecting a disreputable company because of a low sticker price, research the most reputable movers in your area that have been in business for at least ten years. Such companies have a longevity and level of respect within the moving sector that can leave you feeling confident that your relocation will go smoothly.
Understanding Cost versus Benefit When Moving
Since you cannot change the distance between Las Vegas and Los Angeles, you can adjust other factors to tweak the expenses associated with relocating. For instance, you could hire long-distance or local movers to only load, unload, and transport your belongings, rather than packing and unpacking them as well.
While packing and unpacking without any professional help is frustrating and time-consuming, it can save you a lot of money. If there are several people in your household to pitch in, or you can ask friends or family for assistance, having your belongings ready to load when the movers arrive on moving day is a great option.
Another way to keep the cost of relocation down is to limit the size of your move. You do not have to take every single item you own with you to Las Vegas, especially if you are moving into a slightly smaller home or apartment. You can downsize by throwing away, selling, or donating belongings that you do not need or have not used in a very long time.
Limit your move to a single stop if you want to save money. Some people choose to take a few belongings to a self-storage unit, and then have everything else transported to their new home or apartment. Rather than storing items in a storage unit, you should give them away or sell those possessions.
Plan Ahead to Enjoy a Hassle-Free Move
One of the most frustrating experiences while moving is when you forget a crucial step in your relocation before you move out of your existing home or apartment. Even if you have hired reputable long-distance movers for the job, there are some tasks you must handle.
For instance, you must forward your mail, close utility accounts, get your security deposit back if you were renting property in Los Angeles, and arrange for the relocation of your pets, car, plants, and any other belongings the movers cannot relocate.
Create a moving checklist to keep track of these tasks, ticking them off as you complete each job. Such a list will ensure that nothing important is let undone before moving day.
Frequently Asked Questions 
What is the importance of requesting a binding moving quote?
Requesting a binding quote from local or long-distance movers is so important, as it gives you protection against price hikes. When the movers provide you with a binding quote for your entire relocation, they cannot change the terms unless you make a request for services that you did not initially mention. A binding quote ensures there are no surprises on your final bill.
Can I ask movers to pack and transport chemicals such as cleaning or gardening supplies on the moving truck?
No, moving companies do not transport any chemicals locally or long-distance. Whether you require the transportation of weed killer, fertilizer, cleaning chemicals, or other potentially hazardous materials, you must take care of it on your own. If you are driving from LA to Las Vegas, take these items in your other. Otherwise, you may have to throw them out and buy new ones.
Is it possible to have my pets relocated on the moving truck if they can complete the trip within a single day?
No, moving companies do not allow pets or any living thing onto their moving trucks under any circumstances. Even if your move is a local relocation that would take two or three hours, you cannot have pets on the moving truck. You must take responsibility for transporting your pets. Driving to Las Vegas is the easiest option, but you can look into flying or taking a train with pets as well.
What is the best time of year to hire movers in Los Angeles?
The ideal time of the year to hire movers in Los Angeles for relocation to Las Vegas is the spring, fall, or winter. These three seasons are the least busy for movers – especially the winter months. If you are planning to relocate in the summer, you should expect moving slots to fill up quickly and for prices to be slightly higher.
Does the price of a move change if I make any special requests?
Yes, movers charge more if you have special requests ahead of your relocation. Examples of such requests include packing and transporting extremely heavy or large items, very delicate or valuable possessions, and having to load and unload furniture and moving boxes through several flights of stairs. If you plan to request any such services, mention them to the movers before signing the contract.
Final Thoughts
The cost of moving interstate from Los Angeles to Las Vegas can get expensive, especially if you are moving from a two or three-bedroom home to another similarly-sized property.
You can bring down your relocation expenses by hiring top-rated movers, relocating during the off-season, packing and unpacking your belongings yourself, and limiting the special services you request from movers.
By hiring movers early, ensuring your belongings are ready for loading and transport on moving day, and checking off every item on your moving checklist, you can seamlessly navigate your upcoming move from Los Angeles to Las Vegas.