Things To Know Before Moving To Orlando
Orlando was named one of the best places to live, but that's just some of the information you should know before relocating. Get essential Orlando moving information here.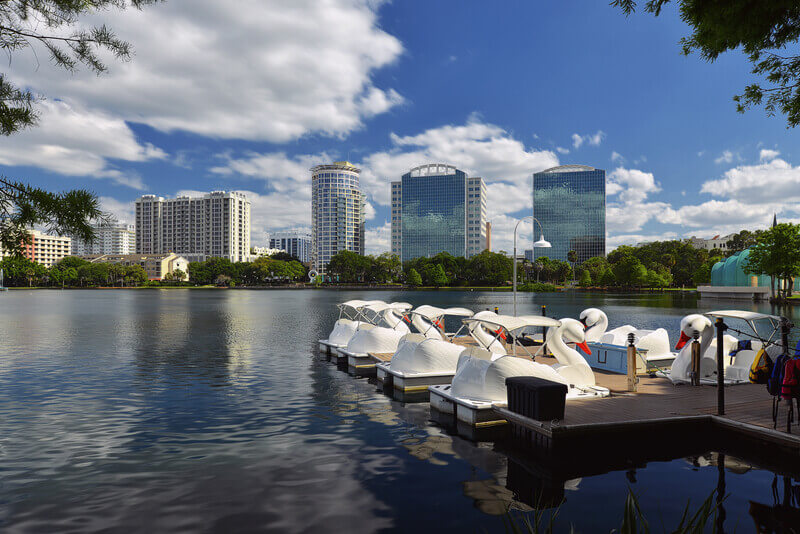 Named one of the "100 Best Places to Live" by Livability, Orlando is home to 300,000 people with fresh faces arriving every single day. Orlando attracts families, singles, couples, business professionals, and so many others. Located in Central Florida, Orlando has a thriving tourism industry, a gangbusters economy, and a lower cost of living than similar Florida cities. No wonder why so many are choosing to move there.
As you prepare to relocate to Orlando, don't wait to start the search for good Orlando movers. Moving without the right movers there to help can be the beginning of a nightmare. Don't allow this to become part of your moving experience. Quality local or long-distance movers will load and unload boxes, pack up your belongings if you need it, assemble furniture, and much more, all tasks the average person could find troublesome. But there's more to making an Orlando move than finding a reliable moving partner.
1. You Need Several Moving Quotes
It isn't easy to find dependable movers that provide all of the essentials. You need movers that offer good prices but who also take care of your move with pride. Avoid disappointment by knowing the movers you hire before you hire them. Research makes it possible to find out more about the company's reputation, prices, and other essential details to decide if they meet your needs.
Get a minimum of three moving quotes (free of charge) before you decide which company to go with. Compare prices among the companies, as well as what comes with the fee. Look at other important details about the movers as well. You want to ensure they can live up to your expectations before trusting them with hard-earned money and personal belongings.
2. Orlando has Diverse Neighborhoods
Orlando caters to every lifestyle and every personality. With 115 unique neighborhoods, everyone can find the perfect spot where they fit right in and feel comfortable. Some neighborhoods catch the eye more than others. Their beauty, amenities, prices, and location cause these neighborhoods to stand out in such a way people can't help but take notice.
College Park is one popular neighborhood where many families and business professionals call home. It's near downtown, has several city parks, and is home to the only public golf course in the city. Paramore is another top neighborhood. The art scene in Paramore is amazing. Other favorable neighborhoods include Baldwin Park, Uptown, Thornton Park, and Downtown.
3. Choose Movers Familiar With Orlando
Movers' familiar with the city will ease moving fear. Whether it's a local office of a national moving company or an up and coming Orlando mover, knowledgeable local movers can answer all of your questions and get your belongings to your new home efficiently, without major problems along the way. Research and compare movers before choosing. Select industry experts that offer the services that you need and quality that matches your expectations as well as good pricing.
Research movers online where there is plenty of information available about them, including customer reviews and their social media pages. Reviewing these items can give you a better understanding of the movers and how others feel about their service. Ask friends for recommendations as well. Word-of-mouth recommendations save time.
4. Beaches Near Orlando
Although Orlando is beach-free, a 90-minute drive awards you the opportunity to take advantage of the beach. Cocoa Beach, the closest to Orlando, offers white sandy beaches that make searching for seashells just as much fun as surfing, swimming, or visiting the Cocoa Beach Pier and its great restaurants, shops and drink spots (even if it's only for the live music).
You should also spend the day at Daytona Beach. Daytona Beach is hailed as "The World's Most Famous Beach." Jet skiing, surfing, biking, and relaxing in the sun are some activities enjoyed by visitors to Daytona Beach. Daytona Beach is close to Orlando, located about one hour, 15-minutes away. Daytona Beach offers memorable fun any time you visit.
5. Don't Forget to Change Your Address
Notify the United States Post Office (USPS) two weeks in advance of the move. This gives them enough time to process the address change without any hiccups to your regular mail delivery. Don't forget to transfer utilities - cable, gas, telephone, etc. as well. Advance notice ensures there is no interruption in these services or other problems after the relocation.
It is helpful to create a moving checklist so you do not forget any of the providers whom you should notify of your move. Moving sometimes gets crazy, especially when relocating far away from your current location. A checklist helps keep the details of the move -and your stress levels- in check. Expect a better-organized move with a checklist in hand.
Frequently Asked Questions
Is Orlando an expensive city?
Orlando is more expensive than some other major cities across the U.S. but still more affordable than many. In Florida, Orlando is one of the most affordable major cities to call home. Home prices in Orlando are $125,000+ cheaper than in Miami. Orlando has an overall cost of living index score of 98, two percent lower than the national average and 1 percent lower than the average in Florida. Orlando gives residents a nice, much-welcomed tax break.
How much does it cost to move to Orlando?
Cost to move to Orlando varies according to the distance of the move, the size of the move, the movers chose, and the type of move you arrange. A few example prices: A full service move from Chicago to Orlando costs between $1,900 and $4,500 while the same move costs about $1,107 if you DIY and arrange a moving truck. Expect to pay an average of $5,000 per 1,000 miles.
Can movers transport anything?
Movers can transport most of your personal belongings but restrictions apply. Movers generally cannot move valuables such as cash or expensive artwork; dangerous items such as explosives; flammable liquids including gas or propane; food (risk of perishing) or live animals. Check with the movers you hire well before the move date to find out specific items on their restricted list.
How is the economy in Orlando?
Home to 18 Fortune 500 companies, Orlando has a strong economy with future growth expected. Tourism and entertainment industries help the thriving economy but interestingly, 80% of the city's employment is outside of those industries. Careers offering work for both skilled and unskilled workers are readily available here.
How diverse is Orlando?
Diversity reigns in Orlando, a city representing more than 200 countries with people who speak over 167 different languages. The diversity Orlando offers provides new learning experiences each day. If you appreciate surrounding yourself with new people, you will appreciate life in Orlando. It is one of the most diverse places in Florida to call home.
Load Up With Information and Make Your Orlando Move Better
Orlando is a diverse mid-size city with so much to offer residents. It is home to great Fortune 500 companies, and has lower cost-of-living than comparable Florida cities. Learn more about Orlando to make your move better. You should not sweat the small stuff with the right information on your mind and with the right movers on your side.