How to Find Interstate Movers Near You?
Interstate movers near you are easy to find when you know what to look for. Millions of Americans complete an interstate move every year with the help of top movers.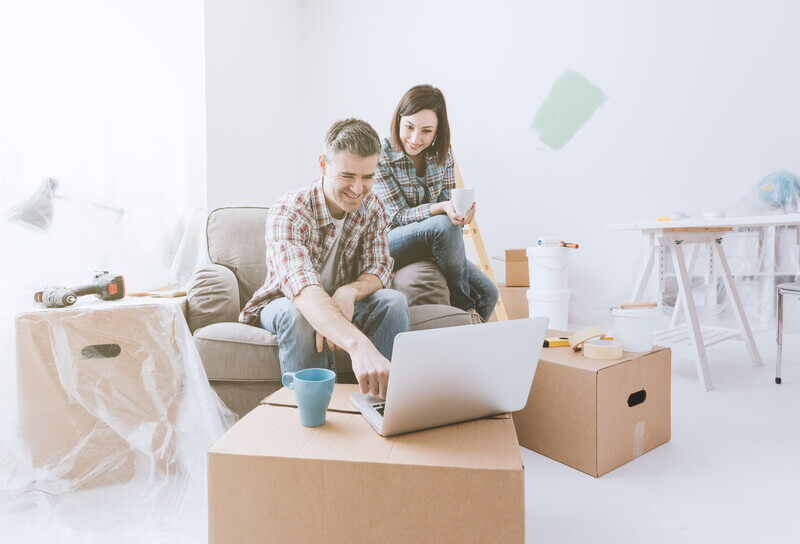 Finding interstate movers near you is as easy as a simple online search. Companies such as iMoving do the vetting and research for you, connecting you with only qualified and reputable movers in your area. This can save you a lot of time, stress, and money.
Unlike local movers that typically operate within a small radius of 50-100 miles from the starting point, interstate moving companies operate across state lines. They have the needed equipment, licensing, and services to ensure that belongings are safely transported from one state to another safely and efficiently.
Every long-distance move is different and will require different services. Understanding the difference in services and how to find the right company best suited for a particular interstate relocation will go a long way to ensuring a hassle-free moving process.
Where Are the Best Interstate Movers Near Me?
The best interstate movers near you can be found through online research or by asking friends and family for recommendations. Moving-related websites like iMoving.com provide comprehensive lists of reputable interstate moving companies.
These websites often act as a one-stop-shop for all of your moving needs, including:
A directory of interstate movers
Tips for choosing the right mover
An estimate calculator to get an idea of how much your move will cost
Checklists to help you prepare for your move
Information on what to do when you arrive at your new home.
By using these sites to browse interstate moving companies and get quotes for the average cost to move interstate, you can be sure that you are making an informed decision about who will handle your move.
It is important to remember that not all interstate movers are created equal. For example, some may have a wider reach and be able to service more states, while others may specialize in specific types of moves (e.g., long-distance, international, military, etc.).
Be sure to do your research and ask the right questions to find an interstate mover best suited for your particular needs.
What Services Do Interstate Movers Offer?
Most interstate moving companies offer various services to make relocating as easy as possible. The most common services include:
Packing/unpacking: Most interstate moving companies offer packing and unpacking services to take the stress out of getting everything ready for the move. This can be an excellent option for those who do not have the time or energy to pack up their entire home.
Transportation: The most obvious service that interstate movers offer is transportation. They have the necessary trucks, equipment, and staff to safely move your belongings from one state to another.
Loading/unloading: Most people choose to have the interstate moving company do both loading and unloading. This can be helpful if you are not available to do it yourself or do not want to deal with the hassle.
These are just a few of interstate moving companies' most common services. Be sure to ask about all of the available services when getting quotes to be sure you are choosing the right mover for your moving needs.
If you are unsure whether extra services will fit into your moving budget, use an online moving cost calculator to ensure you don't go over budget.
What is the Cost to Hire Interstate Movers Near Me?
Costs vary depending on the weight of items being moved, the distance traveled, and specialized services such as additional stops or furniture disassembly.
Generally, interstate movers will charge between 2-10 thousand dollars to complete full-service long-distance moves. In some cases, you may save money by using local movers at the destination to help with the unpacking and reassembly, which can reduce the overall cost by a few hundred dollars.
It is important to get quotes from multiple interstate moving companies before deciding. This will ensure the best and fairest price for your particular move. Also, be sure to ask about any discounts or promotions available to help lower the overall cost.
When Should I Schedule My Interstate Move?
The best time to schedule your interstate move is typically two to four months in advance. However, if you are in a hurry or need to relocate sooner, some cross-country moving companies may be able to accommodate a last-minute move. It is always best to contact several companies and ask about their availability before making any final decisions.
Be aware that finding an available date that works with your schedule during peak moving season in the summer months may be more difficult. Therefore, it is always best to plan ahead as much as possible to avoid any unnecessary stress.
Frequently Asked Questions
Will interstate movers work on weekends?
Yes. Interstate movers can be scheduled for any day of the week. However, the weekends are generally considered peak moving days and often come with higher rates so if you are looking to save money, try to book long-distance moving services during the week.
Do I have to pay for gas when making an interstate move?
Typically the price of gas, labor, and all other costs associated with an interstate move is factored into the final price quote. It is a good idea to use a booking service that offers detailed quotes, so you will know exactly how much your move is going to cost upfront.
What if I need to change my move date after booking?
Most interstate movers allow for a certain amount of flexibility when changing your move date. However, it is always best to check with the moving company before making any changes to your schedule to avoid penalties or fees.
What is the best way to prepare for an interstate move?
The best way to prepare for an interstate move is to create a moving checklist. A checklist will ensure that no tasks are forgotten and that everything related to the interstate move is accounted for. It is also good to start packing early and label all boxes with the room they will be going in at the new home.
Is it cheaper to make a DIY long-distance move?
Because of the complicated logistics of a long-distance move, it is usually cheaper to hire professional interstate movers. Their resources will save tons of time that you can use to get other moving tasks completed.
Find the Best Interstate Movers Near You
It is important to do lots of research before hiring interstate movers. Use online resources such as moving cost calculators and customer reviews to help make an informed decision. And don't forget to ask about any discounts or promotions that the company may offer.