Do You Pay Movers Upfront?
Knowing how and when to pay your movers is important. When do you pay them, and how do they determine how much you should pay? Our guide can help.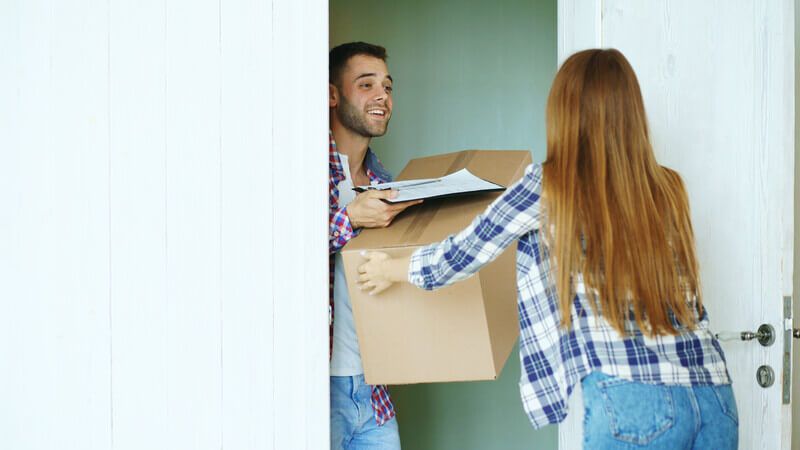 So, you're looking at moving companies and trying to straighten out which one is best. One of the companies tries to tell you that you'll have to pay the full estimate upfront. Should you pay upfront? The answer is no – you shouldn't, and you probably should avoid hiring that company.
If you shouldn't pay upfront, then when do you pay your movers? And how much should you expect to pay for a move in the first place? Here's our guide so that you can understand what to expect when it comes to dealing with moving costs properly.
Why Shouldn't I Pay My Movers Upfront?
So, of course, this all begs the question – why? Is there something you need to be careful of in regards to paying first? Absolutely.
The problem is, paying the moving company upfront ends up giving them control over pretty much everything that is going on. If you don't pay them the full cost upfront, then it means that they need to complete the job properly in order to ensure that they get the rest of it.
There are some local moving companies out there who will use the moving company as a front to try and take money from people. They'll ask for the full amount of the estimate, and then they don't show up for moving day. Or, they will load up your stuff, and not give it back until you pay more money. Neither is a desirable outcome.
The only exception to this is moving brokers or facilitators. These companies may ask for a good chunk of the estimated upfront, and that's okay. They are going to be the "middleman" between you and your moving company.
What About Deposits?
Deposits are appropriate, as long as they are not a significant amount of money. The basic practice is either a flat rate ($100 to $500, depending on whether it's a local or long-distance move) or 5% to 10% of the original estimate of your move (by using a moving cost calculator).
While some of the "scam" options may still walk away with a deposit, the chances are much lower, and you are also losing a lot less money than you may have if you paid the full estimate. In short, deposits have a lower risk and they can ensure that you are able to hold your spot for the date and time that you want to complete your move.
How Do They Determine the Cost of My Local Move?
Costs are always important to understand, especially in the context of your move and how much you'll expect to pay for it. That being said, the calculations surrounding the cost of your local move are much simpler than a long-distance move.
Typically, you're going to be looking at an hourly rate for any local move (local moves are typically considered to be moves that are less than 100 miles from your starting point). How they calculate this rate varies based on a variety of factors.
First, they should come and do a walk-through to see how much stuff that they'll need to move. They use this information to figure out how long that the move is going to take, along with how much manpower they need.
They use that information to put together an estimate that includes a certain number of movers (typically 2 for homes with 2 or fewer bedrooms, 3 for homes with 3-4 bedrooms, and 4 for 5+ bedrooms). They will also sort out how large of a moving vehicle they'll need as well.
On average, you're going to look at somewhere between $10-$40 per hour, per mover involved in your move. Local moves can be anywhere from $150 to $1500, depending on all of the factors that we've discussed here.
How Do They Determine the Cost of My Long-Distance Move?
Long-distance moves are much more complex than local moves, and there are a lot of things that need to happen to complete your move effectively. Because of that, the costs around a long-distance move are going to end up being much higher (and much more difficult to sort out).
The first part of the calculation is the same as a local move. They should come into your home and take a look at everything that they are going to be relocating to your new home. They also take the number of bedrooms into account, which helps them to determine how long it will take to load and unload.
Then, they look at the distance of your move. The distance plays a significant role in the cost calculations because this will determine approximately how many days that it's going to take for your move to be completed. If you're moving across your state, then it may only take 2-3 days. But cross-country moves can take a week or more.
With that, they also have to determine how many people are going to be involved in the process of moving your items. Typically, long-distance moves have 2-3 teams of people. One team to load, one team to drive, and one team to unload (the last two may be the same team, depending on the company).
They use this information in order to figure out your estimate. But, when it comes to the final cost of your move, they are going to actually weigh the truck. They'll weigh the truck before your items go in, after they go in, and before they unload everything.
Then, they will subtract the weight of the truck from the weight of the items inside of it. They use that number (the weight of your items) and the distance is driven, along with the amount of time that it took, to give you the final cost of your move.
According to most state laws, the cost of your move can only be so much higher than your estimate. Look into those laws to ensure that your final payment is within the appropriate range.
Additional Services and Fees to Be Aware Of
No matter what type of move you're doing, you are going to find that there are some additional fees that you may have to deal with. For example, if you have a lot of furniture and/or fragile items (like antiques), you're likely going to need to pay some sort of flat fee known as a "white glove service."
If you need additional assistance, you may want to look and see if the moving company you've hired offers packing and unpacking services. Many times, this will save you a lot of time and headache. This can either be a flat rate, or it can be an hourly fee.
Delays and other problems can cause you to need storage for a certain period of time, and that can end up providing you with additional costs if it's because of something on your end. If there's a delay with your moving company, they should eat up any costs related to storage (and possibly give you discounts on your final cost).
Lastly, you want to look and see if there's anything related to cancellations or changing dates. Moving companies will typically have some sort of fee-related to this if the cancellation or date switch is from the client. Read it carefully and see how much you'll have to pay if something arises.
Frequently Asked Questions
How much should I tip my movers?
You don't need to tip your movers, but it's considered an act of appreciation. If you do so, a good rule of thumb for local moves is $10-$20 per mover, per hour. For long-distance moves, you'll want to do about 10-20% of the moves' cost, which can be split between all of the movers involved. You just need to give the entire tip to the job lead, and they'll distribute it.
Are you supposed to help your movers?
In many cases, your movers aren't going to want you to help with loading and unloading. They do, however, want you to help when it comes to directing where things need to go and sharing how you labeled or organized everything. But, you aren't going to help them with any sort of manual labor unless something comes up and it's absolutely necessary. 
How long can I expect my move to take?
Local moves for an average-sized home (2-3 bedrooms) can be completed in 3-6 hours. Larger homes may take up to 8 hours. Long-distance moves, on the other hand, can take anywhere from a couple of days to a week or more. Your moving company will work with you to schedule your move and ensure that you have a schedule that works with your needs.
Working with Trustworthy Movers
As you can see, there are a lot of things to consider about your movers. If you're smart about the process and you read everything in detail, you'll be in a much better position and you will be able to get ahead of everything on moving day.