Top 8 Things to Know Before Moving To Atlanta
Planning to move to Atlanta? That's great news since Atlanta has a lot to offer. Unlike New York, Los Angeles, and Chicago that is big cities, Atlanta can seem hard to understand; but it is a city that amuses you with several layers.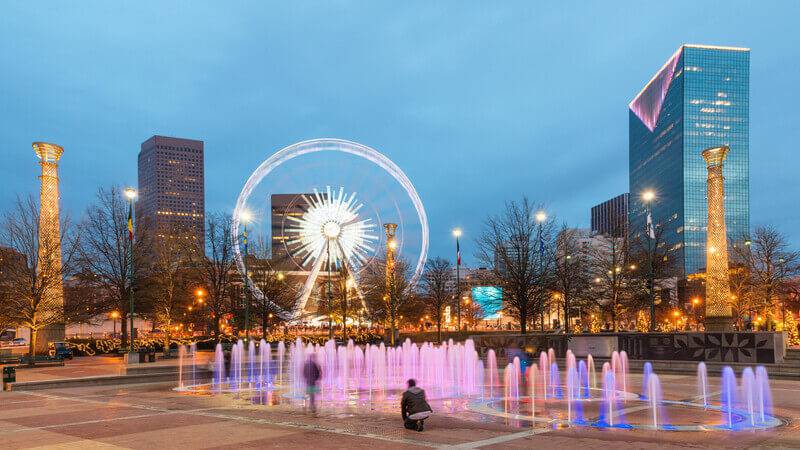 In Atlanta, everyone has something waiting for them; whether a huge outdoor lover, a foodie, a music lover, or an art enthusiast. Atlanta is rich in culture, has many sports teams, beautiful scenery, and a lot more. You will have a high-quality living experience and meet lots of friendly people.
Atlanta can be best described as a big city that offers a small-town vibe. Atlanta has so many things to offer. So, if you are considering a move to the city, you definitely will find your expectation met.
Let's check some of the important features of Atlanta, GA, and what moving there has to offer you.
1. Affordable Cost of Living
Fortunately, Atlanta is a moderately affordable place to live. The cost of living in total is 2% cheaper than the country's average. Atlanta cost of living is similar to Dallas, a bit lesser than Miami, and so much cheaper than New York City. You will enjoy affordable living in clothing, rent, groceries, and almost everything else you could imagine. Also, you can make a comparison with several other major cities all across the globe. To provide you a quick idea of things to expect for Atlanta's cost of living, below are some numbers.
Renting a 900-sq-ft apartment in a median-priced location will cost $1,200
Single-person utility: $130
The cost of basic dinner out for two people in a bar is $45
Internet (8mbps) cost $49
2. Atlanta Weather Condition
Atlanta is highly attractive due to its warm climate. The median temperature here is nearly 700 F. Since it is a Southern state, this place often experiences relative humidity. The humidity can get out of hand if you are visiting for the first time. During the winter months, the temperatures do go down, but mostly, winter in Atlanta is generally mild. Usually, snow does enter the city; but you should not hope to experience it every year.
3. Outdoor Opportunities
You sure love the city, but you will sometimes want to look up and stare at the stars. There is a reason Atlanta's nickname is 'a city among the hills.' There is a nature trail, a waterfall, or a place to enjoy camping or hiking in just 30 minutes, regardless of your location.
Sweetwater Creek State Park is outside the perimeter and there you'll find trails for all yurts, levels, and water sports. For a quiet time in the middle of Midtown, visit the Silver Comet Trail, a 60-mile stretch that leads you straight to Alabama. It is a brilliant way to enjoy your day biking. If you desire a break from city life, consider Atlanta as your best choice.
4. Rising Job Market
Atlanta is one of the leading 50 cities reported for booming job employment. Some of the top Fortune 500 companies in the United States are located in Atlanta, including Coca-Cola, UPS, Home Depot, and Delta Air Lines. A lot of companies from all over the country have their United States headquarters in Atlanta, including, appreciation for convenient access to the airport, cheap living, and talent acquisition.
Aside from Silicon Valley, Atlanta has grown as an essential tech center for startups. There are hundreds of startups as well as a bustling neighborhood of innovation inside Buckhead, the Atlanta Tech Village's 100,000 sqft building which is the 4th largest tech hub in the country.
5. Food Scene  
Our popularity goes beyond beaches. There is a great food scene in Atlanta. You will discover almost any type of cuisine you want in Atlanta, and our foodie community is very active (and opinionated). Enjoy our food scene and make sure you try things beyond your comfort zone. I'd suggest trying out Buford Highway (Atlanta's Chinatown) where many different hole-in-the-wall eateries are waiting to be explored. Also, visit Ponce City Market or Edgewood Ave for many trendier locations.
6. There are Various Sports Teams in Atlanta
Atlanta has many professional sports teams and sports fans. Located in the South, there is a huge active sports scene with many committed fans. Atlanta has also seen lots of new stadiums built over the years, including the SunTrust Park and Mercedes-Benz Stadium.
7. Neighborhood Rundown
There are many boroughs and neighborhoods inside Atlanta, but let me give you a quick look at some of the best famous neighborhoods:
Buckhead: You will see the most expensive single-family homes and shops in Atlanta located in Buckhead, however, there are still many affordable condominiums and apartment options. Buckhead has some of the leading restaurants in Atlanta and its nightlife scene and schools are just the best.
Brookhaven: This neighborhood is considered as the cheaper (and family-friendly) version of Buckhead with lesser amenities and is almost not walkable. Brookhaven is mostly filled with single-family homes with fewer apartments and condos.
Midtown: Many restaurants, skyscrapers, and historic buildings. In most ways feels like a smaller version of NYC because of its high population density. Midtown is also largely considered LGBT-friendly.
Virginia Highlands & Morningside: Highly residential area with numerous beautiful historic homes, quaint shops, and high walkability. These neighborhoods have gentrified largely more than the past few decades and housing has turned highly expensive.
Reynoldstown/Cabbagetown/Little Five Points: You will discover some of the highly interesting personalities th in Atlanta. Hi y bohemian neighborhoods with a bustling 'alternative' scene.
Old Fourth Ward: This is an eclectic neighborhood that had gentrified because of the Beltline and Ponce City Market. Old Fourth Ward is continuously being dominated by condos and apartments.
8. The Traffic is Super Bad
Sadly, metro Atlanta is highly expensive. Thanks to the many interstates' convergence in the downtown connector, you can conveniently spend some hours in your vehicle every day. Atlanta has been severally ranked as one of the cities with the worst traffic in the world, with some estimates mentioning that the average commuter in the city of Atlanta spends 70.8 hours in traffic per annum. While Atlanta's rapid rail and bus system, MARTA, connects different in-town neighborhoods, it is not expansive enough to accommodate those who drive in their cars all day long. Remember that when planning commuting times and choosing a neighborhood.
FAQ about Moving to Atlanta
Is moving to Atlanta worth it?
Atlanta is truly a nice place to reside, and there is a reason it features on our list of best locations to reside in Georgia. If you will be moving to Atlanta, then you are in the right place. When living inside this cultural center, explore amazing scenery, enjoy great food, meet friendly people, and find out amenities like no other.
What income is essential to living in Atlanta?
How about if you desire to live in ATL happily? Research from GoBankingRates shows that you will need to earn a minimum of $121,170 per annum to live happily in ATL. However, around $69,240 to $6,550 per annum is suggested for emotional wellness.
Is living in ATL expensive?
An average of $2,035 per month is needed to live in Atlanta. This surely doesn't include miscellaneous or entertainment expenses. In total, Atlanta is a bit costly than the country's average, but the median income is higher too.
Why are homes so affordable in ATL?
Investopedia shows that the national average list price is $199,000 while the average in Atlanta is $184,900. In total, Atlanta seems to have lots of homes and so many waiting for buyers. When supply is more than demand, prices are always lower.
Is renting or buying in Atlanta better?
Atlanta sits in 17th position overall for best cities in the United States to buy or rent. Here, the median monthly mortgage payment was discovered to be around $890, while the median cost per month for rent is $1,381. For instance, buying in Atlanta is much better of an option than renting after 2.5 years.
Conclusion
Atlanta is an amazing city with a lot to offer existing and incoming residents. If you are planning a move to Atlanta, kindly share with us in the comments below what feature you find attractive the most.
Care to see the cost of moving to Atlanta? Get an instant quote now from reputable local movers.