10 Stress Management Tips For Moving
It's moving time, and you're stressed out - we all know this feeling. Regardless of whether it's a long-distance move or a move to the neighborhood just down the road, moving is a difficult and emotional process. But that doesn't mean it has to be an entirely stressful experience. Moving can be a fresh new start and an exciting adventure.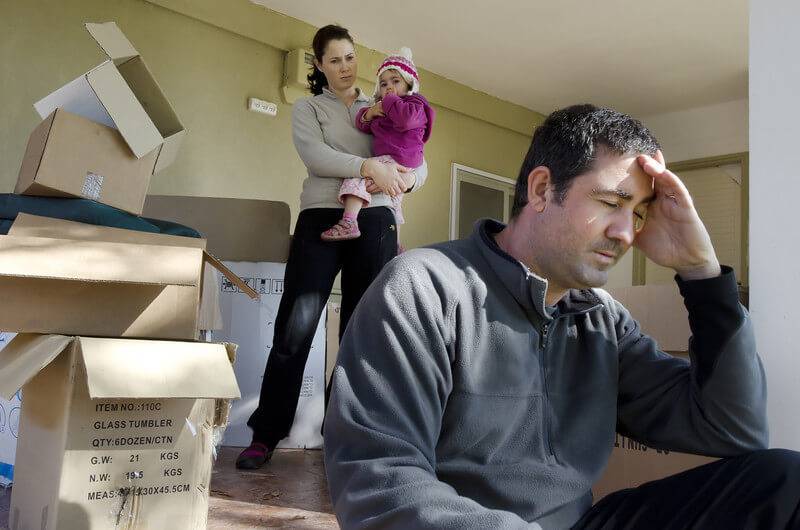 It's moving time, and you're stressed out - we all know this feeling. Regardless of whether it's a long-distance move or a move to the neighborhood just down the road, moving is a difficult and emotional process. But that doesn't mean it has to be an entirely stressful experience. Moving can be a fresh new start and an exciting adventure. Manage your stress and make the most of moving to a new home with these tips from our team of experts here at iMoving.com.
1. Give yourself plenty of time
While not everybody has control over how much time they have to move, many do. If you do have some control over the timing, start planning a couple months beforehand and give yourself a full month to pack and move. In many cases, the stress of moving comes from last-minute rushing or skipping the planning phase. But this isn't always necessary. You can start by packing the things that you don't use often until the only things that are not packed are the bare necessities. If you can, take your time and enjoy reminiscing as you pack your things away and prepare for a new journey.
2. Prepare mentally
Moving brings up a lot of emotions - digging through old mementos, getting rid of things you still remember buying but no longer need and leaving the place you've learned to call home. To avoid making your move a bitter and stressful process, you should take some time to prepare your mind. Remind yourself that you aren't leaving behind the good memories and they will stick with you wherever you go next. Be sure to take plenty of pictures as reminders of the great memories you've made. One day you and your children may want to look through them and relive those moments.
3. Make a plan
Planning out your entire move will not only give you peace of mind, but it will also help make your move easy and efficient. Write down a plan that will force you to answer these questions:
What supplies do I need?
When will I start?
When is the deadline?
Where will I start?
Who is going to help?
How am I going to transport the boxes?
Once you've answered these questions, make a detailed moving checklist with every task you need to do to complete the move. Then take it one check at a time.
4. Get organized
The organization is the key to a successful and stress-free move. As you pack your things, don't forget to make detailed labels, so you know what to do with the box when it gets to your new home. A sharpie will do just fine.
There are two things you should write on the boxes. First, write which room the box belongs in - make the letters large, so they are easy to spot later on when they are being unloaded. Second, write what's in the box on the lid so you can find what you're looking for quickly.
Organize the boxes so that the ones with the same room labels stay together. If you're doing the move yourself, it's best that the boxes that go to the same room are loaded to the same area of the moving truck. This will help keep the unloading process organized and efficient.
5. Take time to relax and sleep
Moving is physically and mentally demanding - don't forget to take time to rest your body and mind. Sleep deprivation can lead to extra stress and anxiety. Getting at least seven hours of sleep will help you maintain a clear head so you can focus on the job at hand. Take breaks often and don't forget to take time to relax, especially in the mornings and evenings, so you don't burn yourself out. Remember, moving doesn't have to be a dreadful process.
6. Go on a purge
Most of us have way too many things in our homes, and this can be a significant cause of stress while you're moving, especially for cross-country moves where you can only bring so much. If you still have three Belgium waffle makers you got as wedding gifts eight years ago, it's likely you need a good purge. As a rule of thumb, if it doesn't have a strong sentimental value and you haven't used it in a year, get rid of it. Start by hosting a garage sale or listing items online. Next, give away anything that doesn't sell. And finally, if you can't give it away, it is probably junk that you can recycle or throw away.
7. Ask for some help
You don't have to do it alone, nor should you. Getting help from others can take much of the stress off of your shoulders. It can be difficult to relieve yourself of some of the control of your move, but it's essential that you delegate tasks that you don't have to do yourself. Friends and family are usually eager to help. You just have to ask. Most people won't turn down free pizza and an opportunity to help out.
8. Clear your calendar
Working a long day then coming home to pack your things can leave you exhausted and stressed. Of course, not everyone can get away from work and other obligations. But taking a few days off can help you focus on moving and still have time to relax and unwind at the end of the day. If you know when you're going to move a couple months beforehand, you can keep your calendar clear and ask off work. Young children can add to the stress of moving as well. So if you have children, it's a good idea to plan for someone to take care of them while you pack.
9. Hire movers to help
One of the best ways to reduce the stress of a move is to hire professionals. Yes, it takes a certain amount of effort to research and choose a quality company, but using online resources like our iMoving.com network of fully vetted and trustworthy local moving companies can streamline that process.
Professional movers offer additional services like packing that really take the weight off your shoulders – literally. Movers have the know-how and strength to get heavy and odd-shaped furniture loaded and unloaded, so you don't have to strain your body. Movers also know how to pack your items safely and stack boxes so that they are not damaged, even in a long, cross-country move. This leaves you with more stress-free time to relax and reminisce about the great times you've had in your home.
10. Try meditating
The more stressed you are, the more mistakes you're likely to make which will, in turn, lead to even more stress. Meditation is excellent at reducing stress and gaining a clear, level head so it's easier to avoid mistakes and frustration, to begin with. If you haven't tried meditation before, it's best to start with a session of guided meditation. There are many free and paid apps available that will guide you through your meditation. Saying goodbye to a home doesn't have to be bitter and stressful. It can be an incredible experience that brings together family and friends. It can be a fresh start and the beginning of great new memories. But it all depends on how you decide to go about it.
Use all the resources you can find, including the tools and information we have here at iMoving.com, to make your move a stress-free start to a new life.