How Much Does Enclosed Auto Transport Cost?
So, you're looking at having to move your car from one place to another. You might be planning a big move to a new city or maybe even another state halfway across the country. Maybe you recently bought a new vehicle and need to have it shipped to your house.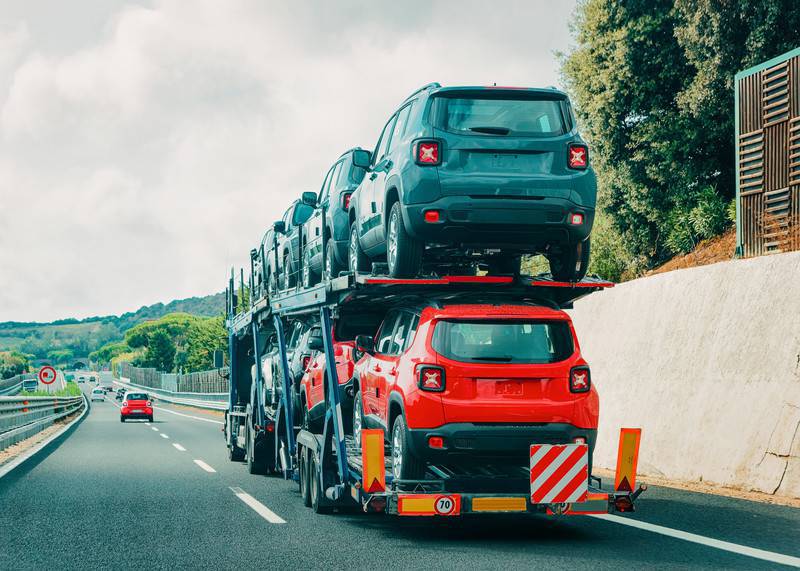 So, you're looking at having to move your car from one place to another. You might be planning a big move to a new city or maybe even another state halfway across the country. Maybe you recently bought a new vehicle and need to have it shipped to your house.
Either way, whether moving or having a new car delivered to you, you don't want to just have someone throw your investment onto the back of an open-air trailer and let the weather and elements affect it, right? Surprisingly, this is done every single day. The main reason people choose open transport for their vehicles is because it is usually the cheapest option to have their car delivered to them.
For some people, however, having their car exposed to the elements and out in questionable weather is unfathomable. In situations like this, where you want your investment as protected as possible when it is en route to you, you'll want enclosed transport for your vehicle. So, one of the biggest questions in this situation is how much enclosed transport costs. Luckily, many online moving facilitators such as iMoving exist to help you identify the best companies and deals to get the job done.
What is Enclosed Auto Transport?
Enclosed auto transport is where vehicles are stored in enclosed trailers during the shipping process, while the cars are on their way to their new homes. The owners of the vehicles choose enclosed auto transport options because they prioritize the safety of their vehicle, something that open transport can't guarantee, as being out in the air on an open trailer could be a way to invite the elements and weather anomalies like storms to damage the vehicle.
Enclosed transport solves this problem by placing your car in a safe, enclosed environment where nothing will harm it. These enclosed trailers offer specialized equipment to ensure your car is safe from the time it leaves its destination of origin to the time it arrives at its new home.
Of course, people looking into enclosed transport over open transport may have a few questions about how much it might cost to go the safer route.
There are several factors that can dictate how much-enclosed transport for your car will cost.
Factors That Decide the Price of Enclosed Transport
With most enclosed shipping, you might be looking at an average flat rate of one dollar per mile. This is standard across almost any vehicle shipping company, but still about twice as much as you'd pay per mile for open transport options.
A few other factors will go into your shipping costs, as well. Here are some of the main factors to consider when thinking about how much your auto shipment is going to cost when going the enclosed transport route.
The weather: Yes, the weather can still affect even enclosed transport options. This can mostly depend on seasons or harsh, stormy conditions. For example, if the delivery company has to go through a snowy area or other harsh conditions, it can affect the overall safety of the trip. In certain times of the year, there are also fewer trips to be scheduled as most people don't ship vehicles during certain seasons, like winter. This is definitely something to think about when considering enclosed transport options.
Where you live: The place you're shipping your vehicle to can also factor in on your overall estimate for transport. If you don't live in an easily accessible area (like a city), then you might be looking at a slightly higher bill when all is said and done.
The distance of the move: Of course, the main thing to consider when thinking about how much the overall shipment is going to cost is how far your car has to travel before it reaches its new home. Moving your car across the state, for example, is going to be a lot cheaper than shipping it across the country. Keep this in mind when shopping for quotes, as well.
It is important to remember that fewer people use enclosed transport than open transport. Keeping this in mind, the premium you're paying is for the security of your vehicle. There is no guaranteed price for your shipment, as each situation is unique and many factors go into the account, such as where you live, where the car is going, what the weather is like, and how far the vehicle needs to be transported.
Other Enclosed Auto Transport Cost Factors
Door-to-door against terminal-to-terminal: Door-to-door vehicle transport services are costlier than terminal shipping since it is a personalized service. Rather than drop off and pick up your car at a terminal that has been predetermined for you (which can be several miles far from where you live), the auto carrier delivers your car to your house directly.
Time of year: Demand in the summer months is higher which makes auto shipping more expensive.
Carrier competition: If more vehicle carriers are available for a certain shipment, it reduces customer's prices.
Price of fuel: If prices of gas are high, vehicle transport companies may charge extra to cover the additional fuel costs of the carrier.
Vehicle operability: It takes a lot of energy and resources to move inoperable vehicles because they can't be driven onto the transport carrier. This makes their shipping more expensive than operable vehicles.
Vehicle size: Larger vehicles like trucks, recreational vehicles, and SUVs, including all-terrain vehicles, will cost more to transport than compact cars. 
What is the Cost to Transport a Car in an Enclosed Carrier?
As you may or may not know, the two major transportation methods for local in-country shipping in the United States are Open shipping and Enclosed Shipping. When working strictly with enclosed carriers, as the costliest shipping method, you importantly need to understand its cost as well as the factors that can also affect it. the truth is when you get a shipping quote from an auto shipping company, the way the quote is calculated is based on various aspects, all of which together.
The first thing you should know is that the cost of using the enclosed auto shipping method is about $1.00 per mile on average, which is almost twice the cost of open auto shipping. However, this is not something you should trust when calculating the exact cost, as it usually changes when ready. We've asked for vehicle shipping quotes from many of the leading auto shipping service providers in the country.
This data shows that the median cost of shipping a car is around $1,200. However, car transport costs can vary based on many important factors, meaning that your prices may not be the same as mine. We requested quotes for an operable 2018 Honda CR-V and 2018 Lexus ES 350 on a journey between 520 and 2,445 miles in January. To provide you a better insight into the median cost to transport a car, cost ranges for different shipping services are provided below:   
Open auto shipping: Between $689 and $2,064
Enclosed auto shipping: Between $1,220 and $2,775
Cross-country Transport (2,445 miles): around $1,389 to $2,775
State to state car shipping (520 miles): Between $689 and $924
Quoted vehicle shopping rates may not be the overall price you will pay to ship your car. Auto shippers sometimes add a service fee with your final bill and based on the company, you may also need to pay for extra insurance. If you pay for express transporting, this will also add to your vehicle shipping cost.
Ways to Save Money on Auto Shipping when you relocate
Check your timing: When you are researching costs to transport a vehicle, seasonal price fluctuation is one of the most important things to note. Consider holding on till the off-demand season if you are not in a rush to have your vehicle shipped. Either way, make your booking some months earlier.
Timeline flexibility: The price you pay for shipping will also be based on the pickup and delivery dates you go for. Being flexible with your timeline for pickup and delivery will get rid of the need to make use of express auto shipping service. The company will also use the most efficient means to ship your vehicle, a factor that could put some money back in your pocket.
Pickup and delivery locations are important: While door-to-door service is so easy, it comes at a higher cost than terminal-to-terminal shipping. terminal-to-terminal shipping will ask that you deliver and pick up your car at certain terminals. The distribution of responsibilities makes this a cheaper option.
Go for open carriers: Even though open carriers expose cars to weather and other road elements, they are highly popular among customers than enclosed carriers and much cheaper.
Carpool your shipping: If you are fortunate to have a friend in your location who wants to ship their vehicle, carpooling your shipment can save you a lot of cost since transporting more than one car is more affordable than just one car. Essentially, the driver can save time when you transport more than one car, a factor that scores you cheaper prices.
Shop around for transport quotes: Get many quotes from different providers. But just make sure you don't let go of quality in your quest for lower costs. You can always request top-quality service if they will match a competitive quote.
How to Book an Auto Shipping Company
Considering the value of your vehicle and the risks associated with shipping, you would not leave the responsibility of shipping your car to just anyone. Below are the steps to help you reserve a good auto shipping company:
Step 1: Figure out the services you need: To select the ideal auto shipping company, you will first need to figure out the kind of services you need, which may include terminal-to-terminal service, door-to-door service, and open auto shipping, or enclosed auto shipping. You may also want your vehicle shipped within a particular window.
Step 2: Research the shippers you are considering: Immediately you have cut the number of choices, research those transport companies. Take time to check licensing, insurance, and bonding to make sure you will be working with a reliable company. You should also find their ratings, complaints, and reviews. Remember that the process of transporting a vehicle over long distances can be stressful and, in some situations, dangerous.
Based on the shipping method you opt for, there are huge risks involved. Transporting your vehicle makes it more vulnerable to road debris, damage, weather elements, and worse, theft. 
Step 3: call and speak to a worker: Together with research, call the shipping company to ask your questions and determine the professionalism of the worker and customer service. Ask about all safety measures they have, the services they offer, their shipping cost for your car, and for how long your car shipping will take.
Step 4: Get multiple quotes: You want to get the best service for your money. Take time to obtain many quotes from different companies and make a comparison of what each of them offers to help you screen down to your final choice.
Step 5: Choose a car shipper: Now is the time to choose the vehicle shipper that is probably the best for your needs. Give yourself enough time to make an educated decision. Concentrate on quality, types of service, price, customer service, quality of service, and flexibility.
Step 6: Place an order: most shipping companies simplify it for customers to place an order online. Just visit the website of the company and enter the locations for pickup and drop-off, including your details.
Step 7: Prepare for shipping: Immediately you have submitted your order, the transport company should let you know of the whole shipment process, give up-to-date information, and assure safe and secure shipment delivery. Finally, they must provide stable and reliable payment methods, giving varieties of options through which payments can be made securely by customers at any time they so wish.  
Frequently Asked Questions
Shipping your car can be a stressful endeavor if you've never done it before. After all, you have to find a local moving company you trust and then entrust them with something that means a lot to you, your car. In such a scenario, it is completely reasonable to have some questions.
Here are some of the most frequently asked questions about enclosed transport for vehicles:
Is there an average price for enclosed transport?
There is no universal average price for enclosed transport, as the price is determined by location, demand, and length of the overall trip. Since every situation is completely unique, there isn't an average price to go by. It is usually safe to assume, however, that you will be paying at least one dollar per mile.
When is enclosed shipping the best option?
Enclosed shipping is the best option for people who own exotic cars, people who are moving and can't transport their car themselves but still want to keep their vehicle as safe as possible, and for people who just bought a new vehicle and need it delivered to them. Having it shipped enclosed will cost a bit more than open transport, but most people are happy to pay the extra premium to ensure top-quality safety of their car.
What makes enclosed transport a better option than open transport?
Enclosed transport guarantees your vehicle is safe from the elements and freak weather events, or anything else that could potentially damage your car. If you own a brand new or exotic car, shipping it enclosed is definitely worth the investment if you don't want to see scratches on your beauty.
Shape Up, Ship Out
While there is no defined price for enclosed transport for your vehicle, anyone who thinks about it even for a second knows it is worth paying a little bit extra to make sure their vehicle is safe. There are never any guarantees with open transport, so if you want that little bit of added peace of mind when shipping your car, enclosed transport is definitely the best way to go.