What Is The Cost of Living In Atlanta In 2023?
On a very basic level, it costs an average of $2,174 per month to live in Atlanta. This of course does not factor in miscellaneous expenses. Atlanta cost of living is slightly higher than the nation average. Get answers to your questions about the cost of living in Atlanta with this guide.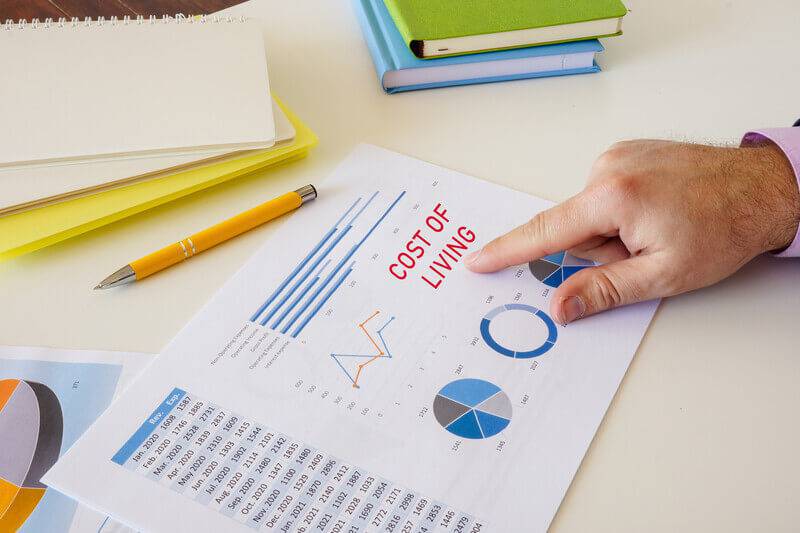 The average cost of living of a single person in Atlanta in 2021 is estimated at $2,174 monthly without rent. A family of four is expected to spend far more ($4,210), based on various conditions and lifestyles. Although the cost of living in ATL is less expensive than in locations like New York, Boston, and San Francisco, there are still costs to consider.
Living in Atlanta comes with nightlife, mild winters, award-winning restaurants, and a growing economy. There are other vital factors to note when selecting the next city you want to live in – from the list of local breweries and restaurants to the cost of living as well as the quality of life.
Atlanta is usually referred to as being an affordable medium-sized city with a lot to explore and numerous employment opportunities. But with increasing housing costs across the nation, how far will your money fetch you?
Find out more about the cost of living and the things to expect when you are moving to Atlanta.
The Cost of Living in Atlanta Is 107.5 as against 2.4% in the Year 2020
| | | | |
| --- | --- | --- | --- |
| Cost Of Living | Atlanta | Georgia | USA |
|   Overall | 107.5 | 93.4 | 100 |
|   Grocery | 98.8 | 95.5 | 100 |
|   Health | 91.8 | 95.5 | 100 |
|   Housing | 112 | 80.7 | 100 |
|   Average Home Cost | $259,000 | $186,500 | $231,200 |
|   Utilities | 103.6 | 103.2 | 100 |
|   Transportation | 122.7 | 105.1 | 100 |
|   Miscellaneous | 99.8 | 94.8 | 100 |
100=National Average
Atlanta's Cost of Living Breakdown
Atlanta Housing Costs
Median Home Price = $351,000
Median rent = $1,900
Your cost of living in Atlanta is mostly based on the amount you spend on housing. Prices in Atlanta are increasing, though rents are still fairly compared to other big cities. Our data reported that apartment rents in Atlanta have risen by around 10.79% over the years.
The average rent on a 1-bedroom apartment in Atlanta is $1,807 and a 2-bedroom costs $2,430. The location you pick can significantly affect your living cost in Atlanta. The best neighborhoods in Atlanta, such as Buckhead, which are famous for their safety, amenities, and quality schools, will cost more than an apartment in places that are not so exciting. House prices are also fair around the Atlanta area.
Even though there are multi-million dollar properties, the median house prices in Atlanta are around $351,000. The house pricing index also makes it easier for renters to become homeowners if they so wish.
Atlanta Cost Of Utilities
When you are calculating Atlanta's cost of living, it is important to take note of the monthly utility costs. With the median temperature during summer getting to the high 80s and regular humid southern weather, your AC will see a lot of use. Prepare to pay $157 per month for standard utilities, and an extra $78 on the internet. Your utility expenses will surely vary, but leaving roughly $235 every month will make sure you are within your budget. Utilities are usually overlooked, but essential to calculate so that you don't end up spending beyond what you planned.
To save costs, you may decide to move some of your utilizes with you, read How to Move Utilities When Moving Home
Atlanta Healthcare Costs
Average health cost: $2.713 per annum
Healthcare is a major cost consideration when relocating to Atlanta. We checked MIT estimates that depend on data from the Bureau of Labor Statistics as well as the Agency for Healthcare Research and Quality. A single, fully employed adult in ATL should plan to spend $2.713 per annum in Atlanta on their medical and healthcare costs. A family of 2 full-time working adults and a kid will cost up to $8,056 per annum for healthcare costs.
Fitness and Entertainment Costs
Atlanta got the nickname 'city of trees' because of its numerous outdoor spaces. You can enjoy rollerblading, jogging, and walking year-round in great places like the Beltline and public parks.  The old railway corridor converted into a multi-use trail is a hub for exercise lovers in search of some fresh air or unique fitness classes. If you would like a gym with more options, classes, and workout equipment to pick from, prepare to spend a minimum of $35 for a single adult.
In comparison, gym membership in Dallas costs $39.33 per month. You may be able to get an apartment in ATL that comes with an on-site fitness center or install a home gym in your home to save money.
Food & Dining Costs
Grocery Rating = 98.8/100
Groceries cost in Atlanta is a bit below the national average.  When rated from 1 to 100 (with 100 as the national average), Atlanta gets a 98.8. With great dining options everywhere you turn, budgeting for restaurant dining is important. Foodies and chefs from every angle move to Atlanta to try the Michelin star restaurants and diverse cocktail lounges, so, one can easily spend some money in these classy establishments.
A meal for two in downtown ATL will cost an average of $50, so based on how frequently you eat food prepared by the chef, your monthly expenses could increase. If you eat twice at a restaurant every week, get ready to spend about $200 per month on food.
Atlanta Transportation Costs
Atlanta is majorly a driving city, even with improvements in public transit as well as walkability. Traffic is also not for the weak around Atlanta, with lots of west coasters feeling like they are still in Los Angeles. MARTA train transit is not like the transit system in NYC, where trains service everywhere. Even though using MARTA can reduce your cost of living in Atlanta, it also implies that you will need to often interchange between train and bus and increase your commute time. The standard fare for MARTA is $2.50 with 4 free transfers within 3 hours. However, they are not applicable for round-trips. With $1, you can commute in the new Atlanta Streetcar. It runs a 2.7-mile loop across downtown Atlanta.
Other Expenses to Factor in Atlanta
Taxes can also affect the cost of living in Atlanta. The city's sales tax rate is 8.90%. That figure amount to 7% of DeKalb or Fulton County in ATL and 1.9 percent tax for Atlanta. Georgia's income tax rate starts from 1 percent to 5.75% with top earners paying the most rates.
Average Salary
The average salary in ATL = $4,523 per month
It is important to know the amount you need to earn to live a comfortable life in Atlanta. Since average rent is nearly $1,600 and the general rule is to earn thrice that amount every month, your income should be around $4,800 per month before taxes. Fortunately, the median monthly income for Atlanta is $4,523 after taxes, so the numbers are good.
Moving Tips
Immediately you pick out your favorite neighborhood as well as your dream apartment at the ideal price, and you are ready to move in, read our ultimate moving checklist for a stress-free move (we've helped lots of people to move).
Tip: Our best professional idea: come with a tape measure when you first check your new apartment, also when you move in. It will be so easier to find out where your belongings will fit and will help simplify the packing and unpacking process.
FAQ about Cost of Living in Atlanta
Is living in Atlanta costly?
Fortunately, Atlanta is fairly affordable to reside in. The cost of living, in general, is 2% cheaper than the national average. For more clarification on what that means, consult the charts above. You can see it is almost the same size as Dallas, a bit cheaper than Miami, and much cheaper than NYC.
Is renting in Atlanta costly?
Inside the metro area, Atlanta city has the costliest rents, at an average of $1,600 per month for a 1-bedroom apartment and $2,080 for 2-bedrooms, as reported by Zumper, a real estate listing company in San Francisco. Rents for a 2-bedroom apartment in ATL increased by 10% in the past year.
Is Atlanta a nice location to reside?
Known as ATL, The City in a Forest, or The Big Peach, Atlanta is an ace to reside in with an affordable cost of living as well as plentiful things to do. Atlanta's culture is unique and it has a relatively young population. It also features a thriving city center filled with urban parks, amenities, and popularly walkable neighborhoods.
Is moving to Georgia safe?
While living in Georgia might be more expensive a bit than living in Florida, the state has a lot of affordable and safe locations to live in general. If you are searching for a warm climate with lots of things to do, then you might just feel at home in Georgia.
Final Thoughts
The affordability, year-round recreational opportunities, and entertainment options make Atlanta a comfortable place to live, work and play. When you are prepared to relocate to ATL, you can perfectly plan your move. With the ideal approach, you can locate and hire a local moving company in ATL that suits your needs, whether you are moving to a new state or just across town. Begin your Atlanta move by asking for a quote now.