How Do I Prepare To Move To College?
Hello college, goodbye responsibilities- except the responsibility of making the grade, and moving of course.   Moving for college is one of the most memorable times of a person's life.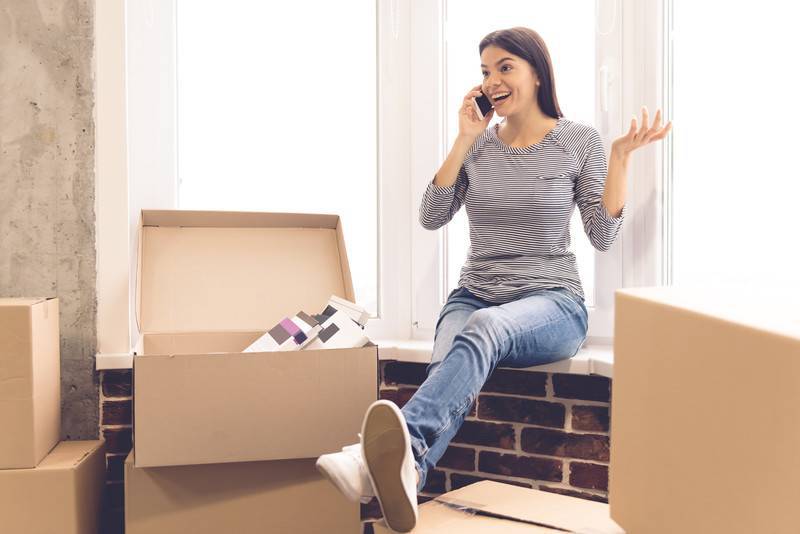 Hello college, goodbye responsibilities- except the responsibility of making the grade, and moving of course.
Moving for college is one of the most memorable times of a person's life. Let's just be sure you don't remember the anxiety of moving more than the good memories.
Proper preparation is absolutely crucial, especially if you are going to a college out of state. It's your first start, your brand new start, so you want to be sure that you're thoroughly prepared.
One thing that can help you prepare to move to college is using a moving checklist. This checklist includes tasks such as research your new city, find a place to live, set up your utilities, and so on.
This checklist might vary slightly when it comes to moving out of state for college, but these are some of the most important tips and tricks for every future college student to know.
What do I do before moving to college?
Preparing for college isn't just about packing up your old childhood memories and moving into your dorm. Part of the preparation is closing an old chapter and starting a new one.
Not sure what we mean?
Before moving to college, try to do things you haven't done yet. Meet up with friends you might not see for a while, travel- do something spontaneous to celebrate and make lasting memories before you move on to the next chapter of your life.
If you're not sure exactly how to turn the page, make sure to do these things before moving to college:
Meet up with friends: Since you are moving on to a new chapter, be sure to share a few more laughs, memories, and goodbyes with old friends that you might not see for a while. This is especially useful if you feel anxious or uneasy about meeting new people, bonding with your old friends one last time will help.
Travel: Take a trip; go somewhere, go anywhere! Since you will be living at the same place for the next 4 years, take the time that you have before moving to college by traveling somewhere new. One great thing to do is to travel to the state of your new college and visit all the most popular sites.
Get to know your new city: There's traveling around your new state, and there's getting to know your new city; they're completely different. When you get to know your city you familiarize yourself with all the important stuff like where the grocery stores are, the best gas stations, hospitals, and let's not forget the favorite burger joint. Taking the time to get to know your new city in a more up-close way, decreases the stress of moving somewhere new.
Meet your roommate: Do your best to connect with your roommate before your first day of school. This will allow you to get things prepared for your dorm room together, and eliminate the awkward tension of meeting for the first time later on. Social media is a great way to meet your roommate. You can even start by just chatting, texting, and emailing for a while. Start with what you're both going to be studying and about who's bringing what for the room, until you feel comfortable enough to 'hang out'.
Avoid summer classes (if possible): The summer before you begin college should not be spent buried in textbooks. You'll be doing that enough in If possible, avoid taking summer classes before moving to college. You don't need the extra preparation, what you need is relaxation.
Make new friends: In addition to meeting your roommate, you should also do your best to make new friends before moving to college. Whether this means connecting through social media or hanging out in person, making new friends can really alleviate first-time college jitters.
Stay away from home at least 2-3 nights: If you've never been away from home before, now is the time to do it. Whether you're the most independent young adult or not, there is nothing like spending your first night, alone, in your dorm. Before heading to college, prepare yourself by staying out a few times a month so that you can get a feel of what it's like.
Start a budget: One of the biggest realizations once you're in college, is that you're no longer relying on your parents' money for everything. Managing your money now, before you go to college, can give you a leg up and prevent you from going broke your first semester.
Do all the chores: Okay, so maybe we don't mean all of them, but most of them. Some of the most important things that new college students don't know how to do are laundry and grocery shopping. Practice these things before moving to college so that you're ready to live on your own like a pro.
See a doctor: Take one last trip to the doctor, dentist, etc. Get a physical done, check on your health, and most importantly, take care of yourself. You want to head into college as your best and healthiest self yet. Not to mention health service at college won't be the same as back home, so get the most of what you can before you move.
AND THEN…pack: We're certainly not saying forego packing altogether, just don't make it the only way you prepare for college this summer.
What should I pack for college?
There's no doubt, the list of things you need to bring to college is long, but there's also a list of things you don't need to bring.
While you are starting anew, completely on your own, you don't have to bring everything, but you also don't want to forget the essentials like these.
School supplies
Pens
Pencils
Notebooks
Paper
Tape
Scissors
Binders
Post-it notes
Index cards
Envelopes with stamps
TEXTBOOKS
Organization
Lamp
Mini trash can
Various sized storage bins
Fan
Bulletin board/ whiteboard
Mini toolkit
Picture frames
Picture hangers
Hangers
Linens
Full sheet set
2 pillows
2 towels
Throw blankets
Laundry basket
Laundry detergent
Drying rack
Shower curtain (if applicable)
Electronics
Chargers
Laptop
Portable speaker
HDMI cord
Headphones
Extension cords
Toiletries
Shampoo
Body wash
Hairstyling products
Makeup
Aspirin
Antacids
Toothbrush and toothpaste
Small first-aid kit
Lotion
Nail clippers
Household items
Lightbulbs
Paper towels
Trash bags
Pots and pans
Plates and silverware (plastic)
Tupperware
Cleaning supplies
Water bottle
Dish soap
Dish towels
Ziploc bags
Clothing
Socks
Underwear
Pants/ jeans
Shirts/ tops
1 pair of boots
2 pairs of sneakers
1 pair of dress shoes
Swimsuit
Heavy coat
Hat, gloves, scarf
How much does it cost to move for college?
Like any other move, it does cost to move to college, and we're not even talking about tuition.
Depending on whether you are going to college in-state or out of state will determine how much it costs. Typically moving in-state might cost anywhere from $300 -$500, whereas moving out of state could be upwards of $1300.
The best way to calculate moving costs by using a moving cost calculator.
The important part is setting a budget and saving money and time, where you can.
Believe it or not, there are actually professional college moving services, just like there are any other types of moving service. Hiring professional movers for college can significantly reduce your time and stress, while even saving you a few bucks.
Some of the things you need to know before hiring local movers to help you got to college are:
The date of your move
The size of your dorm
Elevators vs. stairs
If you can park your car, and where?
On the big day, be sure to be in an accessible location for the movers to reach you, or have the appropriate means necessary to move your stuff.
Should I move for college?
Should you go to college? Absolutely. Should you move out of state or stay close to home? That is entirely up to you.
There are benefits for both moving far away and staying close to home for college.
For students that choose to move far away from home, the opportunity could expand their horizons in various ways; meeting new people, seeing new places, and trying new things without the weight of their past or parents on them.
Moving far away, however, might heavily depend on the cost, travel, and unique family needs. One of the biggest factors of staying close to home is that it is often cheaper.
Before you make the decision consider a few things:
Are you sick of your hometown?
Would you like a fresh start?
Can you afford it?
Would you rather save money for furthering your education, such as a master's degree?
Remember that out-of-state colleges tack on an extra fee for tuition, just for coming from a different state. The money alone can deter a person from moving far away for college.
The important thing is that when it comes down to it, the best college move for you will be the one with the school that suits you best.