Things to Know Before You Hire Gun Safe Movers
Moving a gun safe takes the expertise that professional movers possess. They are heavy, bulky items that require care and preparation to move.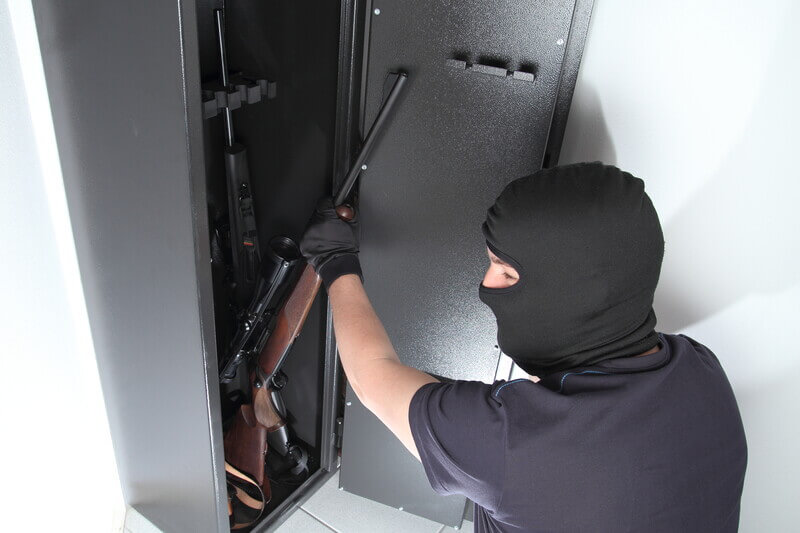 If you have rifles and pistols that you keep in a gun safe, you will want to hire professional moving company to transport it. Moving such a safe isn't a DIY job because it is very heavy and can cause damage to the safe and property when you move it.
Although most long-distance and local movers will have the knowledge and equipment necessary to be able to move the safe, there are several things you'll need to know contacting movers to get price quotes.
What Should Movers Know About Your Gun Safe?
When contacting moving companies to get price quotes for moving your possessions across town or the country, you must notify them of the heavy, bulky items they will need to move, such as your gun safe. Make sure they can move a gun safe and other heavy items before hiring their service. Since they are large, heavy items, you can plan on there being an extra charge for this service.
Gun safes stand at least five feet tall, and they can weigh from 200 to 5,000 pounds. Depending on its size and weight, moving costs can range roughly from about $200 to $500+. Also, gun safes are available in several materials, so if you have an ornate wood gun safe, the special handling it needs may increase the charge for moving it.
Transporting the Gun Safe
To make it easier to transport a heavy gun safe, the movers may disassemble it to make it lighter. They will remove the safe's door as it weighs the most and wrap it to prevent damage. Owners can help in the effort to make the gun safe lighter, and less costly to move, when they clean it out by removing any organizers or dividers in it.
Once the door is off the safe and wrapped, the movers will also wrap the rest of the safe with moving blankets to keep it from getting scratches or dents on it. The movers will also protect the floors and carpets by laying down wood known as Masonite. Along with protecting the floors, the wood will make it easier to roll furniture dollies over the floors.
To get the safe onto the truck, especially if it weighs 600 pounds or more, the truck will come with a lift gate to move it onto and off the truck.
Preparing the Gun Safe for Moving
In order to make it safe to move to move, owners need to take out everything from the gun safe. Your movers should be able to transport the guns, but you'll want to check with them to make sure. However, you will need to move the ammunition in your car or truck. Movers do not move ammo because it is volatile and one of the hazardous items they legally cannot take.
Be sure to add gun safe preparation to your moving checklist. It's advisable to add it the tasks that need doing the day before moving or on moving day so that the firearms and ammunition aren't out of their safe spot for too long. You'll want to put the guns in cases or gun bags, and place the ammunition among the items you will take in your vehicle.
Frequently Asked Questions
Are movers able to move gun safes?
Yes, most local and long-distance movers can transport gun safes. However, when reviewing the moving services you need with the moving company, don't forget to mention you have a gun safe and ask them if they are equipped to handle it and if they are able to transport your unloaded weapons.
What should movers know about a gun safe?
The primary information a moving company will want to know is the weight of the safe. The safe's owner should find that data in the owner's manual if they still have it. If they don't, they can look online for the weight of the safe by looking up the model number. The model number is usually in two places: on the exterior of the safe or on the interior on the door's side.
Can moving companies legally move guns?
Yes, moving companies can put unloaded guns on their trucks to take to their client's new home. However, they should be in cases or gun bags to protect them from damage. The only thing gun-related that they cannot move is the ammunition. It is volatile and is not legal to load onto a moving truck.
Why do movers take off a gun safe's door?
The bulk of the weight of the gun safe is in the door because most gun safes are fire insulated. The more insulation there is, the more fire-resistant the safe will be. Also, the doors on gun safes are usually steel, which adds to their weight. Taking off the door lightens the safe, making it easier to move.
Should I lay down cardboard to protect the floors?
There is no need for homeowners to use blankets or cardboard to protect their floors when moving. The movers will use moving blankets and wood known as Masonite to protect the floors. This material will also make it easier to move loaded furniture dollies.
Moving Your Gun Safe
To make the job of moving a gun safe easier, owners should clean everything out of their safes. Since the movers will usually remove the door of a safe to make it lighter, you won't need to worry about losing anything out it if you clean it out. Be sure to plan on taking any ammunition with you in your vehicle as professional movers cannot legally transport it.