Benefits of Moving From East To West Coast
Moving from the East to West Coast? There is much to get ready for and much to be happy about. Whether you are moving for employment or just for better weather, continue reading for some advice on moving to the West Coast.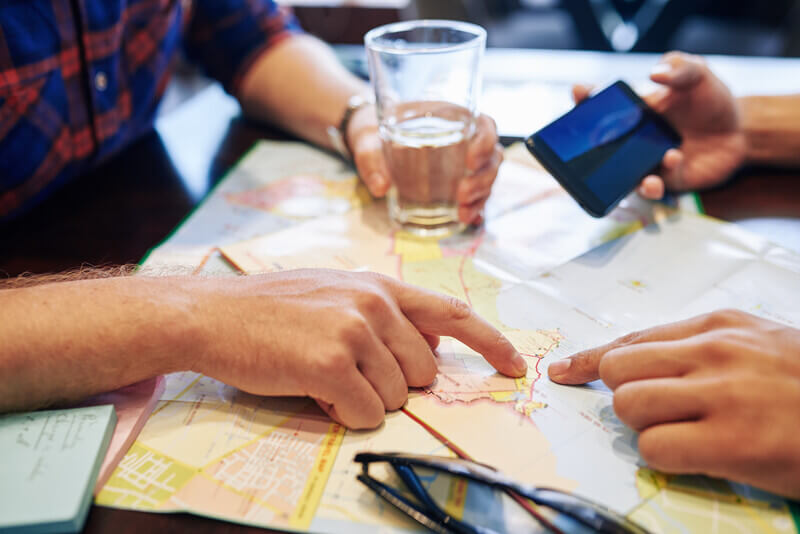 You've thought of it for years, and now the time is here to relocate from the East Coast to West Coast. And while you are happy about enjoying your retirement, reinventing yourself, or starting a new job on the West Coast, you can't say that your excitement is the same when it comes to the move.
You are right – moving from one coast to another is stressful, complicated, and many uncertainties are accompanying the process.
If you need to move fast, the whole anxiety just turns more intense. Be calm, as we are here to help.
Continue to read to find out the benefits you should know about moving to the West Coast and facing your move in the most cost-efficient and time-saving ways possible.
Why do People relocate to the West Coast from the East Coast?
The three states in 2021 that see the most rates of move-outs were all located in the East – New York, New Jersey, and Connecticut. People move for varieties of reasons, but usually, than not, those reasons are life quality, cost, and employment. Based on those reports, you will possibly wonder if the West Coast is a better choice than the East Coast.
Well, maybe. Many things depend on where you would want to live – San Francisco and Portland are two distinct players in this game. That is why some people find it easier to live in the eastern region. While all states and cities are not the same, they seem to form a single unit where change is only felt in the details.
If a quick lifestyle change is what you seek, you can do the quiz on where should move to or just research ways to move to one of the coastal towns in the west. All of it is different; which is what makes it attractive and exciting to live. Add that with cheaper rent and bigger houses and you are just getting started.
Moving to West Coast from East Coast? Be prepared for the following:   
1. Versatile housing situation (cheaper sometimes)
Some who moved from the east to the western regions have written lots of blog posts and social media complaints on how much rent is cheaper in the western states. If you don't read those bloggers' experiences, you can also see statistical evidence that shows rents are lower in Los Angeles to New York for spaces of the same size. Aside from rent benefits, landlords are much reasonable in places like Los Angeles.
While renters are required to fulfill some conditions in the New York area, you would have lots of paperwork for a small-sized apartment for $1,200 per month, which won't be essentially the case in California or even Oregon. Also, taxes in California are lower. That may surprise you because the state is greatly taxed, but its 11% tax rate is an upgrade from New York's 12 percent.
Cost of living in big Western Coastal cities
To give you the entire data, we compare costs in western cities
| | | | | | |
| --- | --- | --- | --- | --- | --- |
| Place | Monthly median salary | Rent for one bedroom | Rent for three bedrooms | Monthly utilities | Monthly transportation |
| Los Angeles | $5,033 | $1,668 to $2,225 | $3,115 to $4,445 | $169 | $100 |
| San Francisco | $7,716 | $2,493 to $2,869 | $4,566 to $7,510 | $188 | $81 |
| San Diego | $4,497 | $1,731 to $2,173 | $2,875 to $3,676 | $137 | $72 |
| Portland | $4,029 | $1,309 to $1,669 | $1,989 to $2,798 | $201 | $100 |
| Seattle | $6,324 | $1,542 to $2,047 | $2,846 to $3,783 | $207 | $99 |
2. Strong job growth (tech in particular)
The tech industry is thriving in the west and you can make cool money in tech. Other industries are also not lagging in the west. The West has become a leader in post-recession employment growth. The same can't be said about parts of CA but there are some parts of the west where you can live on a nice salary and cheap cost of living.
3. Perfect weather
If you are moving from the East Coast, Los Angeles weather will be a perfect fit for you. Average high temperatures during summer months are in the low – mid-80s, with breezes from the ocean if you are not far to the coast. Average temperatures high in the dead of winter in January in LA is around 680. While exceptions exist (the Valley, away from the cooling Pacific, can be 100 hotter than many coastal areas), the weather in LA is mostly heavenly.
4. More sunny days
One other thing that everyone moving cross country often remembers is likely the weather. It seems like lots of New York residents and people from other eastern states can't let go of snowy winters and cold springs but it is easier to adapt to warmer weather than they think. After you become adapted to it, you will consider the weather conditions on the eastern coast as awful.
When you begin to pack clothes, ensure you have sufficient short sleeves and light jackets to serve you for a month before you completely adapt. The weather can be among the vital advantages of moving coast to coast because more people are affected by seasonal depression than ever, and it is a difficult thing to shoulder when you have to go to work 5 days a week.       
5. Alternative lifestyles livable in the West
I've met a lot of people who are ready to take risks in their lives and careers. I met some taking time off to travel and the rest who quit corporate jobs to try a new thing. The Pacific Crest Trail is particularly among the longest trails in the whole nation that stretches through Oregon, California, and Washington that draws hikers year-round for exploration.
Also, more attention seems to be on pursuing a dream lifestyle in the west. Maybe it is the natural scenery that encourages residents to pursue their dreams. Westerners tend to spend their money on travel, material things, and other experiences.
6. Get ready for a less efficient commute
Even though there is a subway system in Los Angeles, people dislike using it like they do in New York City. While a huge amount of the centrally located LA neighborhoods are covered by Metro, light rail is also available above ground and a long bus system. Below is a fast primer on Los Angeles transit to help make the transition from transit-reliant NYC smooth.
FAQ about Benefits of Moving From East Coast to the West Coast
Why do people decide to head west?
One of the major reasons people headed west was for the land. There was much land, farm-friendly soil, and it goes for a cheap price. Also, living on the East Coast is very crowded. The population of the country was increasing at a very rapid rate.
What were the perks of living in the west?
The opportunity to be a cowboy, Goldrush, as well as mining opportunities is one of the perks. Also, faster commute to the west by railroad; supplies availability because of the railroad. Also, the possibility of being a landowner at a cheap cost under the Homestead Act is another one.  
Which is better between West Coast or East Coast?
If you've never been to the U.S., you may not know which is the best place to visit. The West Coast or the East Coast you ask? Some people will present promising arguments for both coats. However, the East Coast is the better choice especially for those visiting the U.S. for the first time.
The Cost of Relocating from East to West Coast
What is the cost to move from the East Coast to the West Coast? This is a popular question that deserves to be called a moving essential at this stage. The cost of coastal moving services is often based on a packing list given by the customers. That is a great way to plan and follow a moving budget, but you will also have to save some money a few months leading to the actual move to feel more comfortable.
If you are flexible and move to a smaller apartment away from the center and curb spending for one or two months before moving, you could have a nice dollar amount in your account to keep you afloat for a while.
Why is Hiring a Cross-Country Mover for Moving between Coasts the Best? 
As earlier discussed, the cost of cross-country movers is given based on a packing list of items. That means you will be charged for just that, nothing more. Besides, materials and packing services are among their professional moving service, which is particularly beneficial if you have fragile or heavy furniture.