Moving from California to New York: Local Movers and their Cost
Local movers in the California area can help complete your New York relocation. The best estimates for the move can be made with iMoving's detailed cost breakdown guide.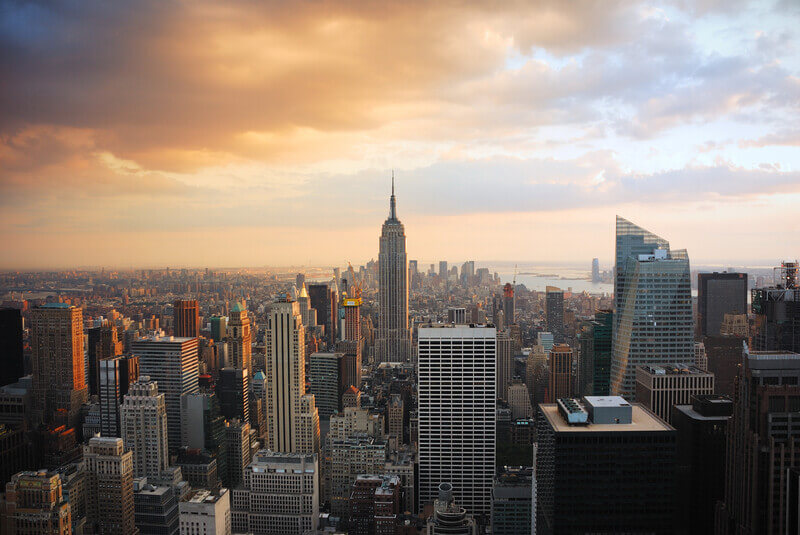 A move from California to New York will require moving companies in your local area to complete the transition. The overall cost of hiring local movers in your area will depend on the services you require and the size and distance of your move. Typically, a cross-country move from California to New York is estimated to cost between $3500-$8,000+.
Calculating the cost to hire California movers to relocate you and your belongings to New York requires some research to ensure you get the best possible price from a reliable moving company. No two moving companies are the same, so it's important to compare multiple quotes and services before deciding.
This guide will offer insight into services, costs, and other factors you'll need to consider when looking for local movers in California for a long-distance move to New York.
Local Movers California Costs
Moving companies typically calculate loading, transport, and unloading costs in their free quotes based on a flat fee, or a per pound ($0.75-$1.00+) and per mile ($0.50-$1.00+) cost. You may also need to factor in other costs that may increase the overall price, such as:
1. The Time of Year
During the summer and fall months, peak moving season comes with a higher price tag. During this time, it's not only easier to complete a move on schedule, but it's also when the demand for moving services is at its highest. As a result, hiring a company during these months could cost you 20-30% more than if you move during the winter or spring.
2. Access Costs
Specialty parking permits for oversized transport vehicles, fees for unloading in buildings with stairs, and additional labor for carrying items from a long distance to your home; are all potential access costs that your moving company may charge. New York has limited parking, and most buildings don't have elevators large enough to take all your items up at once, so access costs are common when moving to this city.
Long-Distance Movers California Services
When selecting movers to get you from California to New York, it's important to consider additional services you may need to make the transition as smooth as possible. These services will add to the overall cost of the move, but they will also help save a lot of time and energy so you can take care of essential interstate moving checklist tasks before, during, and after the move.
Additional moving services you may require include:
1. Packing services
If you don't have the time or energy to properly pack up all your belongings, some companies will offer this service for an additional fee. They will come in and carefully wrap and box everything up for you.
2. Unpacking services
After a long cross-country move, the last thing you may want to do is unpack everything. If this is the case, some companies offer an unpacking service to help you get settled into your new home.
3. Furniture assembly/disassembly
Many moving companies will also offer to take care of assembling and disassembling any furniture that needs to be moved. This can be a big help if you don't have the tools or expertise to do it yourself.
4. Storage
If you need a place to store your belongings for a short period of time, some companies offer storage solutions. This can be helpful if you are moving into a smaller space and can't fit everything or if you need to wait for your new home to be ready.
Using local movers for these additional services may increase the overall cost of the move by a few hundred dollars to a few thousand dollars depending on the total amount of items and the complexity or size of the furniture. However, the amount spent is worth it to ensure that everything arrives safely and on time to your new home in New York.
Frequently Asked Questions
Is it better to hire full-service movers?
Usually, yes. Hiring full-service movers mean that you won't have to lift a finger during your move. Everything will be taken care of for you from start to finish, saving you a lot of time and energy. DIY moves or partial services may save money, but in the end, they will end up costing you more in time, stress, and potential damages.
I am moving from California to New York - should I hire movers here or there?
If you live in California, you'll want to hire local movers in California who are insured and licensed to complete long-distance moves across the country. There are a number of reputable movers that can be found through third-party sites that rate, review, and connect you with their services.
How much does it cost to hire full-service movers?
The cost of hiring full-service movers will vary depending on the company you choose and the services you need. Most people spend between $2,000 and $5,000 for a full-service move from California to New York. This includes loading, transportation, and unloading services. However, this number can increase if you have lots of stuff, specialty items, or require storage and additional services.
Do I need to tip my movers?
While tipping is not required, your movers always appreciate it if you are happy with their service. If you decide to tip, a good rule of thumb is $20 per mover per day. You can also give a lump sum tip at the end of the move, depending on how satisfied you were with their services.
How long does it take to move from California to New York?
The average cross-country move takes between 7 and 14 days, depending on the route, traffic, and weather conditions. Your movers will be able to give you a more accurate estimate once they know the specifics of your move.
Know What to Expect for a California to New York Move
When calculating the cost of a move from California to New York, there are several factors you need to take into account, such as the time of year, services needed, access costs, and the overall distance being traveled. By considering all these factors, you can get a better estimate of the total cost of your move and make sure you are prepared for any additional expenses.