Why Are People of Florida Moving To North Carolina
North Carolina is fairly halfway between New York and Florida, making the state a few hours to either of those populous states. With her low cost of moving, great technology advancement, good weather, booming economy and more, Florida choose North Carolina over others.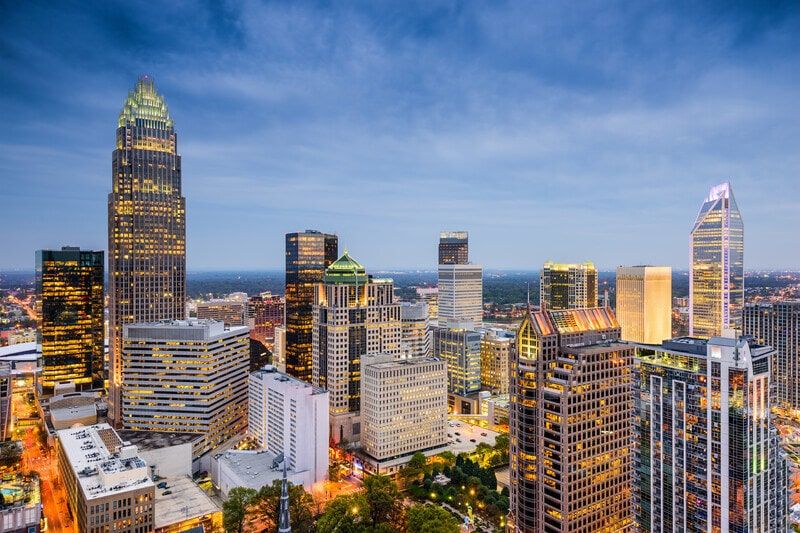 There is no doubt; the population in North Carolina is increasing; many thanks to the increase in residents moving in from other states. More than 37,000 people were estimated by the Census Bureau to be moving from Florida to North Carolina yearly. Almost 361,000 people moved in 2019 to North Carolina, as reported in the American Community Survey by the United States Census Bureau.
Florida, South Carolina, Georgia, Virginia, and New York were the leading states people moved from to North Carolina.
Let's discuss why people are moving, where they are moving to, the cost of moving, and many other things.
Why are Floridians moving to North Carolina?
Economic reasons are majorly why people are moving to North Carolina from Florida. Increased job opportunities are available in NC and for people who wish to reside in the southern states, North Carolina is a nice place to call home. Growth in technology, as well as research, is the latest development in the area and it attracts young professional who may have started in the Sunshine State to search for better career development in North Carolina.
Also, North Carolina offers the same low cost of living, so you can live perfectly well in North Carolina with a Florida household budget.
Best Places to move to in North Carolina and Reasons
Charlotte, NC perks
Why should you move to Charlotte?
Diverse neighborhoods: Charlotte offers varieties of communities that fit you irrespective of your salary or lifestyle. Lots of people move to Charlotte because they have already chosen a neighborhood that welcomes them.
Great corporate growth: Charlotte has in the past decade become a hub for finance and turning to the 2nd-largest financial banking hub after NYC. Many jobs and career opportunities helped new residents.
Nature is closer: While a booming urban center, Charlotte doesn't disappoint in its offering of a natural backdrop to escape from the stress. Residents spend their weekends relaxing on mountains and beaches.
Raleigh, North Carolina Perks
Why should you move to Raleigh?
Career potential: A thriving economy has put this city on the map for the whole country. Not restricted to a few particular career sectors, Raleigh has turned host to the medical industry, tech firms, and startups.
Amazing healthcare: Families and retirees prioritize access to top-quality healthcare when deciding their move. Some of the best hospitals in the U.S. are in Raleigh, drawing some of the world-famous doctors.
Low cost of living: With lots of advantages, you would think North Carolina will be expensive. But the cost of living is still moderately low compared to other cities in the country. You will find the taxes and real estate costs reasonable.
A home for arts and culture: A creative atmosphere is important to many. The diverse community in Raleigh is home to the best museums and theaters in the world.
Durham, North Carolina Perks
Why should you move to Durham?
A place for learning and employments: Durham is home to Duke University. This is one of the many employers for the city. The new business boom here, making sure the unemployment rate remains at 3.8%, much lower than the national average.
Affordable living: The median cost of a home in Durham is around $75,000 lower than the country's average. Affordability together with job opportunities is the ideal attraction for new professionals looking to settle down.
A hub for Southern cooking: Incredible new restaurants are booming in Durham, attracting tourists and new residents together. The cuisine takes those hungry on a new adventure and satisfaction with varieties of menu and many dining options.
Greensboro, North Carolina Perks
Why should you move to Greensboro?
An amazing higher education city: Greensboro is definitely a college town, but with choices. The North Carolina Agricultural and Technical State University and the University of North Carolina are the main education centers. There is also the Research Triangle of Raleigh nearby.
Eco-friendly community: For people that chose to go green, Greensboro welcomes them with amazing city initiatives such as Higher Education Area Transit (HEAT) to lower the carbon footprint of the city. That is why Greensboro has been listed as one of the top 10 best green cities.
A corporate center: Employments are important and there are 8 major company headquarters located in Greensboro together with employment opportunities provided by its universities.
Local cuisine in Greensboro: What makes Greensboro unique is its world-class dining that is combined with local southern favorites. This amazing approach to food has made a remarkable spot for food enthusiasts hoping to find unique dining experiences.
Asheville, North Carolina Perks
Why should you move to Asheville?
Best national parks: Hikers and bikers will find the amazing national parks in Asheville delightful. The unlimited trails offer several hours of exploration for outdoor lovers. Combine this warm temperature so the weather is usually ideal for outdoor exploration.
Amazing views: Due to the low population of the city, nature remains untamed for the most part. The amazing views are among the biggest draws of this Southern town. Seeing mountain ranges every morning is sometimes worth it.
Almost no traffic: There are more benefits to the low population. You will not get stuck in traffic jams while going to work. You will have less stress and fast commutes.
Wilmington, North Carolina Perks
Why should you move to Wilmington?
Beaches in abundance: Located on the oceanfront, the amazing Wilmington beaches offer several hours of seaside enjoyment. Include boardwalks, swimming, and fishing and you may want to remain in the water.
Golfers love it: Together with ideal weather for year-round golfing, golfers also have access to some of the best golf courses in the U.S. Also, they are not made for only the elite. Most of the courses allow access to the weekend player at cheaper rates.
Tourist stuff for residents: The amazing part of the city is that there are so many activities that you would likely do as a tourist. Residents can plan their weekends around the Jungle Rapids, the aquarium, and the Battleship North Carolina that is parked on the seaside for tours.
Incredible festivals year-round: Festivals and fairs are a vital part of the Wilmington lifestyle. Everyone can find what they want from the free outdoor concerts, street fairs, and the North Carolina Azalea Festival themes for various months of the year.
What is the Cost of Moving from Florida to North Carolina?
The average cost to relocate to North Carolina from Florida is $2,300 to $3,000 based on the move's size, route, and timing. Hiring a professional long-distance moving company will cost more than other options. Opting for truck rental companies or choosing to use a moving container will save you cost but also involve more work.
| | | | | |
| --- | --- | --- | --- | --- |
| Home Size | Moving Company | Moving Container | Freight Company | Truck Rental |
| Studio/ one bedroom | $1,650-2,600 | $1,510-$2,039 | $1,045-$1,485 | $887-$1,197 |
| Two - three bedroom | $2,230-$2,800 | $2,258-$3,048 | $1,188-$1,688 | $1,045-$1,411 |
| Over four bedroom | $2,990-$5,750 | $2,805-$2,787 | $1,330-$1,890 | $1,235-$1,667 |
Rental truck estimates only include fuel. Consider extra costs for food, lodging, and parking fees. You also can customize your relocation budget with the use of our moving cost calculator. You can get a more accurate cost depending on the exact Florida city you are leaving and the North Carolina city you are moving to.
Why the Huge Difference in Prices?
The varieties of moving options available imply different ranges in pricing. Professional cross country moving companies render full services from loading and unloading to hauling the moving truck to North Carolina from Florida. With that great service, you will spend more.
Moving container providers allow you to do the loading and unloading. They handle the entire driving.
While they cost less than professional movers, they are still expensive to other options. Renting and driving a moving truck to North Carolina from Florida will save you more money. This option, however, involves more work. You must handle the entire loading and unloading and the driving to North Carolina from Florida.
While you may spend more, professional moving companies help cut the stress of your move. Make sure you obtain three quotes at least, as movers also have different pricing.
FAQ about Why People of Florida are moving to North Carolina
Where are those relocating to North Carolina moving from?
The majority of these people – 308,400 or eighty percent of the entire immigrants, relocated to North Carolina from out of state. Florida, South Carolina, Georgia, Virginia, and New York were the leading states people moved from to North Carolina. Find out more about where the newest residents in North Carolina are coming from.
Why does everyone choose North Carolina?
A recent study by RentCafe discovered that Charlotte was drawing millennial renters majorly from other parts of the state. People have different reasons to move locally – closeness to family and friends, job security, the comfort of home, or costs of interstate moving.
What is the cost of professional movers?
Hiring professional local movers for a local move will cost an average of $300 - $1,500 based on the move's size. Long-distance relocation will cost an average of $2,400 to $5,600 based on the size and distance of the move.
Are you ready to move to North Carolina?
Net migration has been the reason behind most of North Carolina's growth over the past ten years, which means more people moved in than out. If you are ready to move to North Carolina, iMoving is here to help make the entire moving process seamless. Request a quote from our Movers in Florida today!