Total of
1
movers in
Franklin
Moving Solutions
Nashville

Nashville, TN

3.6
12

Years in Business

10

Trucks

100

Workers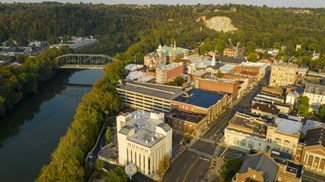 Franklin, KY Movers
Making a big move in life is already a stressful experience, you don't need to make any aspect more complicated than it needs to be. With iMoving you will have use of a specialized service able to help you find the exact type of movers in Franklin, KY that you need. With the right movers working with you, everything becomes just a little bit easier and you can begin to focus on the things that truly matter when taking such a big step.
Easily compare all of the top movers in your area with iMoving with a simple and easy-to-use system, and read reviews on each option from people just like you who have used their services. There is no better partner for starting a new chapter of your life than iMoving.
Locate the Best Local Movers in Franklin, KY
iMoving is able to help you quickly and easily locate the very best local moving companies in Franklin, KY. Rather than simply give you a list of every possible mover regardless of quality, at iMoving we instead take the time to personally interview representatives from each company and we verify that they have the proper licensing and insurance credentials. The moving companies we work with are the absolute best in the area.
Another benefit of working through us here at iMoving is that when you decide on the local movers in Franklin, KY that are perfect for you, you can then lock in a binding contract at a set price before the move even begins. When you work with us, you can be sure you won't be caught off guard by any hidden fees.
Sort Through Top Long-Distance Movers in Franklin, KY
A long-distance move is often a complicated process that needs attention from specialists who know exactly what your move entails and what needs to be done to make it a success. At iMoving we have spent considerable man-hours sourcing and sorting through the long-distance moving companies in Franklin, KY and have compiled a network of the most trusted, successful and beloved long-distance movers in the area.
The secret to our success in helping customers locate the best long-distance movers in Franklin, KY is the level of transparency in the process that we provide. You have full control of the booking process and will be able to ensure that the move you are planning has the exact features and pricing that you expect.
Find the Cost of Movers in Franklin, KY
Moving is a complex process and each stage has a series of costs that can be surprising to those who do not move often. On top of the general complexity, many moving companies will look for ways to work in extra fees and costs. With iMoving you are able to compare prices of all the top mover options and then lock in a price.
At iMoving we also give you access to a helpful moving cost calculator so you are able to put together an accurate estimate ahead of time, letting you know which companies are giving you a fair price and which are not.
It is now easier than ever to move to Franklin, KY and you can do so knowing you are paying the absolute best price for a move.
Why People Love Moving to Franklin, KY
Franklin Kentucky is a fantastic little town that is much loved by those who live there. The town boasts a top-rated golf course, several historical museums, a classic drive-in, and hosts several music festivals throughout the year. The small town also has a very low crime rate and a great school system. Simply put, Franklin is a throwback to the classic days of small-town America where you knew your neighbors and you could leave your doors unlocked.
If you want help in making your move perfect, make sure to check out the iMoving moving checklist. We have professional first-hand knowledge of the Franklin area and understand what is required to make a successful move in the area. Get started with iMoving today and you will see why so many who have moved around Franklin, KY have been recommending us.