Total of 3 carriers in
North Las Vegas
Espinosa Express
North Las Vegas

North Las Vegas, NV

4.22
5

Years in Business

1

Trucks

10

Workers
Champions Moving
North Las Vegas

North Las Vegas, NV

3.97
13

Years in Business

10

Trucks

40

Workers
Eco Movers LV
North Las Vegas

North Las Vegas, NV

3.85
1

Years in Business

1

Trucks

4

Workers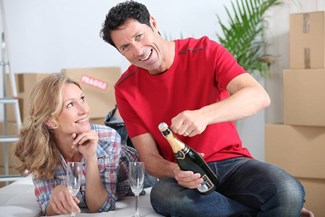 North Las Vegas Movers
When you're starting to explore the options that you have in regards to a big move, you may feel a little stressed or overwhelmed by what it is that you need to accomplish. How can you be sure that you find the right resources? What moving companies in North Las Vegas are going to be able to help you in regards to your needs and concerns?
At iMoving, we pride ourselves in being the best moving facilitator out there. We work directly with you and ensure that you've got everything in order for your move. In short, we do all of the research and make sure that our partner local movers in North Las Vegas that we connect you with are going to be movers that you can trust and work with for your entire experience.
iMoving.com is very easy to navigate and use. All you need to do is let us know where you're moving from and where you're headed to, and then you get a full list of estimates from the companies that match what you need to get done. And, not only that, but you also get to go ahead and schedule – and even pay! – for your move all through the same website. In just a handful of quick steps, you can find the right North Las Vegas movers and get your move sorted out.
iMoving is proud to be a company that provides simple and low-stress solutions for sorting out details around your move, and we're glad you're working with us to secure the best North Las Vegas moving companies.
Moving Services in North Las Vegas, NV
Packing and Unpacking: Do you need help with the packing and unpacking processes? Then you want to be sure that you schedule that with your movers.
Long Distance Movers: Long-distance moves require a lot of logistics and often cost quite a bit, based on both the mileage and how much stuff you're taking with you.
Local Movers: Local moves are charged hourly and based on how many people you have helping you to move, so they run much lower costs than long-distance moves.
Business Movers: Business relocations are difficult, and these movers know the ins and outs of ensuring that your move goes as smoothly as possible.
Storage Options: Are you concerned about delays and other issues that may arise with your move? Many movers offer storage options so that you don't have to worry about that "in-between" time.
White-Glove Services: White glove services are perfect if you need assistance with fragile items or large items.
Packing Supplies: Some moving companies in North Las Vegas offer packing supplies.
5 Tips for Packing and Moving
Start everything as soon as you have a moving date: Do you know when you're going to move? Then you want to start all of the processes around it. You want to be sure that you have your move scheduled and that you're able to start packing stuff up as soon as you possibly can. Having that in order can relieve stress and prevent other issues from coming up as well.
Pack an overnight bag: Have an overnight bag available for moving day. You want to be sure that you have everything that you'll need in one spot because, otherwise, you'll be frantically opening boxes and trying to find those things the first night that you're in your new place. Have an overnight bag that stays with you.
Pack as little food as possible: You don't want to pack your cupboards into the moving truck – they weigh a lot, and they take up valuable space. You're much better off eating as much of your food as possible and making sure that you can get a grocery trip in when you get to your new place. It'll save a lot of stress and it could save you some money in the long run.
Use empty bins, bags, and suitcases: If you have empty bins, laundry baskets, bags, suitcases, and other items that you're taking with you, you want to be sure that you load them up! Instead of wasting a lot of space or spending a ton of cash on boxes, you want to use the items that you have at home first.
Label as much as possible: Label everything and be specific when you label those things. Not only will it help you to accomplish your goals, but it can make the process a little simpler when it comes to unpacking items as well. It'll reduce your anxiety and ensure that you're able to find things the minute you get home.
What Should New Residents of North Las Vegas Know?
North Las Vegas is a really interesting place to live. Most locals don't visit the strip unless they are being visited by friends or family, due to how pricey it can be to see shows and whatnot. But, North Las Vegas still benefits from the culture, food, and financial impacts that come from being so close to the strip.
Many people like to visit "Old Las Vegas," which is the downtown area – which is very different from the strip. This downtown area is like many cities – lots of small businesses, fun places to eat and hang out, and family-friendly activities. This is the part of Vegas that locals enjoy and they, more often than not, want to bring their friends here so that they can get a taste of what Vegas is really like.
If you're moving to North Las Vegas, you want to be sure that you're ready for hot weather. Temperatures can get over 100 degrees but, as locals say, "it's a dry heat." That means that it's a lot more comfortable than what you'd get on the East Coast with 100+ degree weather.
One of the best things about North Las Vegas is how reasonable the cost of living is. Even though you're near the lights and the bling, that doesn't mean that you're paying for them. The school district is a fairly well-known and respected one, and it's getting better all of the time. As a result, if you have a family and you're moving to Vegas for work, North Las Vegas is likely going to be a pretty solid option for you.