Total of
1
movers in
Pahrump
Budget Moving & Storage
Pahrump

Pahrump, NV

4.7
19

Years in Business

3

Trucks

15

Workers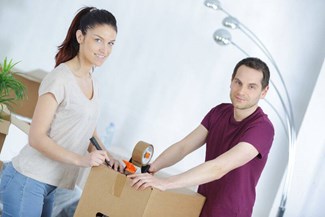 Pahrump Movers
One of the most essential parts of preparing for your move is ensuring that you have a Pahrump moving company that can take care of the entire moving process for you. How can you be sure that you do what is necessary? And how do you even start the process of looking for Pahrump movers?
iMoving was created to do exactly that for you. We pride ourselves in providing the very best resources so that you can find moving companies, compare quotes, and work out the details so that you can schedule your move with ease. Our website is one of the best for finding Pahrump moving companies; just a couple of clicks and you've got your day ready to go.
The fact is, our team at iMoving has done a lot of work to ensure that you can get exactly what you need from a Pahrump moving company. We do background checks, contact all of the movers that we list and make sure that they are everything that they say they are. We know that there are a lot of moving companies to choose from, so we have done everything possible so that you know you're hiring the best.
At iMoving, we facilitate your move from beginning to end – so if anything goes wrong or you need help for one reason or another, we can make sure that things happen as they should. Check out our quote finding tool and schedule your movers here at iMoving today!
Moving Services in Pahrump, Nevada
Residential Moves: Do you need to move your home and family to a new place? Residential moving companies make that process simple and stress-free. These movers can move any sized home, from an apartment all the way up to larger homes and mansions (5+ bedrooms).
Commercial Moves: Commercial moves may include small businesses, corporations, warehouses, and other industrial moving needs.
Local and Long-Distance Options: iMoving offers quotes and connections to both local and long-distance movers in Pahrump. Local moves are typically 75 miles or less; long distance is any further than that (whether interstate or intrastate).
Additional Moving Services: Many of the movers that iMoving works with also offer additional services, like storage options, packing and unpacking, white glove services, and various other services you may need. These will often accrue additional fees based on the company, your needs, and their policies.
Make Your Packing and Moving Simpler With These Tips
Put together a to-do list
The best way to ensure that you get everything done before moving day is to have some sort of to-do list that you're working with. Don't be afraid of putting every single thing to do on that list, either – the more that you have, the more accomplished you'll feel. You can stay on top of tasks and, in the end, you'll be much more prepared when moving day hits.
Start packing and cleaning with the basement and attic
The basement and attic are the locations in your home that are most likely to have the things that you've forgotten about for one reason or another. Because of that, it's essential to take some time to start sorting things out and packing them up from those places. If you don't have either of these in your home, then start with the closet.
Have a moving sale approximately 4 to 6 weeks before you move, if possible
If you've got some time between when you know that you're moving and when you actually plan on moving, you want to go ahead and put together a moving sale. You should be getting rid of some items as you pack, and a moving sale is a good way to recoup some cash while also getting rid of some of the stuff you don't want to take.
Extra towels, linens, and decorative items should be packed early on
Decorative items are often awkwardly shaped, and so you want to do everything that you can to get those packed before anything else. You can find specialty boxes and make sure that they aren't going to be broken or jostled as you transport them. Extra towels and linens are typically just taking up space in closets, so loading them up early can be helpful as well.
What to Know When Moving to Pahrump, Nevada
If you're moving to Pahrump or the surrounding areas, it's likely that you're doing something with the well-known college located there – Biola. Biola University is a private, evangelical Christian university that is known as being one of the its kind in the country. It's one of the few evangelical universities to have doctoral programs through their Talbot School of Theology.
Due to the college presence, Pahrump is quite a unique place. More conservative than some of the other areas that you may go to in Nevada, there are several robust faith communities that do a lot of family-friendly activities and other such things. You are still in Los Angeles County, but it feels a lot more "homey" than what you would find in suburban Nevada.
Coffee shops and parks abound throughout Pahrump, and like many Nevada suburbs, you're going to find plenty of places to go and enjoy the outdoors. It's one of the more affordable suburbs near Los Angeles, with a median home value of just over $500,000 and average rent around $1,700. Most people in the area own their homes, but there are often plenty of affordable rentals available, as well.
Like much of Los Angeles County and the surrounding suburbs, you are going to find a lot of diversity throughout the area. Economic, cultural, ethnic, and religious diversity can be found in every corner of Pahrump, allowing for anyone and everyone to feel comfortable and find a home here that they can enjoy.
Families and young professionals alike feel comfortable in Pahrump, and there are so many great ways to really engage with this vibrant community and all it has to offer. The schools are some of the best in the entire country, and you're sure to find some part of the community where you can fit in and feel embraced.