Costs of Moving From Boston to Florida
Are you sure that you are financially prepared to move from Boston to Florida? Our comprehensive moving cost guide will give you complete assurance.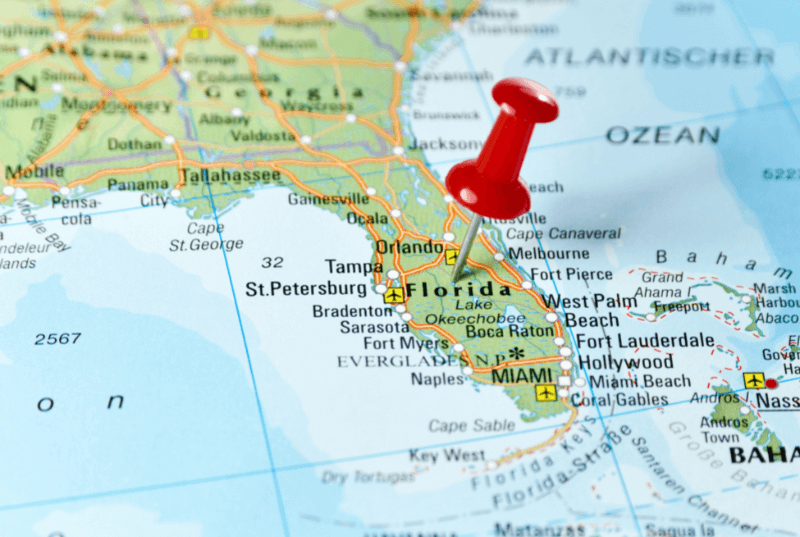 Moving from Boston to Florida is a big change. Before you can acclimate to the changes in The Sunshine State, you first need to get there with all of your belongings. You can rent a truck and DIY or hire moving professionals to give a hand and ease moving stress and pressure. The cost of your move is affected by every decision you make.
Moving out of state can be overwhelming without a good idea of the costs. Trust our moving cost guide to provide you with valuable information about hiring Boston movers, moving costs, and how your decisions affect them. This moving guide eases financial worry, especially when coupled with the use of a moving cost calculator providing detailed estimates based on the specifics of your move.
Average Cost of a Long-Distance Move
The average cost of moving from Boston to Florida ranges from $1,200 to $5,500+, depending on the area of Florida you're moving to, the amount of stuff going with you, the type of move, and even the time of year. Winter moves cost significantly less than moving during the summer when moving companies are busiest.
The circumstances of your move can affect its cost. For example, if moving professionals need to access stairs or elevators, extra fees may apply due to the increased difficulty in moving your items. The fees are called access fees and some can substantially increase moving rates.
Type of Move
A DIY move is probably the least expensive way to move from Boston to Florida if you have the time and energy to carry it out. A DIY move is just that: you handle all of the tasks related to the move. If you don't want to deal with renting a moving truck but can tackle the rest of a DIY move, moving container rentals that the container companies pick up and move for you might be a good option.
Moving long-distance with help from professional movers is more expensive but worth the costs. Professional movers have all the tools, equipment, and knowledge to safely move your belongings, taking away a lot of the stress and worry. They load and unload the truck, assemble and disassemble furniture, drive the truck and can even pack and unpack your belongings if needed.
Hiring moving help reduces the time moving takes and reduces the amount of strenuous work left for you. Moving is the sixth-most strenuous event in a person's life. Moving professionals ease stress so you can focus on your new life in Florida.
Local Move vs. Long-Distance Move
A local move is one local to the moving company. It can be a move to the same city or even another state. The number of miles considered to be local differs from one moving company to another. To be safe, consider a move of 100 miles or more a long-distance move.
Local movers charge hourly rates. Typically cheaper than costs of a long-distance move, but local moves with hourly rates are not possible when moving from Boston to Florida – nor are hourly rates really desirable or practical considering the driving time involved.
A long-distance move, sometimes called a cross-country move, is one that is typically more than a few hundred miles. Long-distance movers charge per mile and per pound rates versus hourly rates.
The actual number of miles separating Boston and Florida depends on the city or town of your new home. At least 1,365+ miles separate the two places. It takes just over 21-hours to drive directly from Boston to the Florida state line.
Unforeseen Moving Costs
Unforeseen moving costs may not be included in your initial moving quotes but can quickly add up and increase the rate of your final moving bill. It's prudent to familiarize with some examples of these types of fees so you can add them in to the total estimates you get when using a moving cost calculator. Then you'll have a better idea of costs when you get initial quotes from moving companies of interest.
Be sure to mention any of these costs to the movers before hiring a company so they know what to prepare for and can incorporate the appropriate fees into the final estimate.
Some common extra fees include:
Fees for extra stops
Fuel surcharges
Stair fees if buildings with multiple flights of stairs are involved
Parking permits or special carry fees if the moving truck can't park near the building
Appliance disconnect
Extra stops, such as at storage facilities
This is not a complete list of fees that moving charges may charge but instead, some of the most common fees moving companies may charge. Each moving company determines the extra fees charged to customers and they differ from one company to another.
Reduce Moving Costs
Moving can cost a lot of money, but there are tricks to reduce moving costs. Take some of these tricks and apply them to your move to enjoy the same moving cost savings.
A few ideas to slash moving costs:
Begin researching movers at least two months before your moving date.
Create a moving checklist to organize your move and keep track of the moving companies you contact.
Purge your belongings before packing, tossing anything that's worn out, no longer used, or no longer wanted.
Request moving quotes and compare moving companies, packages, and options.
Schedule your move during the months of November or December during mid-week for best moving rates.
Buy moving supplies, like boxes, from home improvement stores or find them free on sites like Craigslist.
Put all the tips above together to increase moving cost savings. Don't be afraid to find other tricks to reduce moving costs and save more money that you can spend on fun in Florida.
Frequently Asked Questions
When do I pay for moving services?
If you rent a truck, you'll pay the flat-rate fee immediately. The mileage fees are charged to your credit card when the truck is returned. Full-service moves are paid for after the move is completed.
Should I tip my movers?
Professional movers definitely put in a hard day's work. Tipping is not mandatory is expected. Tipping sends a big thank you to the people who worked so hard to make your move possible. The typical tip for movers ranges between 15% - 20% of the total moving bill for good service.
What is the best day of the week to move?
Many people head out on weekends when they have a couple of days off from work and a little extra time – that's why weekend moves are more expensive than moving midweek. For the best budget-friendly moving rates, pack up and head out on a Wednesday.
How many moving quotes should I get?
We recommend getting quotes from three moving companies at a minimum. Three quotes give you a good understanding of average moving costs. Additionally, quotes help you find a good moving company that's licensed, insured, and equipped to handle the specific circumstances of your move from Boston to Florida.
Should I purchase moving insurance?
Federal law requires movers carry basic insurance when transporting your belongings. The basic coverage pays out at a rate of $0.60 per pound. This would result in a payout of about $45 if an item weighing 75-pounds is damaged in the move. Additional insurance can be purchased from the moving company or from one of several third-party insurance companies.
Understand Moving Costs to Ease Moving Stress
Understanding moving costs helps you better prepare for the move from Boston to Florida. Get three or more quotes, pick the right type of move, and relocate during the right season to secure a budget-friendly relocation process.