Costs of Moving From New York to Florida
Discover the latest tips on hiring top-rated movers and gain a better understanding of how movers calculate relocating expenses by reading a guide put together by the iMoving experts.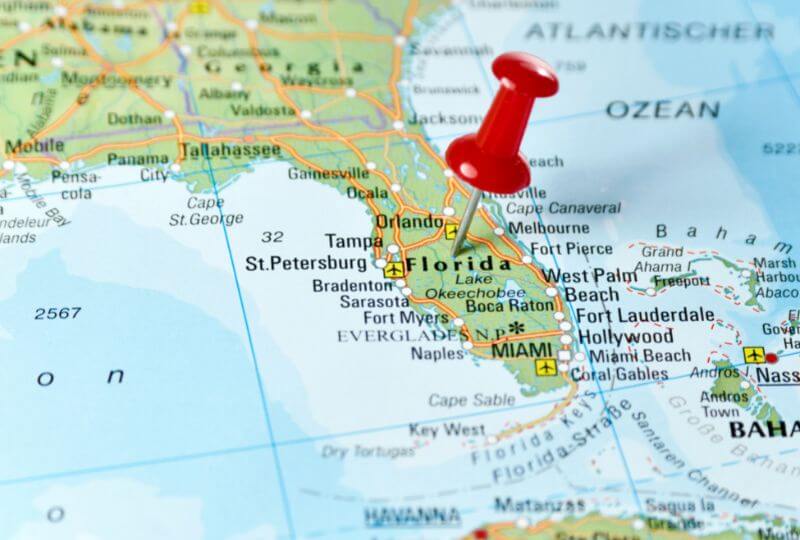 Moving from New York to Florida costs roughly $1,500 for a studio apartment, $2,500 for a one-bedroom, $3,500 for a two-bedroom, $5,000 for a three-bedroom, and up to $9,000 for a four or five-bedroom house. Of course, those are general estimates and the total expenses associated with your relocation will depend on the specific requirements of your move.
Anyone who is planning a move in the coming months from NY to Florida can use a moving cost calculator to get a ballpark estimate for how much they might have to pay a moving company. Such estimates are not exact, but they do allow you to budget for the move.
The best way to experience an effortless and straightforward relocation is to hire a top-rated mover. Reliable relocation specialists offer fair prices, do not renege on their quotes, and do everything to ensure your move goes off without a hitch.
Below is our guide that explains in detail the costs of moving from New York to Florida.
New York to Florida Moving Costs Explained 
Since hiring local movers, that typically charge by the hour and work within a 100-mile or so area, for a New York to Florida move won't work, you'll need to get in touch with interstate movers. Interstate or long-distance moving companies charge a flat rate for their services, which includes the cost of their labor, the moving truck, transportation, tolls and fees, and any other expenses related to the job.
The cost of such a move ranges from $1,500 to $9,000, depending on the size of your household, when in the year you are moving, and the level of service you require from the movers. Requesting a full-service move including packing and unpacking, is more expensive than only asking for a loading, unloading, and transport service.
Movers may charge a higher price for relocation jobs in the summer, as they are busiest during that season. If you are booking a moving slot on the weekend, you may have to pay a higher fee, compared to customers who are happy for their moving day to fall on a weekday.
How to Hire the Very Best Movers 
When you are searching for long-distance movers, ensure you are using a reliable source to do so. Find a platform where you can search through lists of top-rated movers, as it would allow you to quickly contact those companies online or over the phone.
Try to get in touch with at least two or three reliable movers, as you will get different quotes for your long-distance relocation. When asking for a quote, be very specific about the circumstances of your move. Let them know your origin and destination zip codes, the size of your move (how many bedrooms' worth of belongings you are bringing), and any special requests you have to make regarding the relocation.
If the movers have the most accurate information, they can provide you with a quote that will be nearly identical to the final price you pay after your move's completion. When clients leave out important details, they may have an unpleasant surprise when they open the bill after the move.
Steps to Take Before the Movers Arrive 
Ensuring that your moving day goes smoothly is all about preparation. If you take a few steps before the movers arrive, they can immediately begin their work to get your belongings onto the moving truck and on their way.
If you are requesting a full-service move, you do not need to pack anything beforehand. What you should do is declutter your living space. Get rid of any trash, clothes, furniture, or other belongings that you are not planning to take with you to your new home. If these items are out of the way, the movers can work faster to pack and load up your remaining items.
Those who share a living space with others will want to be very careful during such a relocation. Ensure that you are putting all your belongings, furniture, and appliances in one corner of the house. You can take the additional step of putting post-its on each item that is going onto the moving truck, which lets the movers know not to touch anything else.
Frequently Asked Questions
Should I be hiring the company that offers the absolute cheapest quote for the relocation?
Not necessarily, as your goal should be to hire a top-rated mover that has many years of experience in the industry. A mover that cuts corners to give you the absolute lowest rate in their quote may not provide the best service, which would cause you more tension and stress during the relocation process.
Is there an advantage to purchasing additional relocation insurance from the moving company?
Yes, if you have any valuable items that are going onto the moving truck, you may want to purchase additional insurance in case anything is lost or damaged in transit. There is standard insurance in every moving contract, but it only provides a modest sum in compensation for any lost or damaged items.
Will there be a guaranteed delivery date for my belongings to arrive in Florida?
Most long-distance movers do not promise a specific day and time that your items will arrive, especially given the distances involved between New York and Florida. You will probably receive a two-day window for your belongings to arrive at your new address. The movers will stay in touch with you during the transit period, and they may inform you a day in advance that your belongings are arriving during a specific time window the next day.
Is it possible to have chemicals like cleaning sprays or insecticides transported on the moving truck?
No, movers do not transport any dangerous chemicals on their moving trucks. If you have such materials that require relocation, you will have to separately arrange for their transport. You may be able to mail some of those items, depending on current regulations at USPS or private companies such as UPS and FedEx.
How early should I be booking a moving slot with a mover ahead of my relocation?
As you plan your relocation from New York to Florida, you should be requesting moving quotes at least a couple of months in advance. That gives you roughly one or two weeks to finalize a mover for the relocation, and book the ideal date and time slot for your moving date. If you are booking a relocation for the summer and desire a weekend slot, you may have to book two or three months in advance, as those are the most popular time slots of the year.
Final Thoughts 
The amount you will have to pay movers to transport your belongings from New York to Florida depends heavily on the size of your move, when you move during the year, and the services you request. Moves that only involve loading and unloading cost less, for example, than a full-service move.
By using a reliable platform to connect with and hire top-rated movers, you can eliminate a lot of the stress associated with this process. Rather than worrying about whether your belongings will arrive safely and on time, you can sit back and have peace of mind that your items will be at the destination address within the scheduled window.
By hiring top movers, using a cost calculator to ensure your move remains within budget, and creating a moving checklist to avoid forgetting anything important, you will not miss a beat as you relocate to Florida.