What Will Military Movers Not Move?
A military move can be different than a civilian move – including rules governing what movers cannot move. Use our guide to prepare for a military move.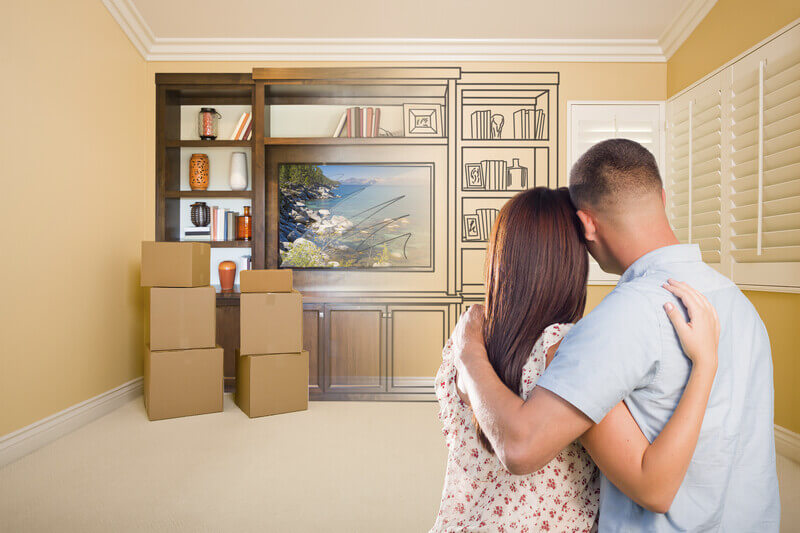 If you are in the military and you're getting ready to relocate, your military movers have to adhere to a lot of rules. Military movers won't move most food, anything flammable (batteries, full propane tanks, etc.), and anything that may melt (candles, etc.).
What does a military moving experience look like and what is involved in the process? What do you need to be prepared for in the first place? Let's take a look.
How to Get Ready for Your Military Move
Getting prepared for moving day is crazy enough as is – and getting ready for a military relocation can be its own brand of stressful and crazy. So, of course, you want to be as prepared as you can before things happen. Here are some of the things that you can do to make sure that your military move goes as smoothly as possible.
1. Understand that you're not packing your home yourself
If you're being called on a PCS (permanent change of station – essentially, a relocation), then your unit is going to be the one who is executing everything for you. Not only that, but they are going to send a team who is going to pack up and load up all of your stuff.
You, obviously, have somewhat of a say in regards to this – but, that say is likely limited. As with everything in the military, things are planned out to the second, and you're just along for the ride.
2. Organize items in the manner you wish for them to be unpacked at your new place
Since you're not in control of packing things on your own, you need to be sure that you have your home organized in a manner that makes sense for the home that you're moving into.
Many times, the home you're moving into is going to look different than the home that you're in. So, you want to be sure that you visualize that as you're arranging where different things are in your home. Your packers are going to pack based on where stuff is in your home right now, and they will label boxes according to that.
So, if you take some time to rearrange things so that they pack it up in a sensible fashion, you will find that it's that much easier to get things where they need to go when they unpack at your new home.
3. Know what you can and cannot take with you
There is a whole list of items that you cannot take with you if you're getting your items moved by the military. This is known as "the PCS list" and it is adhered to very strictly. You're not going to find any exceptions, so be sure that these items are in your car or otherwise taken care of.
So, what's on this important list? The list includes, but is not limited to the following items (as of 2021):
Batteries and other items that may leak acid
Any sort of alcoholic beverage, even if it is unopened.
Propane or other types of gas (or items that have them; but if those items are drained it is okay)
Live animals of any sort.
Most building materials (so finish your unfinished projects)
Live ammunition for your own private use.
Certain weaponry
Hazardous Materials (if it has a hazardous materials label, it can't go).
Double-check the PCS rules to make sense of what they are, as they are updated every year. They are always adding and adjusting which items can and cannot be transported by the military moving companies.
3. Start purging items as soon as you can
As soon as you know that you're going to relocate to a new home, you want to start the process of purging. Purging is going to be a big part of ensuring that your movers don't take unwanted things with you when moving day comes along.
Put together a pile of stuff that you want to send along to a donation center. Consider having a moving sale, if you're allowed to do so, and be certain that you get rid of whatever it is that you don't want to take with you.
Also, be sure that you take out all of the trash before your packers arrive on moving day. There have been stories about servicepersons who end up unpacking trash because their packers didn't realize what they were packing.
4. Pack a few bags or suitcases with items for the first 2-3 weeks
Whether you're moving across the state or to a different country, it's going to take a while for your items to get to your new place. In many cases, it could be up to three weeks before you see the hide or hair of the things that your packers packed up.
These items should be what comes with you in the car and/or on the plane (however you are getting to your new home). Make sure that you have enough clothing for your entire family for the week.
Have your sheets and pillowcases for your bed, along with any toiletries that you're going to need. Pack up medication and all of your important paperwork. If there's something that you think you're going to need in the first two weeks at your new place, you want to have it packed up properly.
5. Send the empty boxes with your movers
Have a plan in place for when your unloading team arrives at your home. You don't want to have a bunch of empty boxes lying around when you're trying to settle into your new place.
Your best way to deal with this is to have several people involved. Have someone at the front door that is directing the team where they need to take certain boxes. Then, you have someone else following them, cutting open the boxes, taking the contents out, and giving the boxes back.
This reduces the amount of waste that is left sitting around your home, and it makes it more likely that you're going to sort out the stuff you've been waiting for. Plus, if you have other hands ready to help, they can start organizing bookshelves, putting clothing away, and more.
6. Stay focused!
The most important part of any move, but especially a high-speed military relocation, is staying as focused as possible. You want to put together a plan and execute that plan as best as you possibly can do so.
Whether that means that you write it all down and have a checklist, or you have processes that you've talked through, and you want to execute, you want to be sure that you have everything in order and that you do it well so that moving day is less of a hassle.
Moves are overwhelming! But, if you're smart about the process and you focus on what it is that you need to be able to do, then you're going to find that everything is executed more appropriately. Plan as much as you can and you're sure to find that it is a much less anxiety-inducing process than it would have been.
Frequently Asked Questions
Do overseas relocations look any different?
They are typically quite similar, other than the fact that your items are likely going into shipping containers rather than a moving truck. Otherwise, the logistics that you need to sort out aren't going to be that much different – the differences occur with the teams that are taking care of your move, and how they deal with all of the details thereof.
How long will I have to wait for my stuff?
Many times, military moving companies will send out trucks for several families at a time, which can save them money. But, that means that it could take anywhere from a couple of days to three weeks for your items to get reunited with you. Be ready for that situation so you don't end up packing a bunch of things that you may need in that period of time. 
Can I hire an outside service?
It depends on your situation. In some instances, it's going to be faster and more effective to just go with the team of people that the military has trained to deal with military moves. Plus, they pack for you – which just saves you time! In other cases, your military base may give you a list to choose from, so you'll get to see which one works with your schedule. Talk with your higher-ups and they will give you some guidance in this regard.
Getting Ready to Relocate with the Military
Moving to a new place is a great adventure, and you want to be sure that you're ready for it. If you prepare well, you can be sure that you've done things right and that you'll be ready when it comes time for your local movers to come in, pack up, and move you out.