Tips To Find Best Short Distance Movers
Short distance moves offer a shorter moving experience than long distance moving. They usually include moving within neighborhoods and as a result of this they require local movers in and around your neighborhoods. What this means is that you might not want to be searching around far distances to hire a mover when you need to move short distances.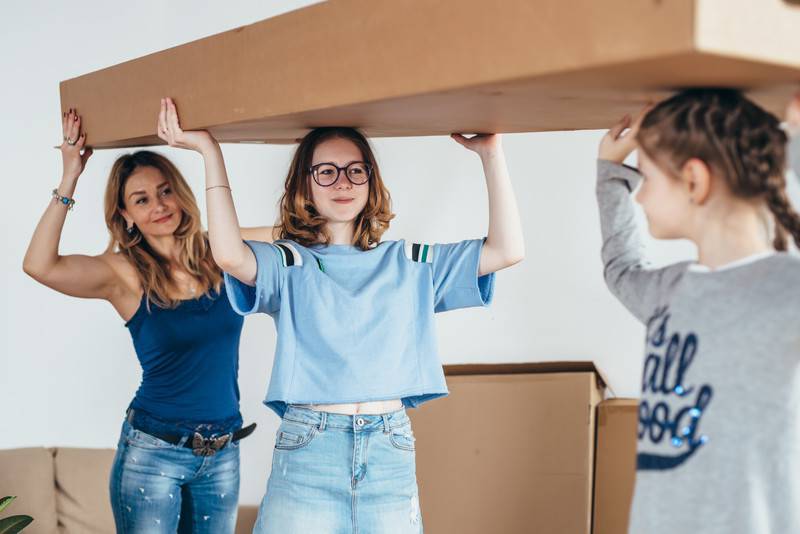 Short distance moves offer a shorter moving experience than long-distance moving. They usually include moving within neighborhoods and as a result of this, they require movers in and around your neighborhoods. What this means is that you might not want to be searching around far distances to hire a mover when you need to move short distances.
Regardless of how short the distance may be, there are certain questions that will cross your mind when you are planning to move short distances within your neighborhood. You probably will be thinking and asking yourself, "is moving short distance cheaper?" and "is moving locally easier?" and "how much will it cost to move short distance?"
You don't need to look too far for answers to these questions, as we will be providing expert answers to these questions and many more other questions. It could be difficult to answer these puzzling questions without having sufficient analytical data to gather and process. The fact that it's a short distance doesn't mean that it will be bliss all through without one issue or the other. What determines whether your short distance move will be easy starts from the mover you hire, the nature and number of the items to be moved, and how well you prepare ahead. If you can get it from the mover you hire, prepare and plan ahead, then your short distance move will most likely be problem-free.
We will be providing a guide that can make your short-distance moves a success. From how to find a great professional mover to how to put to good use the moving tips that will be highlighted here; how well you do these two will go a long way in guaranteeing success when you decide to move.
Tips to find short distance movers
If you want to ensure you hire the best short-distance movers, this section provides a comprehensive guide. The truth is that some short-distance movers are better than others. The real task is how to identify the better ones, don't fret, we will tell you how to identify good short-distance movers.
Get short distance movers
Request moving quotes from more than one local moving company, compare the quotes. Take your time to identify the company that has carefully put together their estimates and fits into your budget and your moving needs, this company will likely be the most appropriate you should hire.
Do not hire a mover based on a random principle
Ensure to start your search based on the antecedent and online reputation of the company. Make sure you read reviews and testimonials about the different moving companies you are looking to engage in. Have an idea of what people are saying about the moving companies. This will keep you safe and can help you to avoid being scammed by dishonest local movers. Regarding reviews and testimonials regarding the companies will give you an idea of what they can offer.
Check out if they are licensed
Check out if the companies are licensed. You can get information regarding licensing of your short-distance moving companies by checking with the U.S. Department of Transportation (USDOT number). You can also check their records with the Better Business Bureau (BBB) and to see if they are affiliated with the prestigious American Moving and Storage Association (AMSA).
Ask friends and families who recently moved
You can ask your friends and families who recently hired short-distance movers to get an idea of their experience and reviews about how they were well-served. This will afford you the opportunity to see if they will give you positive or negative feedback about the movers you have pre-selected.
Learn more about the company
Once you have gotten in touch with the moving company, do not relent, take more time to even read and learn more about the company. Call them up to see their level of responsiveness and ask questions regarding your planned move; how they interact with you and answer your questions will tell you more about their level of professionalism.
The answers to your questions must be swift, straight to the point and easy to understand without trying to dodge the questions. You have the right to get as much information as you can. They should be able to do everything within their power to satisfy their customers and provide them with the best services that will make the move hassle-free.
Ask for ways to cut moving costs
Ask your moving companies for possibilities on how you can reduce moving costs. Request if there are possible discounts and if there are ongoing relocation promotions. Why do you want to pay more when you can get the opportunity of paying less? Take your time to get the best rates for your move especially if you are working on a lean budget.
Short distance moving tips
There are a lot of things that you can do to cut moving costs when you are moving short distances. You can make use of time-saving tips, money-saving tips, packing tips that can enable you to have fewer tasks for your movers to do. The lesser the jobs you are outsourcing to your mover, the lower the cost of moving.
Start early
The secret to a successful relocation whether short distance or long distance is to start early. Commence your moving preparations as early as you can, have a moving checklist, and attend to the tasks on the moving checklist with all seriousness. Do not allow the term "short-distance" to make you become complacent about the things you need to do as it can overwhelm you as little as you get if you fail to start early with the preparations.
It requires at least a preparation period of two months to the time you plan to move. If you have a time frame for the tasks you have on your moving checklist, stick to the plan, you can't afford to be complacent.
Take inventory and sort your belongings
You can put both inventory and sort into one task. As you are taking inventory, sort out your belongings into those that you will be moving with you and those that you no longer need and may want to sell or give out to friends, family, or even charity organizations. Proper sorting out will help to reduce the volume of items you are moving as it will help you save on moving costs, and have enough space in your new home.
Pack efficiently
How do I pack for a short-distance move? This is a question that is probably going on in your mind. Relax, we have it figured out. If you have not hired a full-service move from your local mover, then most of the packing will be done by you. Hence, you have to pack and pack well. Carefully pack fragile items and valuables such as electronic equipment, dishes, and glasses. You will need to get packing supplies yourself by buying or getting them for free from your friends, family members, or from Craigslist, grocery stores, and bookshops among others.
Get the right packing supplies
You can get moving boxes by purchasing from a number of selected short-distance moving companies. But if you are working on a lean budget, then you can go for cheaper options like getting cardboard boxes, ask friends, coworkers if they have spare boxes they can spare or visit some local supermarkets, bookstores, or grocery stores to ask if they can give you any available boxes that may seem like a waste to them. Even if they want to sell them, it will be a very cheap price.
For packing tapes, you can get them from your local stores or from your local movers.
Pack in stages
You can't pack everything in your home at a time or in a day. Hence, you need to strategize to decide on which items you will be packing first and which you will be packing as your move date draws closer. Start your packing from the rooms that you use less as they may contain items that you might not need for the next few weeks before your move date. Move to rooms that you use every day, start with items that you use less frequently, that way you will be able to get things going and have fewer items to pack on the day you are moving.
Request for help
Do not be afraid to request help from your friends and family members that can help you with packing, and sorting. You can even still discuss the possibility of having them available even on your moving day. If you are moving to a place that is nearby, it even becomes easier to have people come around to help you.
How much do short movers cost?
To know how much your short distance will cost, the best thing to do is to invite your movers for an in-house inspection so that they can have a better idea of what the job is all about. This will enable them to give you an accurate estimate (using moving cost calculator). You can request a quote from more than one local mover so that you can compare quotes.
There are different factors that will affect the cost of moving locally. Below are some of the factors that can affect or influence the cost of your move;
Most short-distance or local movers usually charge by the hour. This makes time a very important factor in deciding how much your move will cost.
On average, your short-distance movers may charge you a travel fee that can amount to one extra hour of work. The travel fee is considered to be compensation for the time the local moving crew will take in getting to your home.
The more items you need to move, the higher the moving cost. Also, if you have special items that will require special efforts or take more time to move, the more your movers will charge you.
The difficulty of getting the job done will also attract additional costs. For example, if there are stairways to carry the loads across, then it may attract more charges based on the number of stairs. If it takes more time, or if it is more difficult to get the job done, then the moving cost becomes higher.
The average cost of moving a short distance
Now let us put a figure to how much it can cost to move a short distance based on the size of the apartment; whether it is a studio room, 2 bedrooms, or a 3-bedroom apartment.
A studio apartment
On average, if you are moving to a studio apartment, you will need about 2 local movers and it will take 3 hours to finish the job, on average, this can cost around $150.
A 2-bedroom
This will require 3 movers and it will take 5 hours to get the job done. It is likely to cost around $375.
A 3-bedroom
A 3-bedroom apartment will require 4 movers and it will take them 7 hours to finish the job. This will cost around $700.
Packing and unpacking are considered as extra services by most movers and may cost around $30 per hour.
It must be noted that the costs here are just a general overview of the average moving cost. This will only help you to have an idea of the number of hours to get the job done since most of these movers charge per hour. The best way to know how much it will cost you to move your home is to request a moving quote from your movers. 
The secret to having a seamless relocation is early preparation as we have highlighted earlier. Start on time, have a moving checklist, do the tasks in a bit to avoid piling them up and you will have a hassle-free relocation.