6 Things To Know Before Moving From New Jersey To Florida
You are in for a serious adventure as you get ready to move to Florida from New Jersey. Even though you are enjoying great beaches on the Jersey Shore, you will have access to over 600 miles of great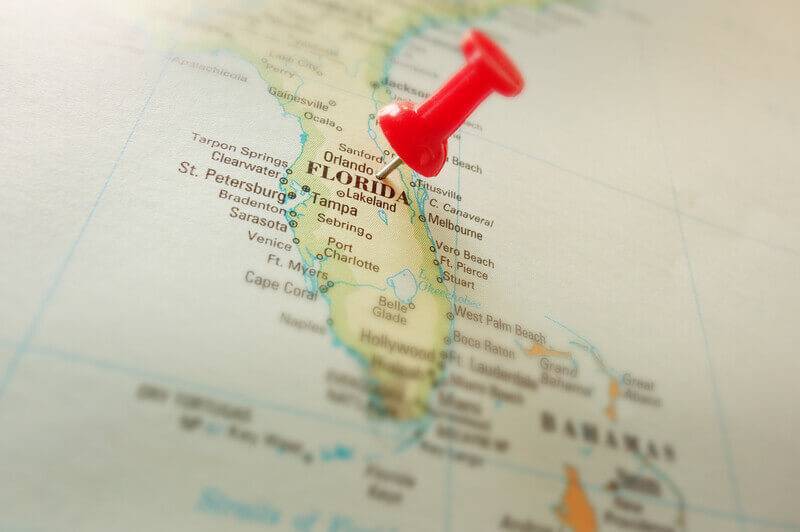 You are in for a serious adventure as you get ready to move to Florida from New Jersey. Even though you are enjoying great beaches on the Jersey Shore, you will have access to over 600 miles of great coastline when you get to Florida. The Sunshine State has a lot to offer those living in it including diverse wildlife, tropical climate, different recreational opportunities, plentiful beaches, and much more.
Here, we provide you information on all you should know from the cost of living in the Sunshine State to other things to consider to help you in getting ready for your move.
Good to hear, we are available to help you find a long-distance moving company from New Jersey to Florida quickly.
1. Favorable Weather Conditions
Do you find cooling-off easier than warming up? Then that implies that you likely prefer summers and you would be glad to know that Florida is a paradise to those who can't withstand the excess of winters. You don't have to be concerned about freezing temperatures and you can forget the memories of shoveling snow.
You can survive Florida weather with just a hoodie or a pullover which is a different case in New Jersey.
Below is the difference in temperatures that you can prepare for during high wintertime:
New Jersey in January: Median day temperatures fall in the 23 degrees Fahrenheit to 39 degrees Fahrenheit region.
Florida in January: Median day temperatures are between 62 degrees Fahrenheit to 70 degrees Fahrenheit.
You can now see that you can only be able to get out of your home putting on summer clothes in New Jersey during the winters. On the contrary, this can be different in Florida as winters there, are severely mild. You can even allow the thought of going out without being worried about snowfall.
Now let's discuss the things to expect from summers in Florida, which is usually the major weather.
Below is the difference in temperatures that you can prepare for during high summertime:
New Jersey in June: Median high temperatures are within 76 degrees Fahrenheit to 83 degrees Fahrenheit area.
Florida in June: Median high temperatures are within 88 degrees Fahrenheit to 90 degrees Fahrenheit area.
Summer temperatures are kind of the same in both states. Humidity levels in Florida are higher so prepare for harsh heat till you adapt to it. On the good side, the occasional rainfall cool is there to cool off the heat in summer. You've to remember that summers in New Jersey have more clear skies unlike in Florida, where it is often cloudy.
Few things to remember about Florida Weather:
Hurricane weather is a major thing you should adapt to as a new Florida resident. The state is at high risk of hurricanes, particularly in the summer months.
The occurrence of hurricanes or heavy rainfall is not consistent but if you plan to live in proximity to the coastline, the possibility of property damaged by a hurricane or the flood is huge.
Weather condition year-round is within the range of 52 degrees Fahrenheit to 91 degrees Fahrenheit, while it is between 26 degrees Fahrenheit and 86 degrees Fahrenheit zone.
2. Cost of Living
You can be happy at the news that it will be moderately cheaper to reside in Florida than in New Jersey. The major factor that enhances the possibility of low income is the tax system (no surprises). The highest property tax rate in the country is found in New Jersey at 2.47% while it is at 0.93% in Florida.
To further illustrate this, Florida doesn't charge state income tax which could further make things favorable. Aside from taxes, housing prices will look so much favorable in Florida, for example, below is the difference in housing costs:
The average value of homes in New Jersey is $387,105 (according to Zillow).
The average value of homes in Florida is $277,429 (according to Zillow).
So if your goal includes homeownership and investment, then it could be actualized with the housing prices in Florida. However, understand that the prices of beachfront homes can make you feel like you are already on another planet.
As regards groceries, expect total costs to be 5.9% cheaper than the amount you pay in New Jersey. Utilities and entertainment, in general, could cost 19.9% lesser in Florida. As regards cost, it will be less expensive in Florida, but don't expect it to be ridiculously cheap.
3. Taxes
As mentioned above, one vital factor when looking into the cost of living is the tax rates of a state. Just how much of your income will get deducted by the state? There is no state income tax in the state of Florida, which makes it ideal for high-income earners.
Income tax rates in New Jersey are from 1.4% to 8.97%, based on the income level of the earner. So, when you move south, a huge amount of money could be saved in your wallet every month. Sales tax in Florida starts from 6% to 8%, based on your location, while it is 6.625% all through the state of New Jersey.
The median effective property tax in the state of Florida is about 1.02%, which is lesser than the national average. The average property tax in New Jersey is on the other hand more than the national average at about 2.4%. None of the states have a tax on social security benefits. Viewing from a tax standpoint, Florida is the more favorable location to reside.
4. Larger Employment Market
One of the benefits of living in New Jersey is the advantage of tapping into New York City and Philadelphia's larger employment opportunities. This is another ball game with Florida, but the Sunshine State does offer a job market that is strong on its own.
There are almost 500 companies in New Jersey and 18 are found in Florida, so one can safely say that the two states are contending similarly.
You are likely in the know that advanced manufacturing, pharmaceuticals, and retail are some of the major industries in New Jersey. So, we thought it would be nice that you have a framework of the booming industries in Florida.   
List of the vital industries in Florida:
Transportation
Aerospace
Homeland security
Food processing
High technology
Florida ranks 4th in the list of states that contribute enormously to the economy of the United States while New Jersey is in the 8th position. They are not that far apart but since Florida comes before New Jersey; it implies that you could find greater opportunities.
As regards average household income, you will see a reduction in salary unless you indeed secure a job that pays more than Florida's average. In general, prepare to have lower income in Florida but don't get discouraged by it since the cost of living is also lower.
To provide you an idea, see the costs difference below:
The average household income in New Jersey is $82,545 (according to Niche)
The average household income in Florida is $55,660 (according to Niche)
So, the majority of households in Florida earn a median income of $55,660. If your next household income is far above this average, then you can take it to be an upper-middle-classmate in the state of Florida.
5. Transportation in Florida
In New Jersey, you would likely have to largely depend on your car to get around and the case is also similar in Florida. To get around Florida properly and get anywhere inside the state with ease as the topmost priority, a car would be the solution. But there are certain cities in Florida where you might find the need for a car unnecessary. These cities include:
Miami: If you decide to reside here, you can travel by taking Metrorail, Metrobus, MetroMover, as well as an intercountry rail line operated by Tri-Rail. Read Moving From New York City To Miami: Costs And Benefits
Tampa: Residents of this city rely on the HART (Hillsborough Area Regional Transit Authority) bus service. The bus offers sufficient coverage of the city limits and you can also depend on many trolleys.
Jacksonville: This city offers the Jacksonville Skyway to most of its residents to get around. Jacksonville is also extremely walkable.
Orlando: Residents of this city can depend on the SunRail which is a commuter train, or the Lynx which is a bus service.
The public transportation situation in Florida is almost the same as the scenario in New Jersey where the coverage is restricted to only some hubs and common routes. The major three modes of public transportation in New Jersey include SEPTA (rail line), NJ Transit (light rail), and PATH (commuter line). However, residents surely know that they have no access to these options unless they live closer to them. In general, only if you reside in particular counties or cities where there are only a few public transport options, the car will be necessary for Florida or New Jersey.
6. Outdoor Recreation
From fishing to swimming, to biking and boating, Florida sure offers unlimited varieties of outdoor activities. Thanks to the friendly climate of the state, outdoor lovers will enjoy numerous activities at any time of the year. You can enjoy the day snorkeling, swimming, fishing, sailing, jet-skiing, bird watching, or golfing. There are just many landscapes and diverse wildlife, giving residents a lot of opportunities to see great marine life and amazing water activities.
Top Florida Cities to Move to
1. Naples:
This is a beautiful little close city where the communities are so much friendly. It's a relaxed city with so much greenery. So if you feel like escaping from a fast-paced city lifestyle in New Jersey, consider Naples for a slowdown. Most residents here promote being outdoor either fishing or enjoying a sport like golf. It is also a famous choice for retirees and families with children due to its peaceful nature.
Average value of homes sold: $369,816
Average rent: $1,357
2. Orlando:
If you lived in Jersey City and like a sociable and lively place, then consider Orlando as your next destination. It has an international airport in close range, so if you travel a lot or you'd like to visit NJ to see family, then that is an advantage for you. Orlando is also ranked as a better place for employment opportunities and manages to draw a large number of young professionals.
Average value of homes sold: $240,000
Average rent: $1,196
3. Jacksonville:
This is another city like Orlando since it has a thriving business center. Jacksonville is filled with Fortune 500 companies similar to Jersey City. It tends to attract those looking to take advantage of better career opportunities. A benefit of residing in Jacksonville is that the housing market is also so much attractive. San Marci, Mandarin, and Riverside are some of the areas you can consider in Jacksonville.
Average value of homes sold: $173,200
Average rent: $1,065
4. Tampa:
This is a city where getting bored can be difficult. It is a lively city filled with restaurants, pubs, and many entertainment venues. Tampa is also so much diverse so you could find various cuisines from all around the world. You might even end up loving Tampa just because of its proximity to the ocean.
Average value of homes sold: $238,900
Average rent: $1,131
5. Petersburg:
One other city where you could find numerous ways to enjoy the outdoors is St. Petersburg. The Sunshine State, in general, places much more importance on outdoor activities enjoyment unlike in New Jersey. You'd discover that most residents either go fishing, cycling, or sport like gold to make sure they are entertained. The sunny weather year-round allows them the opportunity. St. Petersburg is tagged as the Sunshine City since it is sunnier here on average.
Average value of homes sold: $205,000
Average rent: $1,116
Tips to Moving from Florida to New Jersey
This will be a long-distance move, so make sure that you assign enough time for everything, such as finding a job, researching schools, and finding a good area to live.
It is important to decide on the tasks your moving company will be handling so that the stress of the move becomes lighter for you.
Remember that the peak season falls between April and September so there could be a lot of people relocating this time. Ensure you book the movers you prefer in advance so that you don't lose out.
Take the opportunity of your move time to dispose of things you don't use. Consider it a big moment to downsize. The less you transport, the easier the move will be.
Moving companies won't request the whole fee from you at the beginning of the move but you can choose to pay immediately after your shipments arrive safely in the destination home. Always go for this method so that you can play it safe.
Costs of Moving to Florida from New Jersey
The cost for hiring a professional full-service moving company to move you from New Jersey to Florida could fall between $3,000 and $7,000. The minimum average is applicable for one-bedroom homes and the maximum average is for four-bedroom homes. If you decide to reduce the estimate, you can choose to handle the packing yourself.
Choosing portable containers or rental trucks can also significantly reduce the total cost of a move from New Jersey to Florida.
Before you choose a moving company, make sure that the company trucks are licensed and registered to transport to another state. One other important rule is to at least get quotes from three local moving companies as you shop around before you choose one.
Hiring Movers for your New Jersey to Florida Move
The process of finding moving companies should be commenced early. Don't wait until the week that leads to your move to find a long-distance moving company. You need to research the movers and obtain a few quotes at least 8 weeks in advance. When checking moving companies, ensure you only choose licensed and insured movers for interstate moving. After all, the company you decide to hire will be transporting all that you own from New Jersey to Florida.
You need to ensure you have protection in case anything gets damaged while moving. Also, the company needs to know the rules and regulations of cross-country moving. Each moving company should be able to present you with a copy of their license when they arrive at your home to provide you a quote. Don't be reluctant to obtain a few quotes.
You must be comfortable with the company and trust that they will be the best choice for you. Also, if you have any special relocation requirements, such as a specialty crating for valuable artwork, you must ensure the moving company can provide these services.
Conclusion
Moving from NJ to Florida is not a small job that can be handled DIY. This is one of the reasons iMoving simplifies finding licensed moving companies for you to complete your move seamlessly. Fill out our brief-and-fun form, and then obtain quotes from many moving companies that we've verified already to have appropriate licensing and insurance.