Moving From New York City To Miami: Costs And Benefits
So, we have discussed moving from New York City to Chicago, and also to another coast, right? Well, now is the time for every willing to look into another great destination.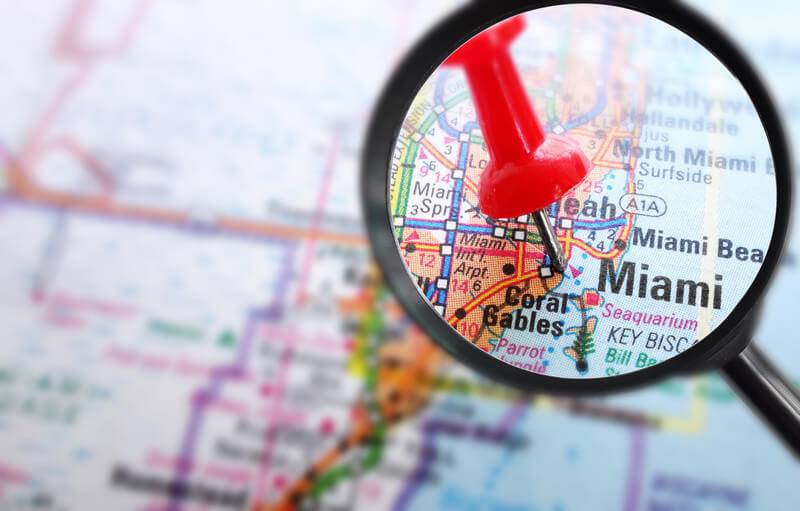 So, we have discussed moving from New York City to Chicago, and also to another coast, right? Well, now is the time for every willing to look into another great destination.
The city of Miami, located south, along the same coast is not a big shot for people moving. We want you to know that you are not the only person who's wanted to leave NYC. Many New Yorkers are patiently looking for a new city to call home.
Some are going back to Miami, the bustling city in South Florida. Miami, similar to New York City, is a great and diverse city offering many or urban amenities with a few additional benefits.
A lot of New Yorkers are tired of the costly rent, harsh cold winters, and hustle and stress of daily living in New York City and have then chosen to escape the Big Apple for the Magic City.
Even though the two cities are main metropolises, living in Miami is a lot different than it is in NYC.
If you plan to move from NYC to Miami, below are a few things that will set you right on tracked for the move.
What to Expect When Moving From NYC to Miami
1. The Great Miami Weather
One of the main reasons why a lot of people relocate from NYC to Miami is due to the great weather Miami provides. The weather patterns in New York City and Miami are completely different. New York City is famous for its extreme winters packed with snow-lined streets and freezing temperatures. Miami has never experienced snowfall at all. When you are moving to Miami, there will not be a day that you will have to shovel snow from your driveway.
2. Cost of Living in Miami is Affordable Compared to NY
Even though Miami is not cheap, it is highly affordable than NYC. New York City is one of the highly expensive places to reside in the country and especially to start a family. Apartment rentals and housing costs are almost 40% higher in New York City than in Miami. Also, utilities, groceries, and healthcare are less expensive in Miami as well.
Together with the fact that there is no state income tax in Florida and one can safely say that New Yorkers will enjoy a lot of their money's worth in Miami. One of the major attractions of Miami is that the city can be much cheaper than NYC.
The cost of living in Magic City is 22% below NYC, with rent at 42% lesser than New York City. A one-bedroom apartment in Miami rents for $1,825 per month while the same will cost an average of $3,327 in New York City.
3. There are Beautiful Landscapes in Miami
There is something truly great about the amazing blue waters of the Atlantic Ocean, the lush greenery, and the white sandy beaches in and across the city of Miami. You also catch the feeling of living in paradise when you stroll across the streets filled with palm trees. Fresh oranges, avocados, and grapefruit are some of the fruits you can pick from a tree in your yard.
Even though Miami is popularly known for its beautiful beaches, there is certainly a lot to find about South Florida's great landscape. Miami is just around one hour from the Everglades, which is the country's largest subtropical wilderness. This amazing landscape gives an environment for many uncommon and endangered species, such as American crocodiles, various species of exotic birds, manatees, and the elusive Florida Panther.
4. House Hunting and Rent in Miami is almost the Same as in NYC
Have you tried hunting for an apartment in New York? Then, you are likely familiar with the entire hardship. If you had looked online or hired a New York City broker, you had paid with your time or money. During a move to Miami from NYC, the process can be the same. If you will be searching for an apartment online, get ready to create some time for that.
Be careful of fraud and scams on Craigslist, if you choose to follow that path. Brokers in Miami, on the contrary, are much affordable than in New York City. They often will charge you 6% of the total price. If you are thinking of when to rent an apartment, consider September to January as the best time. Otherwise, the worst deals are plentiful in May and June.
If we make a comparison of the cost of living between New York and Miami, you will surely appreciate Miami. NYC is surely the most expensive of the two. So, you may not need your entire DIY ideas on a moving budget right now? The estimate supplied by almost 1500 people revealed to us that they pay 66% more for real estate in New York City.
This is certainly the most widen gap in cost between two cities. Overall, with transportation, food, housing, clothing, entertainment, and personal care combined, New York is almost 41$ expensive. In general, get your piggy bank ready for some savings after your move from New York City to Miami.
5. Employment Opportunities
Miami is a large city and its location is why it is a center for many businesses. Finance is a huge industry in the city considering that Miami is home to the biggest concentration of international banks in the United States. Media and Telecommunications are also famous industries in Miami, together with tourism.
Miami is also where many large corporations, such as Darden Restaurants, Royal Caribbean cruises, Jabil, Fidelity National Financial, Carnival Cruise Line, and Sykes Enterprises among others are located.
6. New York City to Miami Means More Respect for the Art
New York City surely has its art walks and many wonderful museums and galleries. However, with the busy schedule of a college student in NYC or a worker, there is no time for real enjoyment, there? If you are moving from NYC to Miami, now is the best time for a change. The Capital of Latin America is popularly known for its modern buildings as well as the many art decorations hidden treasures. Make sure you take an art walk and applaud it. One other thing which is surely worth the time is the many little galleries.
If you are searching for a real experience with a combination of cultures with an art twist, check out Coconut Grove.
7. There are Beautiful Beaches in Miami
Irrespective of where you reside in Miami, a beach is always nearby. Miami Beach is a beautiful extension of the coastline that covers 7 miles. Together with its soft white sand and blue waters, Miami Beach is filled with great art deco structures that reveal the vibrant and rich culture of the city. Just imagine spending the whole of our weekends walking on the beach in the sun, walking on the Broadwalk, or eating out at an Oceanside cafe.  
8. There are Many Things to do in Miami
Miami might not be called 'the city that never sleeps but there is no limitation to things to do in the city. The great weather gives residents a lot of opportunities to enjoy outdoor recreations like boating, scuba diving, fishing, swimming, sailing, and biking. There are also many natural attractions to find in South Florida in the Everglades. Here you can see the natural environment of the area and catch a view of the great and diverse wildlife of Florida.
When they are not cooling off at the beach, residents can hit world-class restaurants to dine, shop at amazing boutiques, or check the great nightlife in South Beach. Sports lovers can support the professional sports teams from the city: the Miami Dolphins, Miami FC, Miami eat, Florida Marlins, and Florida Panthers. You are also not far from the world-known theme parks in Orlando.
9. Cultural Diversity
Miami is never compared to any other city in the United States when talking about cultural diversity. The Magic City is a multicultural city where you will possibly meet people from different countries. The Spanish influence in the city is huge and Miami is indeed America's Melting Pot. You will be able to learn new languages, try new foods, and see different cultures. A lot of people residing in the city consider the residents' diversity to be one of the great things about Miami.
10. The Nightlife in Miami
New York City may never sleep, but Miami has one of the best nightlife scenes in America. Many oceanfront clubs are considered to be trendy party venues but the city has many bars, dance locations, and live music spread across the city. Miami residents love to dance the night away until the next morning and are even famous to enjoy late-night dinners at some fantastic restaurants.
Many Historic Neighborhoods
Metro Miami is in proximity to many other counties, and if you are a newcomer here, suburbs and municipality differences can confuse you. If you are moving to Miami, you will also enjoy researching metropolitan areas, such as Broward County, Palm Beach County, and Fort Lauderdale. The best neighborhoods for families to live in Miami will not be the same neighborhoods for single millennials.
Research is highly important since the neighborhood you choose to settle in will have a great effect on your Miami experience.
To help you with a smart start, we contacted Kathrin Rein PA, Director of The Beautiful Miami Team, and Keller William Coral Gables/Coconut Grove. She mentioned to us that single-family homes don't have much inventory while there is much inventory in the condominium market. It all comes down to the neighborhood and price range. She provided us her recommendations of a few important neighborhoods and suburbs to consider.
Recommended City Neighborhoods
Miami Beach: this is hip, and also in line with the name – beachy. This neighborhood is perfect for any newcomer into the city of Miami who wants to know how living on the beach is like literally.
Coconut Grove:

This area is the oldest neighborhood of Miami, just on the water but has the most seal level in the city. The Grove is similar to Old Surf Town with many hippies, music, art, culture, and great restaurants.

Brickell:

This is referred to as the Manhattan of Miami. You can reside in a highrise and walk to bars, shopping, and restaurants. You also can have a water view, but also be where the action is, between business centers and bank towers. Brickell will allow you to breathe in everything the city has to offer.
Suburbs to consider
Coral Gables: This is the city's historical hub that booms with life. Whether you are in for yoga, movie on the mile, or happy hour, you are never out of something to do.
Pinecrest:

If you want many lands, great school districts, a beautiful villa, and tropical gardens with weekend farmer's markets, choose Pinecrest.

Doral:

This area has a great location where work and play meets. This is a fairly newer place with modern and beautiful homes.
The Cost of Moving from New York to Miami
Moving can be costly; so, it is necessary to plan a budget to be right on track. The median cost to move to Miami from NYC is about $3,000. However, you can find a great deal on iMoving. It is so much important to remember that a lot of factors add to the actual cost of a move, which includes the actual distance of your moving, the number of belongings being moved, special transporting or handling requirements, and extra services like packing and unpacking.
iMoving movers understand the need to stick to a budget and that is the reason for providing accurate quotes through the use of our quote tool above.
Conclusion
With the warm weather, sand beaches, as well as great Latin American feel, the time is set for you to start moving from NYC to Miami. If you need a cheap way to move to Miami, consider iMoving. We can move you within your budget due to our friendly rates and you won't even have to drive a rental truck. Your shipment gets delivered fast because of our wide network of local movers. Obtain a free moving quote now to find out the rate and estimated shipping time.