Total of 1 carriers in
Fishers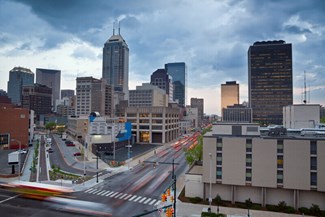 Fishers, IN Movers
Tucked into the northeastern corner of Indianapolis is Fishers, IN. This city is one of the fastest-growing in the state and boasts a low cost of living, diverse housing options, and excellent schools. These exciting qualities have made it one of the most popular places to move to in the USA.
But to complete a Fishers move successfully, you'll need to hire a reliable moving company with the experience and expertise to complete local or long-distance moves.
Fortunately, with the easy-to-use online tools at iMoving, you can hire movers in Fishers, IN easily. Our comprehensive database of reliable moving partners is ready to help you with any type of move you need to complete.
How to Hire Reliable Local Movers in Fishers, IN
Whether your move is to the other side of the city or just down the road, you'll need local movers who can transport your belongings quickly, safely, and at an affordable price.
Hire the best local movers in Fishers, IN for the job by searching through iMoving's vast database of reliable and licensed movers. Each moving partner has been thoroughly vetted and rated based on our team's research, past customer reviews, and industry awards.
After comparing the services and rates that fit your budget and moving requirements, you can easily and quickly hire reliable local moving companies in Fisher, IN. With no hidden fees or long-term contracts to search for and hire Fishers, IN movers on iMoving, you can book your move with confidence, knowing that you're getting the best possible price.
How to Hire Reliable Cross-Country Movers in Fishers, IN
If you're moving out of state or even across the country, you'll need a long-distance mover with the experience and resources to complete your relocation quickly and efficiently.
Cross-country moves require more intensive planning and organization, which is why you should do what so many others have done and trust iMoving to connect you with the best cross-country moving companies in Fishers, IN.
Not only will our team take care of all the logistics and paperwork for you, but we'll also get you multiple quotes from different movers so that you can compare services and rates and find the perfect fit for your budget.
With an easy-to-use online booking system and personalized dashboard for full control of the entire moving process, iMoving makes it easy to hire reliable cross-country movers in Fishers, IN.
How to Estimate the Cost of Movers in Fishers, IN?
When it comes to budgeting for your move, one of your biggest expenses will be hiring professional movers. The cost of movers in Fishers, IN can vary depending on a number of factors, such as the size of your home, the weight of your belongings, and the total miles being traveled. Generally, local moves can cost as much as $300 to $2500, while long-distance moves will be between $2500 to $5000+.
To ensure that you get the best possible price from the moving quotes you receive, use our moving cost calculator to create a base price estimate to hire movers. With this estimate, you can easily guarantee that you are getting the best price for the services you need.
By knowing what to expect for the cost to hire movers, you can better budget for initial living expenses when you arrive in your new city.
Things to Remember When Moving to Fishers, IN
The hardest part about any move is keeping track of everything that needs to be done before, during, and after the big day. To avoid getting overwhelmed, use our moving checklist to keep track of all the tasks that need to be completed. With our checklist's essential moving tips and tasks, you can be sure that nothing gets forgotten, and your move to Fishers, IN goes off without a hitch.
And once your move is complete, you can start enjoying all that Fishers has to offer its residents. From exciting things to do downtown to endless opportunities for outdoor recreation, there's always something fun and exciting happening in Fishers.
Don't get frustrated by the moving process. Instead, let iMoving do all the hard work for you. With our free moving services and resources, we'll take care of everything so that you can focus on enjoying your new home.