Total of 1 carriers in
La Porte
Immediate Movers LLC
La Porte

La Porte, IN

5.00
5

Years in Business

1

Trucks

10

Workers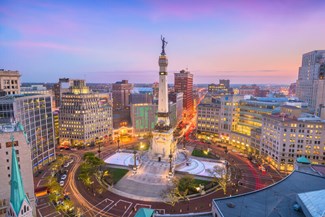 La Porte, IN Movers
The busy corridor that runs along Lake Michigan's southern shores from Chicago to Michigan City boasts many great places to live, but La Porte, IN stands out as an increasingly popular spot. If you're planning a La Porte move, choosing professional movers is important to complete the moving process with ease.
But understanding how to choose professional movers in La Porte, IN can be challenging. To make choosing the right movers for the job easier, use iMoving's premium online tools for finding and comparing local and long-distance moving companies.
With the help of our professional moving partners, you'll be able to get an accurate estimate of moving costs, compare customer reviews, and book your move with confidence.
Choosing Local Movers in La Porte, IN
When choosing professional local movers in La Porte, IN, there are a few things to keep in mind.
First, you'll want to make sure that the company is licensed and insured. This will protect your belongings in case of any damage that may occur during the move. Luckily, iMoving only lists fully licensed and insured moving companies on our platform.
Second, you'll want to read customer reviews to get a sense of the company's quality of service. At iMoving, we only work with moving companies that have positive customer feedback, so you can be sure that you're getting the best possible service.
Considering that local moves within 50-100 miles may require only a few hours to complete, you'll also want to find local moving companies in La Porte, IN that offer hourly rates. iMoving makes it easy to find and compare hourly rates from different local moving companies.
How to Choose Long-Distance Movers in La Porte, IN?
If your move is longer than 50-100 miles, you'll need to choose professional long-distance movers in La Porte, IN. When choosing a long-distance moving company, it's important to compare the prices and services of multiple companies to find the best deal.
Once you've narrowed down the results to the best moving company for your needs, you can use iMoving's secure booking platform to book any of our listed long-distance moving companies in La Porte, IN. And, with our online tools, you'll also have full control over the entire moving process, making it easy to change, cancel, or add additional moving services up to 48 hours before your long-distance move.
With iMoving's comprehensive database of professional long-distance moving partners, choosing the best one is now easier than ever, thanks to our user-friendly online platform.
How Much is the Cost of Professional Movers in La Porte, IN?
Moving costs vary greatly depending on the time of year you are moving, the weight of your belongings, and the type of move you need to complete. For local moves, you can expect to pay hourly rates for movers with a total cost ranging from about $300 to $2500+. Long-distance moves will be more expensive due to the additional time and fuel required to transport your belongings over a longer distance.
We recommend using our online moving cost calculator to estimate moving costs accurately. With just a few clicks, you'll be able to see the average cost of movers in La Porte, IN for your specific move. This will help you compare and choose the best movers for your budget and ensure you get a fair and reasonable price for moving services.
What to Keep in Mind When Moving to La Porte, IN?
You'll want to be aware of the city's weather patterns and plan your move accordingly. La Porte experiences hot, humid summers and cold, snowy winters. The best time to move to La Porte is during the spring or fall when the weather is more moderate.
Additionally, moving to or from La Porte will require changing your address, getting a new driver's license, and transferring your vehicle registration. Furthermore, there are a number of other important moving tasks you should also keep in mind, and by reading our moving checklist, you can ensure that nothing gets forgotten along the way.
Don't get bogged down by the details of your move. Instead, let iMoving take care of everything for you so that you can relax and enjoy your new home in La Porte, IN.