Total of
1
movers in
Merriam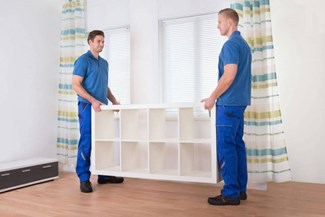 Merriam Movers
Tired of not knowing what to expect from a moving company? iMoving is here to make sure you are in control of every step of the moving process.
Our advanced quote calculator will provide binding estimates that cannot change once you have decided on the Merriam moving company you're working with, and protect your move, we protect your money as well. The moving company does not get paid until you have confirmed everything was delivered correctly and in a manner that has left you satisfied.
Most importantly, all the Merriam movers in our network have been personally vetted by the iMoving staff. We make sure every single company is insured, licensed, ethical and has a proven track record of excellent customer care. You will get the most competitive pricing from the best Merriam movers in the area.
When you work with iMoving, you are guaranteed to be treated with respect and courteousness. Our standards are high and we hold everyone we work with to the same standards that guide the way we believe in doing business. If anything goes wrong with your move, we hold the local or long-distance moving company responsible and will refund your money fully.
Transparency is a founding principle and we never tell you how much the move will cost without a detailed explanation. Isn't it time the customer feels in control of the service you are paying for?
If you are ready for a smoother moving experience that removes all the hard work and time it takes to find reliable, quality professional movers for your Merriam move, give iMoving a try. You won't be disappointed.
Moving Services in Merriam, KS
Local Moving: A local moving company can help you move into your new place in less than a day, as long as you are not crossing state lines. This type of move usually requires less complexity to coordinate and the cost is determined by how long it takes to complete a job.
Commercial Moving: This service coordinates the relocation of an office or business, often incorporating new floor plans and employee relocation as well. These companies should be highly skilled and experienced in transporting large equipment and sensitive information.
Special Handling: Get special handling for anything that you don't trust is protected by a regular amount of bubble wrap and proper packing techniques. This could include chandeliers, mirrors, wine collections or artwork.
Long-Distance Moving: Crossing a state line means you are going to need a long-distance moving company. They should be licensed to operate in every state they do business in.
Moving Tips for a Better Merriam Move
Do your least favorite task first
For most people, this is packing up the kitchen but for others it is clothing. Whatever it is for you, don't leave it until the last minute because you will have less focus and get frustrated quicker as the moving deadline approaches.
Leave a few things behind
You probably don't need to take everything in your house with you because you either don't want it or don't use it. Take the chance this move has given you and downsize. Your move will cost less as it gets lighter and you'll have more space in your new place.
Communicate with the moving company
Honest, open communication with your moving company is key to having a smooth transition to your final destination. If something changes suddenly that affects the move, you won't feel as if you can't ask for special services. When you're unsure of pricing after the move, a history of open communication makes speaking up easier. Only trust your move to a company that you feel comfortable talking to.
Clothes on hangers can be put in bags
Packing your clothes is going to take a lot of time and energy, but they also take up a lot of space. If an article of clothing is already on a hanger, leave it there. Save yourself some time and put the items from your closet in garbage bags. You won't have to pack hangers and your clothes stay in the order you want them to and will be transported safely.
Buy paper utensils and plates
The kitchen is full of bulky appliances and delicate items that make it a more difficult room to pack. Consider getting this room out of the way early. Make sure they are packed up correctly and then use paper substitutes leading up to the move.
Things to Know When Moving to Merriam, KS
Get Lost in the Parks & Nature: There's a vast trail system that connects residents to the green spaces found at just about every corner of the city. Take a peek at the parks and find your favorite spot for reading, to hang out with friends or spend a day with the family. Brown Park, named after civil rights activist Esther Brown, features picnic tables, a pavilion, grills and a playground. There's something for everyone to do while everyone can appreciate the history of its namesake.
Tim Murphy Art Gallery: Found inside the Irene B. French Community Center, this art gallery features a variety of artists and collections. If you'd like to attend an opening reception, they are generally helping on the first Thursday evening of an exhibit's scheduled appearance. All exhibits are free to the public and both local and regional artists have originals and prints that you can buy right then and there.
Strawberry Hill Povitica: Come here for the ultimate mouthwatering taste of handmade povitica. These delicious swirled bread pastries come in 12+ flavors and can be sampled year round. You can watch bakers use traditional family recipes on the guided tours and even get a fresh loaf to take home after.
See the Guitar Lamps from MTV Cribs: Remember MTV Cribs? Even if you don't, this place is famous for creating a lamp that was featured in every episode. Take a 30 minute guided tour to see how Dan Leap, the owner, crafts his famous piece of lighting that is found in the homes of Jesse James, Bret Michaels and Ted Nugent. There's also hand-on entertainment for younger people and karaoke for everyone, because who doesn't love karaoke?
Don't be surprised by the many amazing attractions offered in Merriam, KS. Instead get there in the best way possible to take it all in, relax and then take more in. With iMoving, getting to Merriam can be less expensive than you think and with us by your side, it will be an enjoyable process. Get started with an iMoving quote today.