5 Things to Know Before Moving to Tennessee
Tennessee is a great place to call home, but before you head there, learn important facts about the state and how to ease your transition.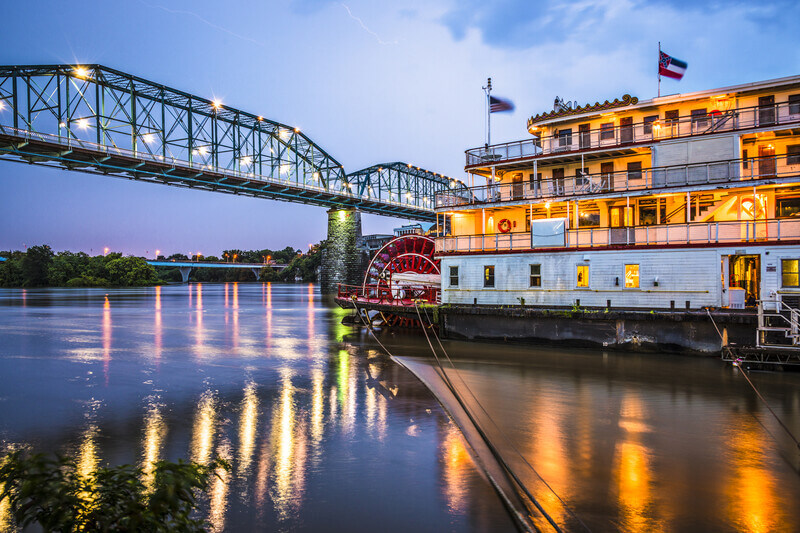 From the rolling hills of the Smoky Mountains to the big city life of Memphis and the Honky Tonks in Nashville, Tennessee cities and towns welcome newcomers with open arms. Low cost-of-living, delicious southern food, friendly folks, and southern charm are among the welcoming amenities to the many folks choosing to move there. As the 16th most populated state in the U.S., more than 6.772 million people live in "The Volunteer State ''.
Tennessee is one of those states where you'll feel right at home from the moment you arrive. It's charming, comfortable, and has so much to see, do and experience. Always hire the right Tennessee movers to help make your move as stress-free as possible. Movers have the right equipment and expertise to do that. What else should you know before moving to Tennessee?
1. Movers are prohibited from moving certain items
We expect movers to transport our belongings to the new location and often assume anything can go into those boxes put onto the moving truck. Movers willingly transport most of your belongings but laws forbid them from moving certain items and company policies may place more restrictions on the list. Talk to your movers to learn more about restricted items.
Prohibited items include potentially dangerous items like fireworks and nail polish remover, guns and ammunition, valuable items like family photos and cash, and lawn and garden items like pesticides. Ask the moving company about other prohibited items if something in your arsenal of belongings causes concern. Plan to haul prohibited items with you in the car or make other arrangements for them.
2. No state income tax
Tennessee joins the likes of states such as Florida, Texas, and Georgia in that it has no state income tax. This gives workers more money each paycheck after other taxes are taken out. The state has the second-lowest state and local tax burden per capita! People with investments will pay tax on them here, which can add up to substantial sums of money for some investors.
Sales tax is payable on all purchases you make here. Tennessee has a 6.50% corporate income tax rate and a 7% state sales tax rate and a local sales tax rate of 2.75%. An average combined state and local sales tax rate of 9.55% is applied to purchases of goods.
3. Tennessee is for music lovers
Music is the way of life in Tennessee. From one side of the state to the next, music is played loud and enjoyed everywhere. Bluegrass, jazz, country, southern rock, rap, and other genres bring unique yet relatable sounds to your ears. Wherever you go in Tennessee you'll find a great music scene delivering awesome live shows, music venues, clubs, and local entertainers.
Nashville is coined "Music City USA" and Memphis is home to Elvis Presley and jazz music. Every year, tons of festivals and activities entertain music lovers across the state. The CMA Festival hits the streets of downtown Nashville every year, Bonnaroo Music Festival takes place in Manchester, and the Beale Street Music Festival plays the blues for crowds in Memphis.
4. So many ways to save money on moving costs
On average, a long-distance move to Tennessee costs approximately $2,500 but can cost well over $5,000. Your rate can increase based on factors such as the size of the house, the number of hours you'll need the movers' service, and the type of belongings you're moving. Save money on moving costs and spend that cash on adventures and fun after your arrival.
Clean up and clear out unused, unwanted items from the house before packing for the move. This alone saves a tremendous amount of space. Use a moving cost calculator to determine a good estimate for the cost of your move, and compare rates with a few movers. Consider an off-season move and purchase moving supplies yourself to further rack up the savings.
5. Top-notch schools and free college tuition
Vanderbilt University in Nashville is a sought-after prestigious college. Many other top-quality schools and colleges including public and private institutions like Tennessee State University (TSU) the University of Memphis, Austin Peay State University, and the University of Tennessee are here. Students of all ages can get a great education at Tennessee institutions.
That great education may not result in thousands of dollars in debt either. Tennessee Promise helps children secure their future through free college education at a two-year community college. This amazing opportunity is available to any high school senior. The Tennessee Reconnect Program provides similar assistance to adults looking to earn a college degree.
Frequently Asked Questions
What is the weather like in Tennessee?
Tennessee has four seasons: summer, spring, winter, and fall. Tennessee summers are typically hot and very humid. July is the hottest month of the year with an average daily high temperature of 92 degrees C. Factor in humidity and it gets hot and sticky throughout the state! Winters are mild, with an average of 10" of snow falling each year.
How is Tennessee's economy?
Tennessee ranked 11th "Best Economy in the Country '' in a WalletHub survey. Home to 10 Fortune 500 companies including Apple, Walmart, and Amazon.com, The Wall Street Journal credited Nashville with having the second-best job market in the country. Unemployment rates here are among the lowest in the nation. The state's economy is the last concern for most Tennesseans.
How much are movers in Tennessee?
Moving services vary in price based on factors including the chosen moving company, size of the home, distance of the move, month of the move, and the distance traveled. A one-bedroom move costs an average of $611; rates to move a two-bedroom average a cost of just over $1,000. Peak season moves may tack costs onto these rates.
How long do I need to live in Tennessee before I'm considered a resident?
Moving to a new state does not always automatically qualify you as a resident. Before you become an official Tennessean, you must first establish residency in the state. Visit the nearest DMV within 30 days to change your address, get a new ID, and start the process. After 184 days or six months of continuous residency, you're officially a resident.
Where is the cheapest place to live in Tennessee?
Tennessee has numerous affordable cities and towns, but Alcoa is the cheapest. Rent averages $700 on a one-bedroom home in this town of 10,980 people. Chattanooga is one of the cheapest cities in the state. Clarksville, Oak Ridge, Murfreesboro, and Bartlett are more of the cheapest places to live. Expect low cost-of-living anywhere you live in Tennessee.
Affordable Living in Tennessee
Tennessee is beautiful, comfortable, and laid-back. It's a welcome escape for transplants looking for a change from the hustle, bustle, and fast-paced life known in other cities. They appreciate the low cost of living and high quality of life. Learn more about a Tennessee move to make your transition carefree and smooth.