Cost of Moving From Houston To Los Angeles
Relocate long-distance from Houston to Los Angeles smoothly and affordably by reading the in-depth guide into the cost of moving put together by the experts at iMoving.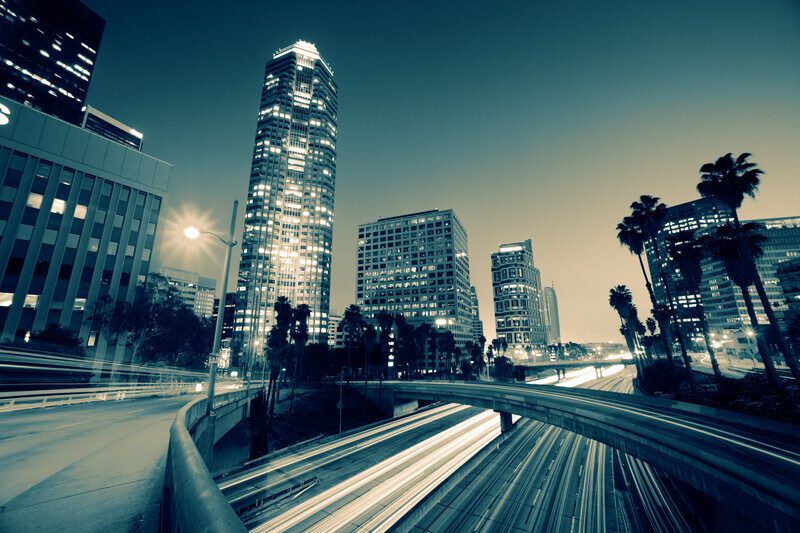 The cost of moving from Houston, Texas to Los Angeles, California ranges from $3,000 to $10,000, depending on several factors.
You can use a moving cost calculator to help you better understand the variables that have the most impact on the cost of this long-distance move. If you have fewer belongings, schedule your move well in advance, and do not have any special requests of the movers, you should be looking at a moving expense on the lower side of the above-mentioned range.
The best way to manage the process of relocating, and get a very competitive relocation rate, is by hiring the most reputable long-distance movers that can handle your move. Top-rated companies not only charge fair prices, but they ensure the process of moving is very seamless and hassle-free for their clients.
The Cost of Long-Distance Relocations 
Moving from Houston to Los Angeles can be an expensive undertaking, especially if you have several bedrooms' worth of belongings. The price range for such a move starts at $3,000 for studio apartments and goes up to $10,000 for larger homes.
Relocation companies determine the cost of a move based on the size of a move, the distance between the origin and destination, the services you request, and if they must make any special considerations to complete your move.
Travel fees, packing services, moving supplies, the time of the year when you move, making multiple stops, and the insurance coverage you choose also impact the final price of your relocation.
If you have any special requests of the movers, such as the relocation of extremely heavy or large objects, moving of very delicate and valuable belongings, or loading and unloading your items up and down several flights of stairs, your move may end up costing more.
The best way to ensure you are getting a great deal on moving services is by hiring the most reputable company in your area. Make a list of four or five top-rated movers that provide the services you are seeking, provide them with information about your move, and then compare their binding moving quotes before making a final decision on who to hire.
Saving Money on Moving Expenses 
While local movers charge by the hour for their labor, interstate or state-to-state movers usually agree to a fixed fee with clients before the relocation begins. If you are concerned about the amount you were quoted by movers for your upcoming move, there are a few steps you can take to bring down that price.
One option is to only hire movers for loading and unloading, along with transportation. Such a decision would mean that you have to take charge of packing and unpacking your belongings, but it will save you a lot of money on your relocation.
Another way to save money on a move to Los Angeles is to schedule your move on a date that is favorable to the movers. You can ask the relocation professionals if they offer any discounts for picking a weekday for your move, rather than the more popular weekends.
Downsizing your belongings will also help you save money on a long-distance move. You may be tempted to pack up everything you own into boxes and then sort out those items when you arrive in Los Angeles. Rather than having all those items moved, you should sort through your clothes, accessories, knick-knacks, furniture, appliances, and decoration pieces before the moving date.
How to Prepare For Your Houston Relocation 
After hiring long-distance movers to move from Houston to Los Angeles, you may think your work is done. If you have only hired movers for loading and unloading, you must ensure your belongings are packed and ready for transport before the relocation professionals arrive to your home in Houston.
Other tasks, such as forwarding your mail, closing or changing addresses on utility bills, and having your health information forwarded to a new provider, should be done before you move out or within the first week, you spend in Los Angeles.
If you are overwhelmed by the various little jobs you must complete during a relocation, consider creating a moving checklist to help you stay on track.
Frequently Asked Questions
Can I pack and load firearms and ammunition onto the moving truck?
No, professional movers do not permit the storing of any firearms or ammunition for local or long-distance moves from Houston. Since you are moving across several states, you must take into account firearm laws in different states when you make plans for the transport of your guns. You may have to hire a separate company to ensure that all your firearms and related materials safely reach your new home.
What is the difference between a binding and non-binding quote?
A non-binding quote does not have any value, as the movers can change any or all aspects of their prices until you sign a contract. The movers may promise you a specific rate, but jack up the price right before you sign the agreement. A binding quote is not adjustable unless you request additional services afterward. Always look for movers that offer binding quotes for a long-distance move.
How early should I reserve a moving slot for my relocation from Houston to Los Angeles?
The sooner you can schedule a relocation the better, as you are more likely to get the ideal moving slot and a competitive rate for the move. Relocation companies are a lot busier on the weekends, so if you are hoping to move on a Saturday or Sunday, you should book your time slot at least a couple of months in advance.
Can the movers carry my moving boxes, heavy furniture, and other large items down several flights of stairs in Houston, or up a few flights of stairs in Los Angeles?
Yes, movers have the ability to relocate belongings up and down several flights of stairs without too many issues. You should inform the movers about this request ahead of time. They will bring the appropriate equipment to your origin and/or destination addresses, along with three or four movers to handle the workload.
Is it necessary to purchase extra insurance when I am relocating?
Yes, if you have any expensive items that are going onto the moving truck for your long-distance move, you should talk to the moving company about their insurance options. Reputable movers have a basic insurance policy that is built into every moving contract, but that will only cover a modest sum for any item that is lost or damaged.
Final Thoughts 
Relocating across the country from Houston, Texas to Los Angeles, California is a nerve-wracking experience. Not only are you giving up a familiar life and environment for an entirely new place, but you also have to go through the process of ensuring all your belongings are safely transported.
By hiring reputable movers, scheduling your move in advance, and talking with professionals about any special requests ahead of time, you can ensure that everything goes smoothly.
The total cost of such a move can range from $3,000 to $10,000, depending on the size of your move, what time of the year you relocate, and any special services you request for your relocation.