What is the Cost of Moving From Los Angeles to Chicago?
Financial worries can ruin your move from L.A. to Chicago. Financially prepare with information from our essential moving costs guide.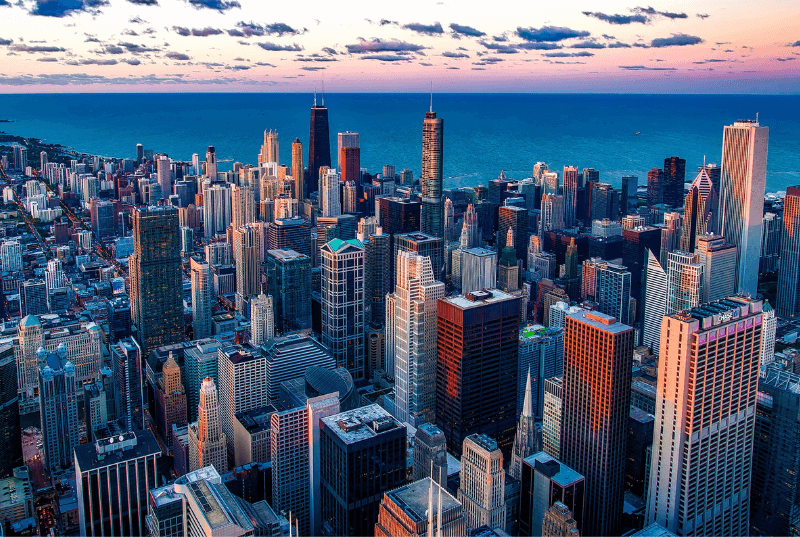 The cost to move from Los Angeles to Chicago averages between $1,500 to $8,900+, depending on how much you're moving, the season you move, whether you DIY or hire a moving company, and other factors. Although hiring movers is more expensive, it's the fastest and easiest way to relocate.
Our moving guide prepares you for the big move, giving you financial information that helps you better budget and minimize financial disasters. You'll find out more about the types of moves, additional fees affecting the cost of Los Angeles movers, and more right here. If you want to simplify your move, this guide is for you.
Type of Move
DIY moves are those you do without help from professionals. DIY moves are more affordable than other moves, but also more time-consuming and frustrating. The risk of damage to your possessions (and even yourself) is greater when you embark upon a DIY move and without the right tools and equipment, moving certain items can be difficult or next to impossible.
Moving professionals make it easy to move from L.A. to Chicago. You can pack up the boxes and then the movers will do all the heavy lifting, or assign more duties to movers, like packing and unpacking all or some of your possessions to relieve some of the pressure from your shoulders.
Services offered by moving companies include:
Packing/unpacking
Furniture assembly/disassembly
Appliance connection/reconnection
Special handling for fragile or oversized items
The more services used during the move, the costlier the move. However, moving professionals save time and energy – and time is money.
Special Accommodations and Add-on Services
If your belongings require special accommodations to move from the home, movers may charge extra money. For example, if you live in a high-rise apartment and movers must access several flights of stairs, you may pay a per-stair fee after a certain floor. This is one type of special accommodation movers sometimes need to make to handle your moving requests.
Other types of special accommodations that may be necessary during your move:
Elevator fees
Long haul fees
Parking fees
Moving companies offer add-on services if you need to move certain items. An add-on item is anything not included in the original quote. Moving companies generally offer similar add-on services, such as those listed below, although unique offerings may be available with some companies.
Storage facilities (short-term and long-term)
Car transport/shipping service
Apartment clean-up
Trash removal
Computer network/home theater set-up
These add-on services are not included in every move. You can add these services to your move if you need them.
Specialty Items
Specialty items are items considered oversized, heavy, bulky or fragile. The items require special handling and equipment to move from one location to another. Moving companies do not include the costs of moving specialty items in the base quote.
Examples of specialty items are:
Pianos
Pool tables
Antiques
Riding lawn mowers
Hot tubs
Talk to your movers if these items need to be included in your move. Only when you talk to your movers about these items can you get an accurate moving quote. It is best to get the quote early so there are no surprises on moving day.
Local vs. Long Distance Movers
Local movers handle moves within a specific proximity to your current location. As a general rule of thumb, consider anything 100 miles away or closer to be a local move. You pay per hour when using local moving experts.
Although moving companies may differ on the distance they consider to be a local move, there is no question that any movers will consider an L.A. to Chicago to be a long-distance or cross-country move.
Long-distance movers bill services differently than local movers. They charge per mile rates and usually add a per-pound fee as well. The per-pound fee is the weight of the items you are moving from one location to the next.
Since you cannot choose between local or long-distance movers or the billing method moving companies use, find other ways to save money.
How to Save Money on Moving Costs
Save money on moving costs by preparing for your move in advance. An online moving cost calculator can give you a general idea of the costs of the move -then it is up to you to request personalized quotes from moving companies you might want to work with.
Start sorting and boxing up items that aren't being used in your home as soon as you know you're moving. Don't pack up anything that isn't used or needed; this will add more weight to the total pounds. Sell or donate them.
You can save money on your move by choosing a date during the off-season. Summertime is the peak season for moving companies. As such, they often fill up moving dates quickly and charge higher rates. An off-season move can drastically cut the costs of your move.
A few other money-saving ideas:
Ask about and use discounts such as military and senior discounts. Not all moving companies offer discounts but why not ask?
Compare moving companies. At least three estimates from different movers can help you more confidentially choose industry experts that offer rates accommodating to your budget.
Frequently Asked Questions
What is the cost of moving specialty items?
The cost to move specialty items depends on the item that you need to be moved and the moving company. Most companies charge unique per-item pricing, which is another reason getting a quote is so important.
Should I tip my movers?
Tipping movers is a nice way to say thank you for a job well done and, actually, is expected by most movers - although never required. For a big long-distance move, tipping $50 or more per crew member will be appreciated.
What is a binding estimate?
A binding estimate is the estimate movers provide once they come to your home and take an inventory of the items you are moving. This estimate is the amount the moving company agrees to charge and that you agree to pay. This rate does not change unless the circumstances of the move change.
What month is the cheapest to move?
Generally, colder months offer the best rates on moving costs. Pick the months of November or December to snag the lowest rates of the season -if you can bear the cold Chicago temperatures.
Are my belongings insured during transit?
Federal regulations require moving companies to carry minimum amounts of liability insurance on your belongings while in transit. The amount is very minimal at just $0.60 per pound of items. Additional insurance is available for purchase for additional fees if you want better protection on your belongings.
Money Matters When Relocating From Los Angeles to Chicago
Money is the primary concern of most people who are moving. Keep the information from this guide in mind as you prepare to relocate to ease your financial worries and enjoy your move a little bit more.