Cost of Moving From Tampa to Chicago
Find out moving costs from Tampa to Chicago and financially prepare for your move. Everything you need to know is found in our moving costs guide.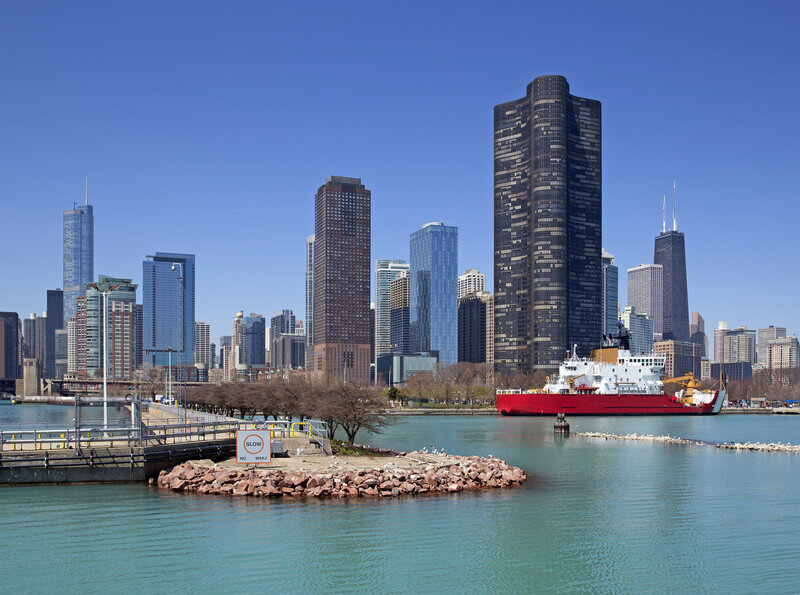 Moving from Tampa to Chicago can cost from a bit over $1,000 to $5,000, $6,000 or more. That big of a range can make an already scary move even scarier. But when you are financially prepared for the move, some of the fear subsides and you can more comfortably move from Tampa to Chicago.
Many factors affect the cost of moving, from the movers you select to the time of year you relocate. Read our helpful moving guide to learn more about choosing the best Tampa movers for your budget, the best time of year to head out, and other cost-related information designed to help keep the costs of your move in-check.
How to Determine the Cost of Your Move
Moving companies offer free moving quotes upon request. A personalized quote from the moving companies you want to work with is the best way to determine the cost of moving your household. An online moving cost calculator is a simple tool that can be really useful to use before you get quotes so you can better understand the price quotes that movers give you.
Before requesting a moving quote, you should first:
Determine the type of moving services you want
Itemize what possessions you have that might require special services (such as oversized furniture, large musical instruments or lawn care equipment)
Prepare a list of questions to ask movers including if they charge extra fees for city parking or moving up/down multiple flights of stairs, if relevant
The types of services moving professionals can help with include:
Pack/unpacking
Furniture assembly/disassembly
Appliance connection/reconnection
Special handling or crating for artwork or antiques
Movers bring the tools and equipment to the job to quickly and safely load your items and move them from Tampa to Chicago without causing damage.
Online Estimates vs. In-Home Estimates
When you request an online moving quote, you'll usually complete an inventory or a questionnaire asking information such as the number of rooms in the home and the moving date you prefer. This allows the moving company to get a rough idea of how much they'll move and its weight to generate an estimate.
This is not a binding estimate or the final price. The final price is set after a mover comes to the house to inspect the items they'll be moving. They'll create an inventory and tally the weight of each item. The next quote that you receive is binding; it's the price you see is the price you pay.
If any details change after the mover inspects your items, you should call the company out for a second estimate. Whether you downsize or add more items to the move, the inspection is an important part of getting an accurate price.
Average Cost of Moving From Tampa to Chicago
As we noted, moving from Tampa to Chicago costs between $1,000+ to $5,000 or more. Since Chicago sits over 1,100 miles from Tampa, long-distance movers help with the move.
Moving during the summer, the peak season for moving companies will cost more than an off-season move. Winter moves to Chicago can be tough due to the harsh cold temperatures and snow, but it is the least expensive time to move.
The more stuff going with you to Chicago, the more expensive the moving costs. Long-distance moving companies charge per-mile rates. They also add per-pound rates to the costs of your move.
Special circumstances may increase your moving rates. Any circumstances that make moving your items harder can result in an access fee.
Are you moving from or to a high-rise apartment with many flights of stairs or an elevator? Will the movers incur security gates or need to walk a long distance from the entrance of your building to their truck? These examples are some of those which make the work at hand more difficult for movers and increase moving rates.
Add-On Services
An add-on service is anything movers did not include in the base package for the move. Add-on services are optional. If you choose add-on services, they cost extra.
Many moving companies offer the same or similar add-on services. Others offer unique add-ons that you cannot find from other companies.
A few of the most common add-on services that add costs to your moving rate:
Car transportation service
Trash removal
Self-storage units
Home theater setup
Washer/dryer hook-up
Does the move include large, oversized items? Many moving companies charge special moving rates for such items due to the extra handling and equipment needed.
Ask for a special quote if your move includes items like:
Pianos
Riding lawn equipment
Pool tables
Hot tubs
Antiques
Moving companies determine their own rates for add-on services and moving specialty items. Expect add-on services to add a few hundred dollars to the total cost of your move.
How to Save Money on Moving Costs
A moving checklist is a helpful tool you can use to ensure you are prepared for all the tasks that need to be done to move to Chicago. Customize a checklist you find online if you want to not only ease moving stress but save money, too, since you will be better organized and in control of the big day.
Choose carefully the movers you entrust to handle your belongings. Research movers and request at least three estimates before you select a company. Always choose licensed, insured movers that offer budget-friendly rates, the services that you need, and are backed by a good reputation online. In the long run that will save you money.
A few more ways to save money on moving costs:
Move during off-peak season
Reduce the weight of your load (toss out or sell items you don't need)
Ask for discounts, such as military and AAA
Frequently Asked Questions
What is the standard tip amount for movers?
The standard tip amount offered to movers averages between 10% and 20% of the total moving costs. Tipping your movers is not required but is a great way to thank them for a hard day of work.
Do moving companies sell supplies?
Many moving companies sell the moving supplies needed to pack up and move from Tampa to Chicago, including boxes, packing tape, packing wrap, and furniture wrap. It's usually more cost-effective to purchase these supplies from local home improvement stores or find them online at discounted prices or sometimes free at sites like Craigslist.
How much money should I save before heading out?
The amount of money needed to comfortably relocate is different for every family. Smaller families may need less money to relocate and live comfortably in The Windy City. Experts recommend saving at least $2,000 in your emergency fund before moving from Tampa to Chicago.
What's the cost of renting a moving truck?
Moving truck rental is great for DIY moves. Truck rental companies charge a flat-rate rental fee. Most also tack on a fuel surcharge or a mileage fee. Moving truck rentals start at a cost of about $20 and increase to $200+.
Do movers carry any type of insurance to protect my stuff during transit?
Moving companies are required by law to provide basic liability protection on your belongings while in transit from Tampa to Chicago. This coverage offers just $0.60 per pound on damaged items. Additional coverage can be purchased from the moving company or a third-party provider.
Easy, Breezy Moving From Tampa to Chicago
Moving to The Windy City from Tampa is a big change, but an exciting one. Financially prepare for the big move and enjoy the relocation process even more.