Cost to Move from Chicago to Tampa
Do you know all the costs of moving from Chicago to Tampa? Our moving costs guide eliminates financial surprises from your moving day.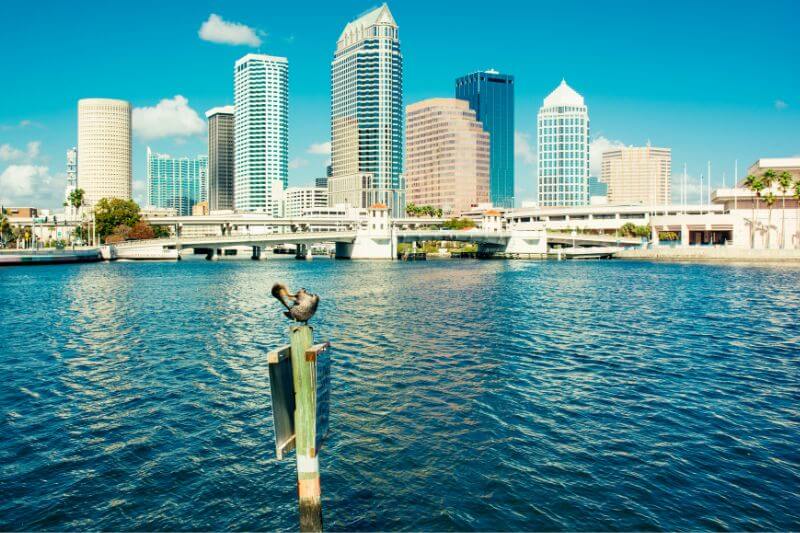 Moving costs average between $1,100 - $7,300 to move from Chicago to Tampa. That's a very broad range because it reflects the variables involved in a long-distance move.
Many factors affect the costs of your move, like the amount of stuff you're taking with you, the type of move, and the time of the year. One great online tool to get a better estimate for your move is a moving cost calculator. A calculator will take into account the size of your household, the distance of the move, and more.
Along with those estimated moving costs, however, may come unexpected fees that can disrupt finances and your move. Take the surprise out of your relocation experience with our moving cost guide, chocked full of valuable information.
Types of Moves
Rent a truck, grab a few of your buddies, and DIY if you want the most affordable relocation option. You are responsible for all aspects of the move, including loading, unloading, and driving from Chicago to Tampa.
Moving containers are another budget-friendly option, this one is more expensive than renting a truck since professional movers drive from Chicago to Tampa after you load it up. The moving container is placed in your yard (or preferred location) to unload, then picked up by a mover.
Choose a partial move and professionals load and unload the truck and drive it from Chicago to Tampa. Or, go with a full-service move and relocate without breaking a sweat. 
Full-service moves include:
Loading/unloading
Transportation
Furniture assembly/disassembly
Packing/unpacking services if requested (usually for an additional fee)
Special handling at an additional fee for oversized or delicate items (like pianos, hot tubs or antiques)
Access Fees
Sometimes the circumstances of your move increase its costs. Known as access fees, the extra money moving companies charge can add up pretty quickly if your move involves special circumstances.
Examples of access fees:
Elevator fees
Parking permits
Shuttle service
Long carry fees
Stair fees
Moving companies charge stair fees usually after three floors of stairs. Long carry fees apply if movers must carry your belongings a long distance from the truck to the home or building. Extra fees may apply if moving professionals need to access elevators to move your belongings.
Each moving company sets their own access fees. If your move includes any special circumstances, find out how much more access fees will cost you. Access fees are generally not included in general moving quotes.
Time of Move Affects Rates
The sun shines in Chicago in December but looks are deceiving; it's still cold with an average daily high of only 34 degrees F. Factor in the strong winds and Chicago temps get downright frigid in the winter.
Most people want to curl up on the sofa in front of the fireplace with a cup of hot cocoa in such weather. Moving from Chicago to Tampa is the last thought on their minds. So it shouldn't surprise you that business for moving companies slows down during the winter.
Movers offer the best rates during the cold winter months. Book your move from Chicago to Tampa when it's cold outside and receive the best moving rates of the year. Make it out of Chicago and beautiful sunshine and 74 degree F temperatures welcome you in Tampa.
Experts say moving companies offer the best budget-friendly rates in November and December. Brave the weather and relocate during the winter if you want the best moving rates.
Specialty Items Increase Costs of Move
Specialty items are large, oversized, oddly-shaped pieces of furniture and other goods. The items often require special equipment and handling to move from your home. Moving companies charge higher rates when specialty items are part of the move.
The list of specialty items differs from one moving company to another, but items commonly considered to be specialty items by most movers include:
Hot tubs
Pool tables
Swimming pools
Riding lawn mowers
Pianos
Grandfather clocks
Not all moving companies offer specialty moving services. Be sure to find a moving company offering specialty moving services if your move includes the items above or other items in question.
Also, be aware that regulations prevent movers from transporting some items. Dangerous items like firearms, gasoline and fireworks, food, animals, and valuables are among the items you should arrange to move.
Cut Moving Costs
Plan your move at least two months in advance. You'll save money since advance planning gives you access to the best selection of moving companies and time to compare and research more options.
Choose a mid-week move during mid-month to save money. Moving companies are less busy during the week in the middle of the month.
Before hiring moving professionals, get quotes from a few companies. Experts say three quotes is the minimum number needed to give you a good idea of general moving costs.
Local movers charge by the hour while long-distance movers charge by the mile and pound. Local moves usually cost less than a long-distance move, but moving from Chicago to Tampa is considered a long-distance move.
A few more great ideas that help cut moving costs:
Purge your belongings before you pack
Find free boxes at local supermarkets
Set a moving budget
Prepare a moving checklist and stick to it
Frequently Asked Questions
What type of moving supplies do I need?
The contents of the move determine the moving supplies you'll need. As a general rule of thumb, you'll need boxes of various sizes, packing tape, and paper or packing peanuts to wrap glass and fragile items. For DIY moves, most people need dollies, moving blankets, and numerous other moving supplies to safely and securely move from Chicago to Tampa.
Can I rent moving supplies?
No, you can't rent boxes, tape, or wrapping paper from moving companies, but you can rent big-ticket items like hand trucks, moving blankets, and other items. Designed to make your move easier, these moving supplies make it easy to load and unload furniture, appliances, and other large items.
Is living in Tampa cheaper than Chicago?
You can maintain a quality standard of life in Tampa with a fraction of the money you would need to maintain the same standard in Chicago. Tampa's cost of living averages 6 to 7% less than Chicago, although Chicago employers offer a generous 11% average higher salary than Tampa employers. 
How do I choose a moving company?
Look for a licensed, insured, and bonded moving company that's taken the steps necessary to prove its worth in the moving industry. They stand out from the competition by providing reliable, professional service, free quotes, and budget-friendly, transparent pricing. A good mover takes pride in their job and satisfactorily completes your move.
Can a moving company move my grandmother's cremains?
Probably, but ask yourself if you really want to take that risk. As an irreplaceable item, cremains often falls into the "family heirloom" category with movers. They may relocate cremains but charge more money to do so. Generally, moving companies prefer you to move items like cremains yourself just to be safe.
Understand Chicago to Tampa Moving Costs
Typical moves include many unexpected costs, such as access fees and those incurred when moving specialty items.  When you know the costs associated with a move, you aren't blindsided on moving day.