Costs of Moving From Seattle to San Diego
Many factors affect moving costs from Seattle to San Diego. Our handy moving cost guide will reduce financial surprises on moving day.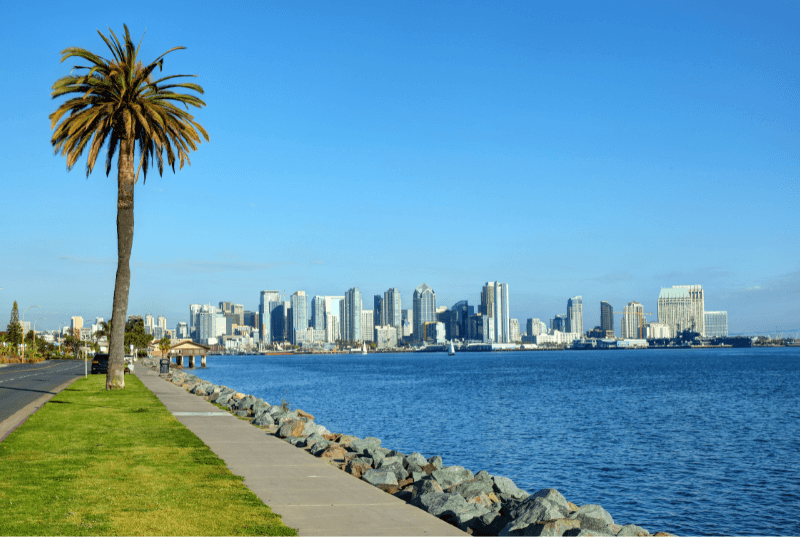 San Diego is 7.1% overall less expensive than Seattle and housing costs are 9.4% less expensive. But despite the savings in your new city, it is vital that you learn the costs associated with a move from Seattle to San Diego, including costs of a moving company, to avoid any surprise.
The 1,250+ mile move from Seattle to San Diego can be dreadful if you are not financially prepared. Financial stress can be significantly reduced, though, for people who budget using a moving cost calculator and plan their move with the helpful information from our moving costs guide.
Is Moving From Seattle to San Diego a Long-Distance Move?
Moving companies offer local moving service and long-distance moving services. In general, local moves are priced by the hour; long-distance moves are priced by the mile. You don't get the option to pick the type of move you prefer; the distance and whether the move crosses state lines determines the type of move.
As a general rule of thumb, moves of 100 miles or more, or those that cross state lines, fall into the long-distance move category. The number of miles considered for a long-distance move may vary slightly from one company to the next.
Local movers are not equipped to handle cross-country moves of this distance. Moving from Seattle to San Diego is categorized as a long-distance move.
Cost to Move From Seattle to San Diego
Moving companies charge $0.60/mile minimum rates on long-distance moves. Many moving companies charge fees greater than the minimum per-mile rate. Know exactly how much you'll pay per mile by getting quotes before hiring a moving company.
A move from Seattle to San Diego averages about $1,100 - $9,250+, depending on the type of move selected, the moving date, and the amount of stuff moving from one state to another. Some people pay double these amounts in moving costs, particularly larger households and people with a lot of valuables or heavy items.
Specialty items like pool tables, hot tubs, and riding lawn mowers increase the cost of moving. These items require special handling which tacks costs onto the moving rate.
Types of Moves
Moving companies offer several services that better accommodate the needs and budgets of most everyone who is relocating. 
Rental trucks -The least expensive option, renting a truck requires you to load, unload, and transport it from Seattle to San Diego yourself. Companies charge a flat rate fee to rent a truck, plus a per-mile charge.
Moving labor - Choose moving labor if you want moving pros to load the truck and then unload it in San Diego. Moving labor saves time and reduces your workload, but in most cases, you'll need to drive the truck.
Full-service moves -The creme da la creme of moving services, a full-service package costs more but leaves the hard work to professional movers equipped with the tools and equipment needed for fast, efficient moves. Full-service moves include load/unload service, transport service, and furniture disassembly and reassembly. Other services full-service movers provide include packing/unpacking, special handling and/or crating of delicate antiques or artwork and moving oversized items like pool tables, hot tubs or pianos.
Best Time of the Year to Move
The best time of the year to move depends on what you want in the move. Summer is the peak moving season and busiest time of year for moving companies. Moving rates cost more during the summer when weather is nice and everyone seems ready to pack up and go.
Moving companies are so busy, getting your choice of moving pros may be more difficult during the summer. If your moving dates are flexible, consider an off-season move to save money.
When do experts recommend you move to save the most money? Moving rates are cheapest during the months of November and December. It may be worth dealing with winter weather to save money during an off-season winter move.
Budget for the Move
Deciding how you'll move is one of the biggest factors affecting its cost. Other factors include:
Local or long-distance move - Moving companies use different factors to determine what they consider to be a long-distance move, but it's safe to say that a move from Seattle to San Diego falls under a long-distance move, which means you will pay by the mile and pound rather than by the hour.
Moving company - Moving companies never charge the same rates. Look over quotes with a fine tooth comb to find a company offering rates comfortable to your budget without any hidden or extra fees.
Size of home - The average move weighs about 7,550 pounds. Moving companies calculate moving rates according to mileage and the weight of your belongings. Larger households may incur heavier weights and more expensive moving rates. Create a moving checklist to better determine the total weight of your belongings to better estimate the costs.
Moving supplies - Boxes, tape and packing material, and other supplies can tack hundreds of dollars onto the final cost of your move. Reuse boxes and make use of items at home for packing material to save money on supplies.
Frequently Asked Questions
How long does it take to drive from Seattle to San Diego?
The total driving time from Seattle to San Diego is 19 hours, 4 minutes. The route you take from Seattle can affect drive time. Road construction, traffic congestion, accidents, and other inconveniences can also increase the time it takes to drive from one state to the next.
Will a moving company transport my car?
Some moving companies offer car transportation services along with regular moving services, but if a mover doesn't, they can refer you to a company that specializes in shipping vehicles. From Seattle to San Diego, car transport service costs a minimum of about $700 based on a $0.60/per mile rate and can cost as much as $1,000 or more. Get a quote for car transportation if this service is one you need to get a customized rate specific to your situation.
What do people do for fun in San Diego?
San Diego residents enjoy idyllic weather year-round, 70 miles of coastline, beautiful beaches, kids activities, entertainment, shopping, and dining satisfying enough for even the most distinguished individuals. Spend your days visiting museums, art galleries, beaches, theme parks, and San Diego's many other attractions.
Can I save money on moving expenses?
Advance planning keeps moving expenses low. Experts recommend planning at least two months in advance so there is time to compare moving professionals - which saves money- and take care of other moving-related duties. Move during the off-season, reuse moving supplies, and get moving quotes to save more money.
Can I travel into Mexico without a passport?
Each day, more than 100,000 people travel to Tijuana, Mexico, in the state of Baja California, for work, entertainment, and other reasons. Located 20 miles from San Diego, the trip takes about half-hour by car. All U.S. citizens must present a valid passport to go back and forth between San Diego and Tijuana but do not need a visa.
Make Your Move Easy: Understand Moving Costs
Your move from Seattle to San Diego should be stress-free and worry-free, especially where finances are concerned. Moving is a time of excitement for change and new beginnings. Now that you better understand the average moving costs associated with relocating, take a deep breath and enjoy your move the way that you should.