Moving From Florida To Georgia: Benefits And Costs
A lot of people move to another state for family, work, or to find accommodations they can afford. If you are moving to Georgia from Florida, no matter the reason, ensure you plan it well. Regardless the purpose, Georgia is a perfect destination to choose.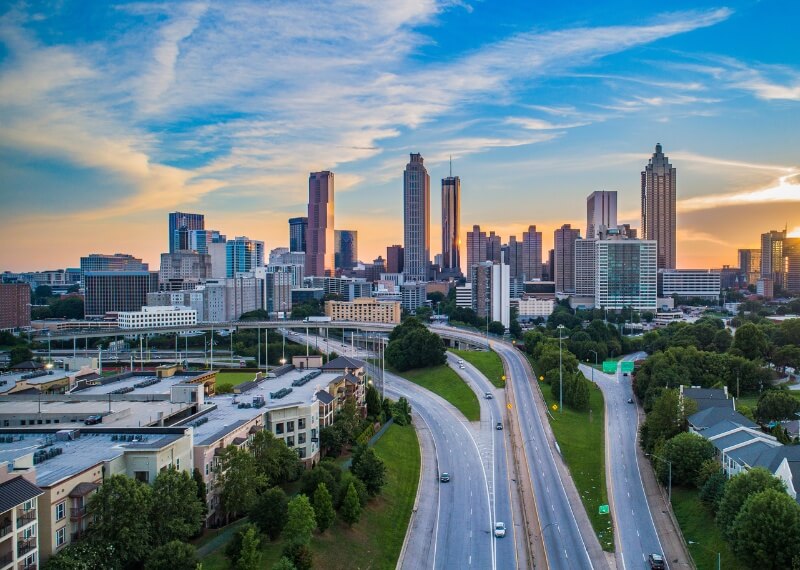 A lot of people move to another state for family, work, or to find accommodations they can afford. If you are moving to Georgia from Florida, no matter the reason, ensure you plan it well. Regardless of the purpose, Georgia is a perfect destination to choose.
Moving to another state can present many challenges. You likely don't know what you are about to face. If you are moving for the first time, you might be lost on what to know before moving.
Do you have Georgia on your list? Be prepared to relocate to a state where there is sweet tea and the trees drip Spanish moss. With a population of over 10 million people and a developing political profile as a likely swing state, Georgia is famous for Americans that are moving.
As you get ready to move from Florida, below are some reasons to love living in Georgia.
1. Affordability
Florida residents moving to Georgia will not be surprised with the cost of living in Georgia, as it is similar to what they are used to in their former state. For those living in states like California and New York, the thought of becoming a homeowner usually remains unrealistic.
However, with average home prices at $150,000, owning a home is a possibility for most residents of Georgia. Housing prices, gasoline, rent, and property taxes are all on the cheaper side in Georgia than the country's average.
2. Job Opportunities Availability
Georgia is a nice place for young professionals, entrepreneurs, and college graduates. Access to the latest markets, and a properly skilled workforce, as well as the low cost of running a business, are some of the reasons why businesses in Georgia are so successful. 20 Fortune 500 companies have their headquarters in Georgia, such as Delta, Coca-Cola, and Home Depot to mention only a few. Emory University and Fort Benning's military are also part of the largest employers in the state.
3. Housing is much Affordable in Georgia
Georgia was affected by the real estate crisis but the housing market has recovered. Housing, whether as a renter or buyer, is so much affordable in Georgia. Zillow reported that the average price for households in Georgia is $200,000. The median monthly rent in Georgia costs $997 for a 1-bedroom apartment, as reported by myapartmentmap.com, and $1,137 for a 2-bedroom apartment.
4. Great Weather
As someone moving from Florida, you will be happy to know that Georgia has warm and pleasant weather. That means you will be enjoying a little more options in Georgia and a friendly change of season. Even though summers in Georgia can get hot and humid, the temperature in spring and fall is a bit mild and the median temperature around 620. Winter temperatures can be cold and chilly at most times, but you will not be facing snow or icy conditions. The winters are not long and are milder than in many other states.
5. Strong Economy of Georgia is a Plus
Georgia is a nice place to move for those in search of job opportunities. There are more than 20 Fortune 500 companies residing in the state which include Delta Air Lines, Home Depot, Coca-Cola, UPS, Southern, and Aflac, and so on with many other industries starting from textiles to mining. Emory University and Fort Benning's military are also part of the largest employers in the state. The city of Atlanta is also thriving with many job opportunities.
6. Great Schools
Georgia has a lot to be proud of than its peaches. It is home to some of the best high schools in the country with famous school systems in Gwinnett County, Johns Creek, and Alpharetta. The state is also where you will find highly ranked colleges as well as universities, such as Emory University and Georgia Institute of Technology.
7. Friendly People
Georgia is filled with southern charm and the people are some of the most welcoming you will ever meet. Savannah has been named one of the friendliest cities in the nation. Everywhere you visit, there is a tradition of hospitality and kindness, and Georgians are famous for their willingness to start a conversation or lend a helping hand.
8. There Are Beautiful Outdoors
Certainly, the warmth and sunshine in Florida are perfect for a while but one of the benefits of relocating to Georgia is the opportunity to experience a change of season. Even though the state is famous for its warmth and fair temperature, it is nothing compared to the excess heat and humidity of Florida. Georgia's average year-round temperature is about 630.
Although the summers can be extremely hot and steamy, there are many places to enjoy the pleasant weather. Georgia has many beaches, almost 50 state parks, and a lot of mountains and lakes to visit. Even though Florida has a great coastal landscape, you will appreciate the different landscapes in Georgia.  
9. Sports are so Important
Anyone who spent a lot of time in Florida knows the importance of golf to its citizens. It is beyond an ordinary pastime, it is also a chance to start a business and individual connections. A lot of important deals are completed right on the golf course. The craze travels from Florida to Georgia. There are many Golfers and this is also a perfect opportunity to meet new people.
Since you likely won't have that many contacts in this new state, consider this as an avenue to start some. While golfing is indeed a big deal, other sports have many fanbases too. Baseball, Football, and basketball games, all attract huge spectators at each game. Although the sports are in the middle, this is also an opportunity to socialize and spend enough time with people of the same interests.
So, even if you don't follow sports closely, endeavor to attend at least one major game. It will provide you a sense of the people and the culture associated with these teams. You can't predict; you might turn into a fierce sports lover.
Moving from Florida to Georgia: The Cost of Living
One of the pros of residing in Florida is its great tax policy. Since the state doesn't charge a property tax, and income taxes are also low, Florida is one of the most affordable states. However, Georgia might even be much cheaper. As regards housing, Georgia performs better than Florida. The median listed price of a Georgia house is $200,000, while it is $317,000 in Florida. This difference can be so huge if you are relocating with family and need all the money you can save.
While there are higher taxes, the cost of living in Georgia is lower. Apart from real estate, other expenses are also lower.
For instance, eating lunch at a Georgian restaurant will cost lesser than it does in Florida. When you are relocating, you want to save as much cost as possible. While there are people that decide to move by themselves, you should hire a professional moving company. Local companies will assist you with all you need, so, look into south Florida moving and storage companies to locate your perfect match.
Moving from Florida to Georgia: The Moving Cost
Long-distance move can leave a deep hole in your budget and that is why you must move with a reliable company like iMoving. We work very hard to provide easy and affordable moving services to customers so that they can stay within budget. Moving with iMoving from Florida to Georgia will cost an average of $2,675.99.
There are lots of variables that will dictate the exact cost. These include the likes of the actual distance of your move, the number of things being moved, and extra services like packing and unpacking. The best way to obtain an accurate quote is to put our compare quote tool to use.
Common Cities to Live in Georgia
1. Atlanta
This is the capital and the largest city in the state of Georgia and is filled with all you would expect from a large metro area. Filled with diverse neighborhoods, many parks, great employment opportunities, and a world-class airport, Atlanta is one of the fastest developing cities in the nation. It draws young professionals and new immigrants alike who are searching for a city that offer culture and commerce.
Atlanta is home to award-winning restaurants, great sports, and multiple exciting attractions, such as the Alliance Theatre, CNN Center, as well as the largest indoor aquarium in the Western part. The cost of living in Atlanta is highly affordable and real estate features a lot of amenities you wouldn't find in other major cities like readily available parking as well as large yards, despite the city having a lot to offer.
2. Augusta
This city is located closer to the South Carolina border and is the 2nd largest city in Georgia. It is famously known as the place for the well-known "Masters" golf tournament, but there is a lot more to Augusta than those beautiful green fairways. You will find a booming food scene, a vibrant arts and culture scene, and amazing outdoor spaces.
It is a perfect place for families who want to start their home and commute downtown because of its affordability and access to the closest suburbs. Residents of August enjoy the downtown Augusta Riverwalk, Saturday farmers' market, and other closer lakes and parks.
3. Columbus
This is one of the largest cities in the state of Georgia, and the economic community mostly comprises of the Fort Benning army base. As a former textile producer, Columbus has entered financial services and banking and is even where AFLAC insurance headquarters is located.
Columbus is also where you will find many museums, like the National Infantry Museum and it also has the longest whitewater rafting course in the universe. Those living in Columbus can enjoy a small-town vibe but also have easy access to big-city amenities in Atlanta, which is just 100 miles away.
4. Savannah
This is the oldest city in Georgia and is filled with southern charm. From its famous cobblestone streets to the romantic parks filled with Spanish Moss, living in Savannah is like residing in a fairytale. It is also filled with history and culture and also has the largest Historic District in the whole nation. It has the amazing 30-acre Forsyth Park and the streets lined cobblestone at City Market.
Savannah has also been named as one of the most haunted cities in America because it is built on Indian burial grounds and old cemeteries. However, don't be scared by the ghost tours and shy away from this quaint town. Savannah is a great city that offers a real southern experience with a cheap price tag.
How to move to Georgia to Florida
Long-distance moves can present a lot of logistical challenges. That is why moving with a professional local moving company is helpful as they understand what exactly it takes to perform long-distance moves. iMoving is an experienced moving company with different kinds of local and national moves and we are willing to help our clients every step of their move. We handle each part of your move so you can concentrate on what is important: starting your new life in Georgia.
Conclusion
Moving from Florida to Georgia is a brilliant way to bring more excitement into your life. Georgia has something to offer all its residents and newcomers. You only need to be ready for the move the right way. Avoid underestimating this task and procrastinating. This might destroy your move. If you take your time to plan and prepare for your move, you will be able to move into your dream Georgia home seamlessly. We wish this guide helps you to relocate to Georgia without any hassle.
Whenever you are ready to within or outside Georgia, here are movers in Georgia.