Total of 1 carriers in
Manchester
Affluence Logistics
Manchester

Manchester, CT

3.85
1

Years in Business

0

Trucks

2

Workers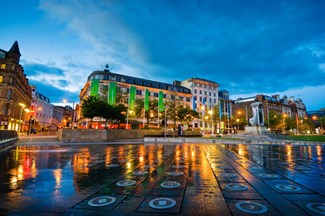 Manchester Movers
Nicknamed 'The Silk City', Manchester is located in Hartford County, Connecticut. The city is home to a population of over 58,000 people and spans a total area of nearly 27 square miles. If you're planning on a Manchester move, you can expect to enjoy a temperate climate, beautiful scenery, and plenty of things to do.
But to enjoy the benefits of living in a new city, you'll first need to get there. And that's where iMoving comes in. We can help you find and hire the best movers in Manchester, CT to make your transition as smooth and stress-free as possible.
Whether it's cross-country or local moves, check out how we can help connect you with professional Manchester movers.
Find Local Movers in Manchester, CT
With the help of iMoving, searching for professional and licensed local moving companies in Manchester, CT is easy and hassle-free. Our comprehensive database of movers only includes companies that have been thoroughly screened and verified, so you can be confident that you're getting the best possible service.
Finding local movers in Manchester, CT through iMoving starts with a simple search: Just enter your moving date and location, and we'll provide you with a list of the best movers that can accommodate your needs. From companies that can do full-service packing and unpacking to those specializing in piano or heavy furniture moves, we have them all.
From there, you can compare different companies side-by-side, read customer reviews, and get free quotes to find the perfect match for your local move.
Find Professional Long-Distance Movers in Manchester, CT
Finding long-distance moving companies can be a challenge. Internet search results pull up millions of results, and scanning through all of them to find the best long-distance movers in Manchester, CT is time-consuming and frustrating.
iMoving makes it easy to find professional long-distance moving companies in Manchester, CT. Our easy-to-use search tools let you compare dozens of movers side by side to get the best possible deal on your long-distance move. With essential long-distance moving services like specialty packing, crating, and even auto transport, we have everything you need to make your long-distance move a success.
Once you've found the best choice for your needs, you can hire them directly through our secure online booking platform. Whether booking full-service movers or paying per item for moving assistance, you can trust iMoving to help you get the best possible deal on your long-distance move.
What is the Cost of Movers in Manchester, CT?
Manchester moves will each have their own unique cost depending on a variety of factors, including the size of your home, the distance you're moving, and the services you need. To get an accurate estimate for your move, be sure to use our moving cost calculator that can help you better budget for potential moving expenses.
While the specific moving services you require will affect the total price, you can expect to pay an hourly rate up to $100 per hour for local movers and a flat rate up to $1.00 per pound/mile for long-distance moves. So, for a two-bedroom home moving long-distance, you could expect to pay around $3,000-$7,000 for professional moving services and up to $3,000 for local moves.
Additional costs that will affect the price include things like packing and unpacking services, supplemental insurance, storage fees, and more.
Things to Know About Moving To Manchester, CT
Offering residents safe, affordable neighborhoods such as Buckland Hills, Bolton Notch, and South Manchester, the city of Manchester is a great place to call home. If you're considering moving to Manchester, it is always best to create a moving checklist to help you better prepare for your upcoming transition.
As you're getting ready to move, some essential tasks to keep in mind include canceling or transferring utilities, changing your address, and decluttering your home. Be sure to also pack an essentials bag with what you'll need for your first few days in your new home, so you don't have to look through a bunch of boxes.
iMoving helps people move every day. We understand the challenges and stresses that come with relocating, and we're here to help make your transition as smooth and seamless as possible.