Total of 1 carriers in
Milford
Connecticut Finest Movers
Milford

Milford, CT

4.00
13

Years in Business

2

Trucks

5

Workers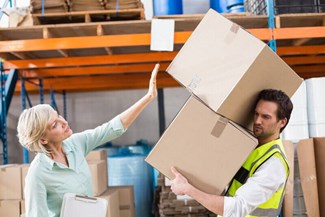 Milford Movers
Does the process of moving make you feel exhausted at the very thought of it? If so, you're not alone – millions of people around the United States move each year and work with professional moving companies to get their move completed smoothly. When hiring a moving company, the most stressful part of the process is usually finding the right company to handle your move.
iMoving makes finding a Milford moving company easier than ever by providing you with a range of reliable local moving companies to choose from. We've taken care of all the hard work, compiling a vast network of movers that have proven themselves to be trustworthy and skilled in handling commercial, long distance, and local moves.
The process is much more secure than hiring movers on your own, as each of the Milford moving companies in our network have been vetted. We perform background checks to ensure that the movers transporting your items are trained and treat your items with respect and caution as they are being packed and moved.
Working with iMoving gives you access to several features, including:
Fixed Rates: The final quotes that you receive from movers through iMoving are non-negotiable and binding, so you won't have to worry about paying any extra at the end of your move. You'll be able to adjust your inventory and confirm the items being moved a week before the date of your move.
Inventory Checklist: Our handy inventory checklist allows you to list all of the items you want to be transported on the day of your move. You'll have the ability to view the price each of your belongings costs to move and can budget accordingly.
Secure Payments: Payments to moving companies through iMoving are secure, so there is no chance of foul play. Payments are held until you confirm that all of your items have arrived safely at the home, so movers aren't paid until we know you were satisfied with your move.
Additional Services: When getting a moving quote on iMoving, you can also see how much any additional services you need will cost. You can learn more about the additional services provided by movers below.
It's possible to have a move without any headaches by working with a Milford moving company in the iMoving network.
Moving Services in Milford, Connecticut
Full Packing Services: Many of the moving companies in Milford provide full packing services, which can save you a lot of time and money. You won't have to worry about finding materials, packing items properly, or packing fragile items such as plates. You can also receive unpacking services, making the process of getting your items into your new home effortless.
Storage Services: If you're expecting to wait sometime before moving your items into their new destination, storage services are available from moving companies. There are several kinds of storage options you may be interested in, including pest and temperature-controlled storage. You may also consider how much you will need to access your items in storage and what security features you prefer.
Local Moving Services: Local moves are moves that are performed within a certain distance (usually 50 miles) or within the confines of a city. Local moving companies in Milford have the proper licenses and insurance necessary to move your items from one place to another within their jurisdiction. Every mover has had a thorough background check performed, so you don't need to search for their USDOT number to confirm their qualifications.
Long Distance Moving Services: Long distance moving services are available for individuals that are moving out of a state or past a certain specified distance. Long-distance movers must have the right credentials in order to perform these moves. They are skilled at making sure items reach their destination, no matter how long the distance is they must travel.
Special Handling: Extra large, heavy, or fragile items can be a cause for worry when it comes to preparing for your move. If you want to ensure that your items get to their destination in one piece, speak with Milford movers ahead of your move to make sure these items receive special care. Movers will be able to make arrangements ahead of time so that the items you specified are transported as safely as possible.
Pro Packing & Moving Tips
1. Prepare Utilities Before Moving
Your utilities not being activated and ready can make the day you arrive to your new residence a pain. It can also be detrimental for individuals working from home that need an internet connection to get their work done. If you want to avoid delays as much as possible, get your utilities in order before you move into your new home.
Make sure to transfer utilities beforehand. It can take anywhere from a few days to a few weeks to get your new home up and running as it should, so as soon as you are made aware of the day you are moving you should begin scheduling utility transfers.
2. Hire Movers A.S.A.P.
One mistake that can end up costing you a lot of time and increasing your stress is waiting too late to hire a moving company in Milford, Connecticut. When you're planning on working with movers in Milford, you don't want to wait until the last minute to schedule your move. If so, you may find your move delayed or will have to pay even more for moving services.
As soon as you know what your closing date is, hire a moving company. Movers can be booked for months in advance, which makes it less likely that you'll get the slot you want. Research companies and compare them to find which one is right for you and schedule your move as soon as possible.
3. Avoid Grocery Shopping for 2 Weeks
Since you're going to be moving, it's not an ideal plan to stock up your fridge when you'll be on the road soon. Instead, try to use any remaining perishable foods you have and packing up canned goods you want to take with you to your new home. You can also give away or donate canned goods that you do not want to bring along with you.
To lighten your load, it is recommended that you avoid grocery shopping for a few weeks before the day of your planned move. You won't need to worry about wasting food and your fridge will be kept fresh and arrive in your new home nice and empty.
4. Store Important Documents in Containers
Any important documents that will be taken with you when moving to Milford should be kept safe in a place where you can find them without struggle. For this reason, many people opt to keep documents in their own containers.
It is a good idea to have containers be clear, which allows you to see what is inside them easily without having to open the box. You may also go a step further and keep documents safe by storing them inside plastic zipper bags.
What It is Like Living in Milford
The city of Milford is located on the coast in Connecticut, between New Haven and Bridgeport. It has a calming aesthetic filled with gorgeous views of fishing ponds and vast forests. In the downtown area of the city, you'll find an equally relaxing atmosphere along with a fun nightlife scene and plenty of renowned restaurants.
The city has become a hub for young professionals that appreciate the serenity and accessibility offered by Milford. Nearby cities are easily accessible by train and the public schools in the area are highly rated. Households with young children will find themselves satisfied with the education children receive.
The population is just above 50,000, so expect a bit of a small-town suburban vibe. Because of the relatively low population, the crime rate is rather low and you can feel safe exploring your neighborhood and the various beach areas and parks throughout Milford.
Interesting Architecture
When looking for a home in Milford, you may have noticed the interesting choices available. This is because there are numerous Victorian and Colonial homes. There are also saltbox houses, which is a style of Colonial home that has a pitched roof and two stories in the front and one in the back.
Milford is also known for ranch-style and split-level homes that were constructed in the 50s and 60s. There are plenty of historic options, but you'll also find newly constructed condominiums and modern homes. Locations for homes also vary, and you could have a home on the beach or in the downtown area of Milford.
Annual Events in Milford
Each year, various community events are held in Milford, attracting households from the immediate and surrounding areas. One of the most famous events in the city is the Milford Oyster Festival, which features booths for arts and crafts, kayak racing, live performances, carnival rides, and food bazaars.
Aside from the Oyster Festival, Milford also hosts:
The Springs Arts & Crafts Show
Oktoberfest
Captain Kidd Day
The Milford Irish Festival
Pumpkins on the Pier
The Milford Living Kite Fly
Food & Nightlife
Did you know that the city of Milford is the originator of the hot lobster roll? This city is full of surprises as well as eateries that draw in visitors with their delicacies. You can find more than 100 restaurants within 5 miles of one another in downtown Milford, so your options are never scarce.
The food isn't the only thing you can find downtown; breweries, bars, and events are also in abundance. Whenever you want to have some fun, meander downtown to get a taste of fun in this beautiful city. In short, there's no shortage of things to do in Milford.