Total of 1 carriers in
Boise
USF Movers
South San Francisco

South San Francisco, CA

4.00
8

Years in Business

3

Trucks

5

Workers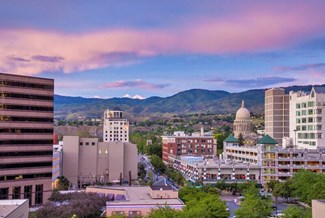 Boise Movers
Here at iMoving, we've worked hard to build connections with the very best moving services in Boise, Idaho, and throughout the entire country. We know that getting ready for any sort of move – even if you're just moving a short distance – can be a really stressful experience if you aren't able to plan it as well as you'd like to.
iMoving is a moving facilitation company that is here to help you find, get quotes from, and schedule local or long-distance Boise moving companies that can help you to get things taken care of. Not only do we want to help you compare quotes instantly, but we want to make the entire process as simple as possible when it comes to choosing and scheduling the movers that you want to work with.
Every single one of the local moving company partners that we connect you with has been properly vetted. We work hard to ensure that each and every one of the companies has well-trained professionals on their staff, and we know that you're always going to get the very best service when you hire someone via iMoving.com.
Our website is really easy to navigate as well. Everything is right there for you to fill out and within just a few moments you will get several quotes from movers that are ready and willing to help you with your local or long-distance adventure. Let iMoving be your resource when it comes to sorting out what it is that you need so that your move goes smoothly.
Types of Moving Services
Local – For those who may be looking to move a shorter distance away (usually less than 100 miles), it's likely that you will be able to get some solid local services from movers in your immediate area.
Long-distance – For intrastate or interstate moves, you'll need to seek out long-distance movers to give you a hand.
Business – Commercial and enterprise moves are usually multi-day affairs that require special planning, additional logistics as well as experience.
Moving-Adjacent Services
White Glove Services - Large instruments, furniture, and antiques will need special care during the moving process.
Storage Options – If there's a delay between your move-out and move-in dates, many moving companies will provide storage as an option for an additional fee.
Packing and Unpacking – Instead of packing and unpacking on your own, you get the benefit of having the movers do it for you (additional fees are usually necessary).
Purchasing Supplies – If you need boxes, tape, or other moving supplies, some movers can sell kits to you for an additional cost.
5 Quick and Easy Moving Tips
Start sorting ASAP. When you know that a move is on the horizon, be sure that you start the process of sorting things out. Not only can it help to save you a lot of time and effort, but it can help you to determine what's coming with you, what's getting tossed, and what is going to your local thrift store.
Be deliberate with packing electronics. Try to find the original boxes that your electronics came in – it'll be much easier to pack them safely if you have the original packaging for them. When you go to pack your electronics, take a picture of the inputs. This will give you a visual guide that you can use when you go to set everything back up in your new place.
Be careful with important paperwork. Make copies of important paperwork and make sure any and all important items are kept with you as you travel. Whether it's in a folder in your care, a fire-safe box, or somewhere else, you want to be sure to have all documentation and important items with you.
Unplug as much as possible the day before your move. The day before your move is the time you want to defrost your freezer and fridge. You want to dry out your washer and dump and dry all humidifiers and dehumidifiers. You don't want anything leaking when it gets moved to a different location, so you just want to be sure that everything is dried out and ready to go.
Store wires and small parts in Ziploc bags and label them. Did you have to disassemble anything? If so, then you want to be sure that you put any wires, nuts, bolts, and screws into separate Ziploc bags and label them accordingly. That way, you don't get to your new place, try to put together your entertainment system, and then end up missing a screw so you can't put it together.
What to Know When Moving to Boise, ID
If safety is something that you prioritize (and I imagine you do), then you'll be incredibly satisfied with what Boise has to offer. Idaho has often been cited as one of the safest states in the country (only Utah is safer in the West) and Boise is number 8 in safest cities in the entire world. Families are flocking to this city because of their great school districts, tons of family activities and, as just mentioned, the lack of crime.
While you may not think of Idaho as an especially cultural region, you will be pleased to find out that Boise has worked hard to try and establish itself as a unique place where you can enjoy culture. Jazz festivals and other music festivals have become quite popular, and the theatre community in the region is always growing. If you have an appreciation for the arts, you will enjoy what Boise has to offer as well.
Boise isn't just for families, either. There are tons of great places where you can get out and enjoy nature nearby. The Rocky Mountains (and thus, the parks that include the Rocky Mountains) are a short drive away, so you can get away from the bustle of the city and enjoy what there is to enjoy. Also, if you enjoy breweries and wineries, you'll be able to get a taste of it all when you take a trip on the Boise Ale and Winery Trails.