Cost of Moving from Los Angeles to New York
Plan your move from Los Angeles to New York seamlessly with tips from the iMoving experts regarding moving costs, how to hire the best mover, and how to avoid any relocation mishaps.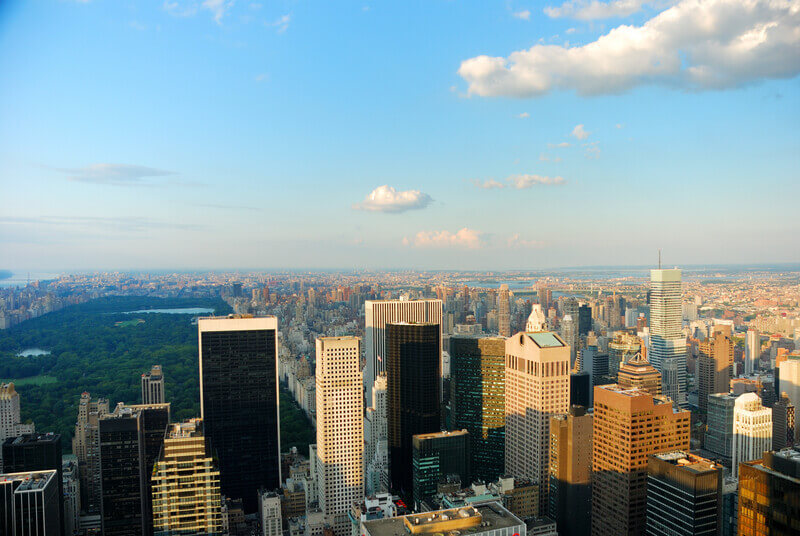 The cost of moving from Los Angeles, California to New York ranges from $2,000 for a studio apartment to more than $10,000 for a four or five-bedroom house. Specific moving services and special requests made to relocation companies further impacts the price you can expect to pay for your move.
By using a moving cost calculator, you can get on top of your upcoming relocation from the West to East Coast. Understand how you can hire the very best movers, what services you can request, and how you can stay on top of the myriad of tasks you must juggle in the days leading up to your moving date.
Below is an in-depth guide put together by our experts that explains how the costs of moving from Los Angeles to New York are calculated by relocation companies.
How Movers Calculate Relocation Expenses 
Before understanding the cost of your move from Los Angeles to New York, you may want to know how movers calculate moving rates. When you are hiring local movers, they are likely to charge you an hourly rate for the services of their professionals, along with a flat-rate to rent a moving truck and supplies for the relocation.
Cross-country or interstate movers usually charge a flat rate for the entire relocation. The price you are quoted for your move from Los Angeles to New York is dependent on the size of your move, as the more belongings you own, the more work for the movers. They will also have to use a larger moving truck for more sizeable relocations.
Another significant criterion in determining moving expenses is the distance between your present address and future home. Moves that involve cross-county travel, such as one from Los Angeles to New York, are a lot more expensive than relocating within the same city or state.
Other Factors That Impact the Cost of a Move 
Aside from move size and distance, long-distance movers use other factors to determine how much to charge their clients. The specific services you request when scheduling your New York move will have an impact on the binding quotes you receive.
As an example, if you request a full-service move, you will be charged more. Full-service moves include every aspect of your relocation, including packing your belongings, wrapping furniture, paintings, and delicate items in bubble wrap, loading everything onto the moving truck, transit to your new address, and unloading and unpacking in New York.
Families who are hoping to save a bit of money on moving expenses can always choose to take on some burden themselves. Rather than requesting a full-service move, you could decide to pack and unpack your belongings without any professional help. That would leave the movers with loading and unloading, along with transporting the moving van to New York.
Before making any decision, you should think about the pros and cons of each option. Full-service moves are more expensive, but they are also a lot more convenient for families. Rather than having to spend days packing, you can let the movers do everything.
Avoiding Any Moving Mishaps 
Before you even search for top-rated movers, put together a list of every task you have to complete before you can say goodbye to your home in Los Angeles. Include jobs such as finding and hiring movers, ending your lease if you rent an apartment or home in LA, retaining your security deposit, forwarding mail, and much more.
Having such a moving checklist makes life a lot easier as you deal with multiple tasks in the weeks and days leading up to your moving date. When you have a list of every task, no matter how minor, you will not forget anything important.
Another way to avoid any problems or unnecessary stress during a relocation is to hire the absolute best movers for the job. Use a reputable platform that allows you to search for high-rated movers in your area. Then you can connect with available movers who provide the services you are requesting, receive binding quotes, and choose the company that appears the best fit for your family.
Frequently Asked Questions 
When I request moving quotes from companies, does it matter if they respond with binding or non-binding quotes?
Yes, whether you receive a binding or non-binding quote is extremely important. A binding quote indicates that so long as you do not request any additional services from the movers, they cannot charge you more money than what is quoted in the document. Non-binding quotes can change at any time until the completion of your move.
Is there an extra charge if I need to have an extremely heavy or large object moved?
Most movers factor in special requests when they provide you with a quote for a long-distance move, such as going from Los Angeles to New York. If you inform the movers about any requirements regarding your move, such as having a very large object, they can make preparations to ensure it is loaded safely onto your moving truck.
I live on the third floor of an apartment building with no elevator. Can movers handle my relocation?
Yes, top-rated movers will have no problem with moving items and boxes up or down a few flights of stairs – although they will probably charge an extra fee. Do inform the movers about this issue before they arrive, as they will need to bring special equipment or an extra person to ensure everything goes smoothly. You do not want your items damaged while they are being loaded onto the moving truck.
Can I ask the movers to relocate my car to New York for me?
You can, but most moving companies do not handle vehicle transport. They can only load belongings onto the moving truck and then have it driven to New York for delivery to your new address. You'll need to connect with an independent vehicle transportation company. Such providers can set up an open-top or closed-top vehicle transport for you.
Will the movers accept plants on the moving truck?
No, you cannot have any plants, flowers, or other such items on the moving truck. When you are close to signing a moving contract with a company, read up on their list of prohibited items through their website. If you try to place any such item on the moving truck, you could face a significant fine from the movers.
Final Thoughts 
As you plan a move from Los Angeles to New York, you could be looking at moving expenses that range from $2,000 to $10,000, depending on the size, scope, and special circumstances of your move.
By choosing the highest-rated, available mover that offers the services you are seeking, you can enjoy a seamless experience during your relocation. The very best relocation specialists offer fair and binding prices, arrive on time to pack up and load your belongings, and ensure all your items safely arrive at the destination address in a couple of weeks.
Begin your new life on the East Coast on the right foot by hiring world-class movers and requesting the services you need the most to ensure your relocation fits within your budget.