Total of 1 carriers in
La Crosse
Eric's Moving and Delivery
La Crosse

La Crosse, WI

5.00
5

Years in Business

4

Trucks

8

Workers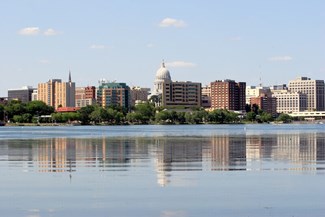 La Crosse, WI Movers
Moving to a new home takes hours and hours of planning and includes finding movers to take care of moving furniture and personal belongings. If you use our services at iMoving, we can relieve you of a lot of the work involved with finding a qualified moving company that you can depend on. We partner with only the best movers in La Crosse, WI so you can quickly find the local or long-distance movers you need.
La Crosse is a medium-sized city that sits on the banks of the Mississippi River. The population as of the 2020 Census was 51, 543. The La Crosse metropolitan area has a population of approximately 139, 627. The metro area includes the towns of Onalaska, Bangor, Barre, Shelby and Hamilton, to name a few.
Locate Local Movers in La Crosse, WI
Finding reliable, experienced movers to help with a move across town or to a nearby area, we can help you find local moving companies in La Crosse, WI to suit your needs. We vet all the moving companies in our system to ensure they have the licensing, bonds, insurance, and experience they need to move households in La Crosse.
Typically, local movers in La Crosse, WI consider moves that range from 50 to 100 miles to be local moves. But, if your move crosses state lines, even if it's a short distance like La Crosse to Rushford, MN, you'll probably need to find long-distance movers to carry out your job.
Find the Best Long-Distance Movers in La Crosse, WI
If your moving journey crosses state lines, you will need to hire a long-distance moving company in La Crosse, WI. Long-distance movers have different regulations on their businesses than local movers. One difference is the need for federal Department of Transportation numbers posted on their trucks showing they can legally move people to other states.
Another difference is how they charge for moving. Local movers generally charge by the hour for moving jobs. Long-distance movers in La Crosse, WI charge per load and the weight of the load. So, if you need two trucks and some of the items you have are heavy, the charges will be for two loads and however much they weigh.
It's easy to book movers on our website. When you find a company, you can schedule the move online with the services you want without calling each one individually. To find the best movers for your needs, you can filter the search results by whatever matters to you the most. The filters include prices, distance from your residence, and each company's ratings.
Learn Your Cost to Move in La Crosse, WI
The movers we recommend in our system offer several moving services you may need. If you have bulky items in your home, such as a piano or an oversized sectional, there may be a special handling charge for those items.
The supplies necessary to pack your belongings, such as boxes and tape, will be another charge. The packing of those boxes is a separate charge as well. To keep track of these charges, use our moving cost calculator to find out the real cost of your move.
Manage Your Move in La Crosse, WI
There are many things to do while moving that it is impossible to remember everything. Did you notify the electric company of the moving date, register to vote at your new address, or tell the cable company you wanted to change your service? Luckily, we offer help in the form of a moving checklist.
The checklist can remind you of what to do and when to do it. It starts six months before moving, four months from moving day, and six weeks before you move. It counts down the weeks with reminders of what tasks to do each week. It also includes suggestions for the day before moving, moving day, and two months afterward.
Despite being in the north, La Crosse weather tends to be moderate. It can be snowy, with about 40 inches falling every year, but the temperatures rarely get colder than minus nine degrees or hotter than 93 degrees in the summer. When you're ready to move, iMoving has the online tools you need to make it easier to hire movers and organize a move in La Crosse, WI.