Total of 2 carriers in
Flagstaff
JH Moving Labor Services
Flagstaff

Flagstaff, AZ

5.00
15

Years in Business

4

Trucks

4

Workers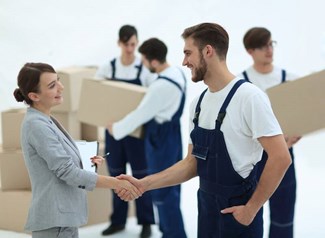 Flagstaff Movers
Moving is both an exciting and frightening experience. Leaving your hometown or current residence may be hard on you, but the chance of a new start is always a good thing. iMoving wants to help ease your mind and let you focus on your future and not on your baggage.
Reasons to trust iMoving's services for every move:
Many years of experience in the business
No hidden charges or unfair pricing, get your quotation in real-time
Near, far, wherever you are - iMoving's trusted Flagstaff moving partners can move it for you
Access to a broad network of reliable and credible moving companies for Flagstaff moves
Friendly and helpful staff, every step of the way
You never have to worry about trust issues when you choose iMoving! All of the rates charged by the local and long-distance moving companies in Flagstaff we partner with are given upfront and all are at reasonable prices. Our quotes are calculated based on several factors which include:
Location
Size and type of residential or commercial unit
Number of rooms or amount of cubic feet of storage space
Type and number of rooms (e.g. bedrooms, living rooms, dining rooms, kitchen)
Inventory
Additional pickups
What makes iMoving such a standout company is our rigorous application process when it comes to selecting movers for our network. The Flagstaff movers we choose to associate with speaks volumes of us as a company, so we make sure that we only give you access to the best movers. In line with this philosophy, our standards include five essential criteria: Professionalism, transparency, respect, reliability, and honest pricing.
With iMoving, you can be confident the moving company you choose will do the job right.
Moving Services in Flagstaff, AZ
Packing and unpacking: This is one of the best parts of hiring professional movers. Let's face it, many of us lean toward the lazy end of the spectrum. For people with full-time jobs and kids to take care of, it may be hard to take time off in order to pack boxes. Not to mention, moving is very physically demanding and is not recommended to everyone to do on their own. Save yourself the time and energy it would take to pack and unpack and leave it to the pros!
Special handling: While all your furniture and packed boxes will be taken care of while being handled and in transit, some items such as antiques, collectibles, and delicate items require extra special care. You'll find Flagstaff movers here on iMoving with the skills and equipment to handle your fragile items.
Debris pickup and cleaning: After moving into your new place, the last thing you're going to want to do is pick up after someone else's mess. The right local professional movers can take care of any leftover debris or forgotten items from the previous homeowner or commercial renter.
Helpful tips for a happy move
Do your research
Knowledge is power! Read reviews of your professional movers and ask as many questions as your heart desires in order to make an informed decision. Afterward, you should also leave an honest review of your moving experience so that other people can read them.
Take pictures before you disassemble
Let's face it, nobody actually reads the manual let alone keep it for long periods of time. However, when it's time to move, you need to dismantle things like bed frames and entertainment centers to reduce the bulk of your items. To avoid ending up with a pile of mismatched wood, metal parts, and possibly a migraine, just take some pictures of your furniture at different angles to get a visual of how it's supposed to look like.
Proper labeling can be a lifesaver
If you're doing a long-distance move, it might be a good idea to label your boxes with your name, new address, and contact number in the unlikely event that a box gets left behind or lost during the move. In addition, you save your future self the hassle of having to guess and recall which boxes contain what items.
When in doubt, throw it out
If you've had several boxes of items that were never opened or used since your last move, chances are you don't actually need it. When you move out of your place, take the opportunity to either dump, sell, or donate your unneeded goods. By letting go of items, you can potentially earn cash while also saving money on packing and transporting.
Communication is key
Communication between your housemates, movers, and contact person at your new home or office is essential for a coordinated and comfortable move. Lapses of communication can result in misunderstandings and unwanted stress, which is nobody enjoys at the end of the day.
Things to Look for when Moving to Flagstaff, AZ
When you think of Arizona, you may be imagining a dry desert filled with Saguaro cacti, but that is not all Arizona has to offer! In contrast to the more southern cities of Arizona, Flagstaff provides the following:
Easy access to the Grand Canyon
Arizona is known as the Grand Canyon State, and the natural formation serves as one of the most popular tourist attractions in the state and even the world! Flagstaff is about an hour away from the Grand Canyon National park. Experience one of the greatest natural wonders of nature and take your visit to the next level by going hiking, camping, river rafting, or even taking a helicopter tour over the canyon!
A summertime haven from the Arizona heat
Because Flagstaff is located toward the northern part of Arizona, the city's climate is actually closer to that of Colorado's. The city attracts mountaineers and athletes of various sports because of the cool climate, high altitude, and picturesque scenery.
The NAU Campus
The Northern Arizona University (NAU) campus is located in Flagstaff, Arizona. The university brings in a diverse and youthful population to the otherwise quiet town. NAU is also a cultural development hub, providing residents access to fine arts, independent film showings, musical festivals, sporting events, museums, and Native American art and cultural exposure.