Moving From Florida To Washington: Benefits, Cities, & Costs
Make no bones about it. Moving from Florida to Washington is a huge decision to make. The state's most popular city, Seattle, will cost you a whopping $2,100 but with a lot of goodies attached to the living. Here is all you need to know about moving from Florida to Washington.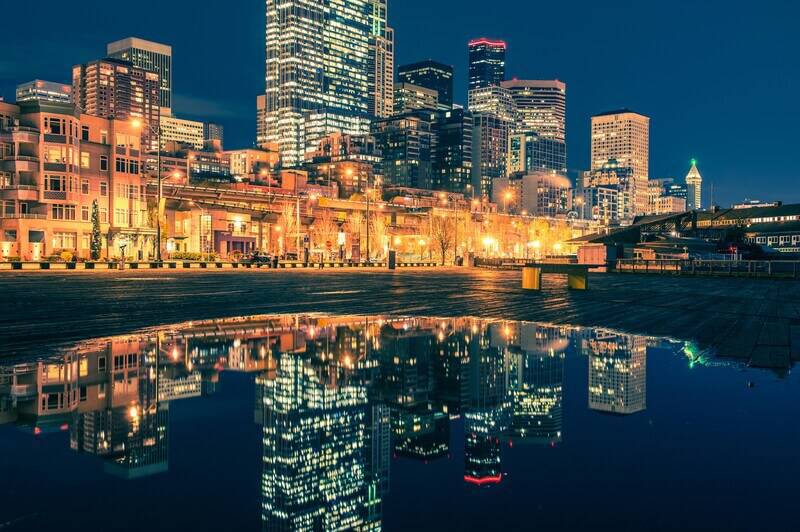 Are you looking to relocate for a new job, environment, or education? Moving to the Pacific Northwest from Florida is indeed a huge decision, but Washington is much of a beautiful state with a lot to offer. From its amazing landscape to its thriving economy, it's not surprising that Washington is one of the most famous states in the country to reside.
Despite saying goodbye to year-round warmth and sunny beaches in Florida, Washington will offer you its beautiful scenery as well as a great change of season.
Be prepared for a lifetime adventure as you move from Florida to Washington. When you are reviewing the economy, Washington offers a lot of work and education opportunities. It is also near Canada. You can get to Vancouver in just a three-hour drive for a weekend trip.
In this article, we will discuss the things you should know to expect for moving to Washington, D.C from Florida.
1. Lovely Climate
Even though it doesn't have the same year-round warmth similar to Florida, Washington's climate is very mild. While the Pacific Northwest doesn't experience rain, the mild temperatures in the state enable residents to leave their AC turned off during summers and the winters are not cold and snowy. The climate in the Eastern part of Washington is warm and desert with little rain while the eastern half's climate makes it perfect for the production of wine.
2. Milder Climate
Florida's climate is of subtropical type. It stays at 800 falls through the year, which makes you live close to summer. During winter, it may only reduce to around 500F. When compared, Washington's temperate climate sees all four seasons. Its humidity is not as much as Florida's and remains in the 700s in the summer. A lot of people discover that they can switch their AC in the hottest months, something impossible in Florida. Its humidity is also not much, so your new state won't welcome you with as many mosquitoes. It occasionally snows in the two states. But in some winters in Washington, you can enjoy fewer inches of powdery snow. 
3. Natural Beauty
Washington is on the list of the most beautiful states in the United States, which gets it the nickname 'The Evergreen. With amazing views of the Cascade Mountains together with 2,500 miles of marine shoreline, Washington has many great sceneries no matter where you go. The main beauty of the state is the colossal Mount Rainier, which provides an amazing backdrop of the city of Seattle. The state also has five volcanoes and many national parks, providing unmatched natural beauty.
4. Mountainous Outdoors
People recognize Florida for its beaches, Tangerines, as well as maybe Publix. There are also beautiful landscapes in Florida such as the Everglades. However, it lacks mountain ranges. Britton Hill is the highest point in Florida and is 345-ft above sea level. When compared to Washington State, it has Cedar Hills, Cascade Range, and Boylston Mountains. Those are only Fe only the mountain ranges in the state. Mount Rainier is one of the mountain trains and its peak point is 14,410-ft at the level. These mountains make it possible to do mountain biking, skiing, and rock climbing in Washington State. If you enjoy outdoor sports, you might love the state's landscape more than the beaches and swamps in Florida.
5. Job Opportunities
The booming economy in Washington is backed by the Seattle-Tacoma-Bellevue metro area. With tech companies like Amazon, Microsoft, and Google, Washington has been ranked as one of the leading states in the United States for business. Apart from the tech sector, Washington is also on the list of the country's largest agricultural producers. Seattle is also where other big corporations such as Starbucks and Alaska Airlines are located. The thriving economy of Washington State makes it the ideal location for professionals that want to start a career.
6. Excellent Education
Washington is also where top-quality higher education institutions can be found. One of the largest universities in Washington is the University of Washington which can be found closer to Seattle. It is the flagship research institution of the state of Washington. The university can be found in the eastern part of the state and there are many other 4-year and 2-year institutions scattered across the state.
7. Economic Opportunities
Main industries in Florida include agriculture, tourism, and healthcare. In contrast, Washington State is home to STEM industries. It plays a major role in international trade, as well. You also need to know that it is the 2nd biggest wine producer in the country, and following California. But Washington and Florida don't have a personal income tax. In general, Washington may be a little bit costly for one to live in than Florida. However, you will greatly discover that groceries are highly affordable in Washington. If you are returning to school, you will find many great institutions in the state. There is the University of Washington, Gonzaga University, and Whitman College. 
Famous Cities in Washington State
1. Seattle
Being the largest city in the Northwest United States, Seattle seaport city is where you will find a strong coffee culture, LGBT community, and technology atmosphere. IT, aircraft manufacturing, retail, and biotechnology are some of the strongest industries in Seattle.
Famous companies like Boeing, Microsoft, and Starbucks have their headquarters in Seattle. The city is also closer to nature. You can access Alki Beach, the Volunteer Park Conservatory, and Discovery Park. The Needle, a 605-ft tall building in Seattle, offers 3600 views of the entire city.
2. Spokane
People call this place the "lilac city" for the amount of pur plant available in the city. Spokane Tasha has had an early Lilac Festival with parades. In Spokane, you have access to many arts and culture venues. The Fox and Bing Crosby theatres are found here, as well as the Northwest Museum of Arts and Culture. In downtown Spokane, the Romanesque-revival style structures improve the artistic feel of the city. Spokane has industries like health sciences, aerospace manufacturing, and clean technology. Many lakes and rivers closer to the city make it perfect for kayaking or fishing. And you are still in proximity to the mountains to enjoy biking.
3. Bellevue
You might consider this city an outskirt or an 'edge city' due to its closeness to Seattle. You can get there in just a 15-min drive, separated just by a lake and bridges. But Bellevue offers a feel of its own. There are many beach trails, parks, and playgrounds there for nature lovers. You also can pass time at the Bellevue Botanical Garden and Arts Museum. Bellevue is a French word that means "beautiful view". You can easily locate the Olympic and Cascade Mountain in some of its skyscrapers in the distance.
How much to spend for moving from Florida to Washington?
Moving cross country can so much stress and cost you money at the same time, so it is advisable to pick a professional local moving company that you can rely on to take care of the job for you. iMoving is equipped with well-experienced Florida movers in the moving industry with decades of moving and works hard to provide a smooth moving experience at an affordable price.
A long-distance move can be expensive; the median cost to relocate from Florida to Washington is $4,054.44. Certainly, there are lots of factors that will dictate the actual cost of your moves, such as the exact distance you are moving to, the number of items you are moving, and extra services including packing and unpacking. Use the Compare Quote on our page to get an accurate quote for your move.
Tips to make the Moving Much Smoother
Hiring professional and experienced local movers is the best way to complete a stressful move. Below are the available options:
Packing the shipmen – the shipment moving is often linked with transporting of a lot of belongings. You can sa ave huge amount of time if you book the packing assistance;
Packing and loading of the moving boxes;
Transferring the goods – You need to cross almost the entire country to arrive at Washington from Florida. It will also save you time because doing it by yourself could get much complicated. One of the most important parts is to pick up the right location to move.
How to move to Washington from Florida
Cross-country moves can bring so many challenges and need the right planning and organization. Even though you are likely joyous about this great journey, you might also feel kind of overwhelmed when you think of the long-distance move ahead. That is why you importantly need to work with an honest company like iMoving to help with your overall moving needs.
Our experienced team knows and understands exactly what is needed to carry out a smooth cross-country move. We offer diverse moving services like packing, loading, transport, and unpacking to give you help at every step of the process.