Cost of Moving From Atlanta to Los Angeles
Budget for your Atlanta to Los Angeles move with this moving costs guide filled with valuable tips and information.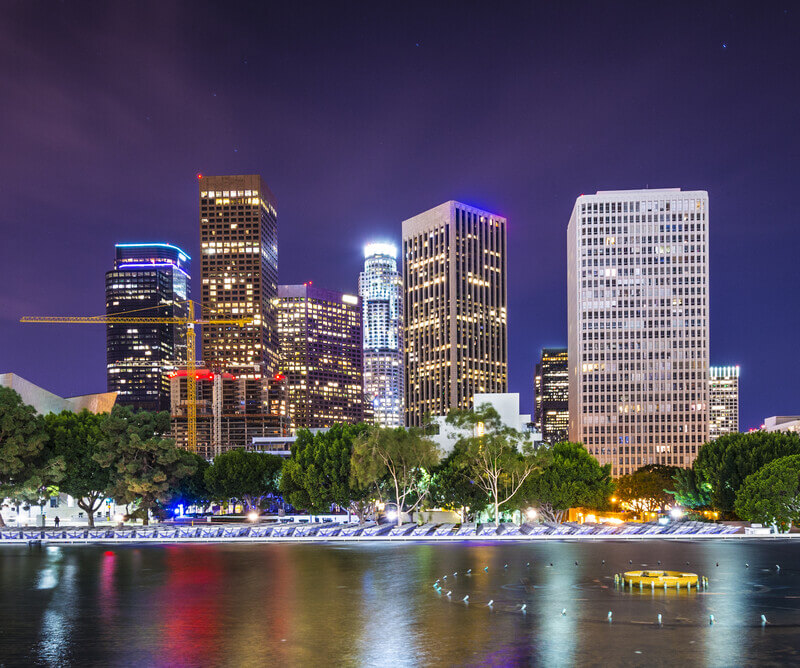 Moving cross-country from Atlanta to Los Angeles costs at least a few thousand dollars for most people. The size of your home, type of movers, and date of the move will impact the final moving costs. Although relocating to L.A. seems expensive, budgeting and learning a few moving-saving tricks reduce some of the financial impacts for an easier transition.
Relocating all the way from Atlanta to Los Angeles is a major move but with tips from our essential moving budgeting guide along with moving cost calculator estimates, you can transition smoothly.
Average Cost of an Atlanta to Los Angeles Move
Moving costs from Atlanta to Los Angeles range between $3,100 and $9,570+ based on about a 2,180 mile trip. Keep in mind the area of Atlanta you relocate from as well as the area of Los Angeles you relocate to can affect moving rates.
We recommend getting multiple quotes from several moving companies to find services, qualities, and pricing that match up with your needs. It is important that your belongings are in good hands during such an important long-distance move. Quotes provide information about moving companies that help ease your mind about your choices.
With a moving quote, you learn more about the company and their services, but pricing as well, making it easy to find the best rates for your budget from a company you can trust.
Secure an affordable move with a trustworthy moving company by moving in the winter. It's cold outside and many people hate the idea of going outside, much less packing up the house to move. Moving companies offer substantial savings to people who are willing to brave the cold.
Book your move during November or December for budget-friendly pricing. The money saved by moving during either of these months is well-worth braving the cold temperatures.
Type of Movers Affects Rates
In the moving industry, there are two basic types of movers: local movers and long-distance movers (also called interstate movers, state-to-state movers or cross-country movers). Local movers typically transport belongings 100 miles or less. Your trip from Atlanta to Los Angeles requires long-distance movers or cross-country movers instead.
Long-distance movers base the bulk of the charges by the mile and pound. The average move weighs 7,550 pounds. Moving companies charge a minimum rate of $0.60 per pound or per mile to move cross-country.
Traditional moving services include loading the truck, transporting the belongings to the new location, and unloading at the new location. Additional moving services ease some of the time and stress of relocating.
Additional moving services tack fees onto the total cost of the move. Some services increase the hourly rate by as much as $90 per hour while others require a one-time flat-rate fee.
Full-service movers usually have all of these additional services available:
Packing and unpacking
Furniture assembly
Cleaning
Junk removal
Specialty Moving Service Affects Costs
Specialty items -bulky items that require special equipment hand handling to move – will tack costs onto the moving rates. Specialty items include pianos, pool tables, and fine art work. Talk to the moving professionals of interest to determine how much extra you'll pay to move specialty items.
Moving companies determine items to include on their "specialty move" list. Items most often included on this list that affect moving rates include:
Hot tubs
Treadmills/exercise equipment
Safes
Riding lawn mowers
Appliances
Access Fees
Access fees are extra charges that a moving company may require due to the circumstances of your move. Talk to the moving company of choice to learn the exact access fees they charge -and prepare to add them to the total cost of your move.
Examples of access fees that can impact the total cost of your move include:
Parking permits - $30 - $200
Stair fees - $1 per step, most often applied to 3rd story or higher units
Shuttle services - $100 - $200
Long carry fees- $100 - $400
Appliance disconnect and reconnect services - $75 - $200
How to Reduce Moving Costs
The following tips reduce moving costs from Atlanta to Los Angeles, giving you more money to spend on delicious food, entertainment, and your new life in the city.
Plan ahead - Create a moving checklist at least two months prior to your move date. This advance planning provides time to compare, research, and find the best deals.
Moving quotes - Free moving quotes provide rates from companies of your choosing. Compare rates with three moving professionals minimum to reduce moving expenses.
Clear out belongings -Clear out items no longer used in your home, including clothing, appliances, and children's toys. The fewer items on the moving truck, the lower the costs.
Move during the off-season -An off-season move substantially reduces costs of relocation versus summertime rates. If you're flexible in moving dates, move during the winter.
Frequently Asked Questions
How long does it take to move from Atlanta to Los Angeles?
Generally, moves from Atlanta to Los Angeles take one to two weeks. Yes, traffic congestion, road construction, and other factors affect the amount of time traveling from Atlanta to Los Angeles, but the movers may also make other stops along the way. Cross-country movers usually move multiple clients at the same time – loading up the truck as full as possible. Hence, travel time is not the only thing that determines how long a move will take. Your movers should be able to provide a fairly specific arrival time.
What are the most popular areas of L.A.?
Los Angeles boasts unique neighborhoods fitting varied lifestyles. Some neighborhoods attract more eyes than others, beloved for their beauty, proximity to special locations, or the amenities offered. Hollywood and Glendale are two popular neighborhoods, although distinguishably unique in their offerings and type of residents.
Should I purchase moving insurance?
Every state requires moving companies to carry insurance on goods they transport. The protection is minimal at a rate of $0.60/lb. For example, a damaged TV weighing 25 pounds would net $15 in insurance proceeds. Moving companies offer additional insurance protection for an additional charge. This insurance is beneficial during a cross-country move.
How much does it cost to move a car from Atlanta to Los Angeles?
Moving companies charge per-mile rates for car transportation services. The minimum per-mile rate you can expect to pay is $0.60, equaling a total cost of more than $1,300 to transport a car from Atlanta to Los Angeles. The total cost of car transport service increases based on the moving company's per-mile charges. Typically your car arrives at the new location in 5 to 7 days.
When is rush hour in Los Angeles?
The Los Angeles morning rush starts in earnest at about 7 a.m. and is winding down by 10 a.m. 4 p.m. to 7 p.m. is the usual evening rush hour, though frequently congestion can last much later. Traffic is heavy in downtown Los Angeles most evenings, particularly weekends.
Understand Atlanta to Los Angeles Moving Costs
With information about moving costs from Atlanta to Los Angeles, budgeting for the trip is easy. Plan ahead, research, and decide services most important to your needs to keep moving costs reasonable.