Total of 1 carriers in
Wapato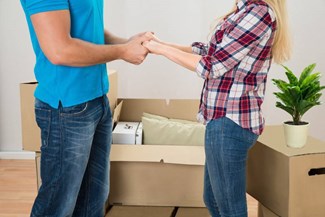 Wapato Movers
Is a move to or from Wapato, WA in your future? If so, you don't need to have any worries about your move. We take great pride in telling you that you will be able to move with ease and confidence by choosing from plenty of professional, highly rated local moving companies in the network of movers that we have compiled over the years.
Every mover in the iMoving company network is highly certified and licensed to carry out your move, letting you relocate all your possessions with confidence. You don't want to be stressed out on moving day, so let our Wapato movers take the stress off your shoulders.
All of the movers in our iMoving network are highly reviewed and come recommended by previous customers. We verify and background check all of the local and long-distance moving companies in Wapato that we work with to make sure they are up to our high professional standards because we want everyone who uses our companies' moving services to be satisfied and happy when their move is complete.
All of our movers will treat you with kindness and dignity and will treat all of your stuff with the utmost respect. They also offer a variety of other services such as packing your house up for you, so that you don't have to worry about it. That's just another way iMoving cares about your moving success.
Moving Services in Wapato, WA
When the time comes for you to move, you don't want to have to worry about packing your whole house up, or have to worry about finding storage options spur of the moment. You don't need to worry about any of these things, because we've got you covered from packing to delivery.
Full House Packing: Staring down the barrel of a fully stocked house? Dreading getting it all in boxes so you can load it up and move it? Have no fear, iMoving is here! Many of the Wapato movers we partner with are fully capable of packing your whole home up for you, so you don't have to worry about it!
Storage: Let's face it, sometimes, during a move, we have to store certain things away. We may not want it on the truck, or we may just need to store it away for other reasons. No matter why you need to store your stuff away, iMoving companies have your back with climate-controlled storage options you can utilize during your move.
Local and Long Distance Moving: It takes certification and proper licensing to legally haul things across state lines. Not a worry for our iMoving mover partners, though, because each of our long-distance moving companies is fully licensed and qualified to help you move to a nearby state or clear across the country. No matter where you're going, iMoving can help you get there!
Commercial Moving: Planning a relocation for your business? iMoving has you covered, too. Simply get in touch with an iMoving partner that provides commercial moving services and they will move your business and all of your assets safely and securely to your new location.
Special Handling: We all have some items that need a little extra care when being moved. No matter the item, you can count on an iMoving mover partner to help you with your special items, giving them the care they deserve and moving them safely to your new home.
Check Out These Tips to Move With Ease
You can move like a pro with some of these tips. They will help simplify your move and take away some of the stress that accompanies a big move. Moving doesn't have to be stressful, and iMoving wants to do everything we can to help you move with confidence!
Sort out some of the details ahead of time: You'll want to know some details ahead of time, such as where your movers need to park the truck, what should be loaded first and last, and other details like this. Have some of this in mind ahead of time to save time for both you and the movers when the big day arrives.
Keep the essentials with you: Keep your essential stuff like your phone, wallet, purse, medicine, and important documents with you during the move. This way you don't lose anything important, and it will be by your side through the whole process.
Label everything: The importance of labeling things can't be stressed enough, but make sure you label all of your boxes by room or by type of item. This will cut down on time and stress when the time comes to unpack all of your things when you reach your new home.
Explore Wapato
If you're new to Wapato, you won't be disappointed as the area has a little something for everybody. Whether you're looking to have some fun in the great outdoors, play some games, go for a dive, or find a bite to eat, Wapato won't disappoint you, with plenty of things on offer for everyone in the family to enjoy.
Folks who want to play some games with their friends or families will want to check out Lamas Pool Hall and Arcade, a fun location where anyone can play some billiards or play any game from a huge selection of arcade classics.
Want to take the kids for a day at the pool? Check out the Wapato Swimming Pool on 3rd Street, a beautiful community pool that anyone can visit. This is a great choice to take the whole family to on those hot Washington summer days.
Are there any wine lovers in your group? If so, you will want to check out Wineries Express on South 2nd Street. Here, you can try all sorts of different wines in the Wine Tasting Room, and check out and purchase a variety of wines that were grown right here in Wapato.
There is no limit on the amount of fun you can have in Wapato, as you can surely tell just by checking out a few of the destinations listed here. There is plenty more on offer for you in Wapato, as well, so if you're excited to get here and see everything your new home has to offer you, we recommend getting in touch with an iMoving mover partner today to get your move to Wapato started!