Total of 1 carriers in
Asheville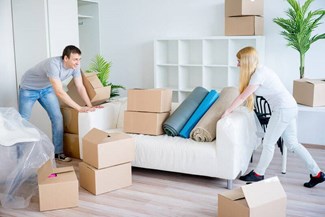 Asheville Movers
Asheville, North Carolina is a great city where you can achieve more when you relocate with your family. Curled up in the Blue Ridge Mountains, it has a serene environment for a quality stay. There are also schools, restaurants, and other social amenities in Asheville. You can move to this city and enjoy your stay. Moving is a life stressor you are likely to encounter because of the items you are supposed to take. Well, this should not be a reason to worry when you can hire a moving company.
iMoving is a moving coordinator that can help you get the best Asheville moving services. Hiring a moving company has now been simplified, thanks to our platform. We have a simple site where you can hire a mover. There are several moving services in Asheville, North Carolina, listed on our website. You can compare them and identify the one you find best.
Our site also has a review section where you can look at comments from different people who have managed to hire moving companies from our website. This can help you choose the right company.
Getting a moving quote is also a simple task when you use iMoving. The moving cost calculator on our site will help you know the amount you are likely to spend on your move. This is vital for budgeting purposes. We also have the best and experienced moving companies in Asheville.
They have undergone thorough scrutiny to ensure they meet all the qualifications to be listed on our platform. You are guaranteed quality service when you choose iMoving for your moving needs.
Expert Advice on Choosing the Right Truck
A moving truck is vital during relocation because of its role in carrying and transporting your items to the preferred destination. We have partnered with the best moving companies in Asheville that have a wide range of trucks in their collection. Here are a few things our experts recommend you consider when looking for a truck for your move.
Size
There are different truck sizes in our collection. The kind of truck you choose from our movers will depend on the number of items you plan to move. Our experts advise you to choose a truck with more room for your belongings.
When planning your move, consider the things you intend to carry and those you wish to dispose of. This will help you identify the right truck. Here at iMoving, we offer disposal services, so you don't have to worry about how you can get rid of certain items. Pick the right truck size for a smooth move.
Rates
One moving headache you are likely to face is the amount you will spend on different services. We rent our moving trucks at different prices. These rates may vary between various moving services in Asheville you plan to hire. The best thing you can do is compare the prices and settle for a mover in Asheville charging reasonably for their truck rental. The good thing is that you can compare the rates easily on iMoving. All you have to do is click the profiles of various Asheville moving services on our site and compare prices. The moving cost calculator on our platform can also help you identify the amount you will spend on your truck rental.
Consider Insurance
Renting an insured moving truck is essential, especially if you are making a long-distance move. This is vital in ensuring you are covered in the event of an accident.  The good thing is that all moving companies in Asheville that want to be listed on iMoving must have a certificate of insurance. They should also have all their trucks insured. Using iMoving to find a mover in Asheville is the best choice you can ever make.
Consider the Number of Passengers to Move With
You may wish to move with several people from your household on the same truck. What you need to understand is that not all trucks have enough room for passengers. Once your items are loaded, there will be minimal space, which is usually reserved for those offering moving labor. It is best you look for an alternative option to transport your family members to your new location. You can trust the mover in Asheville you hire from iMoving to get your items to your new destination as you follow them closely with your car. We also have bigger trucks that can accommodate more passengers.
State of the Truck
Moving with a truck that is in perfect condition is essential. The chances of experiencing a breakdown during your move and getting you to your destination late are minimal. At iMoving, different Asheville moving services you hire will let you inspect their trucks or confirm if they are in a perfect state for your local or long-distance move. We also work with highly experienced movers who will do their best to ensure their trucks are ideal for your move.
Ask About Moving Supplies
It is best to ensure that the Asheville mover or truck rental you choose has enough moving supplies. This includes moving boxes to help you transport your items. The highly experienced moving services in Asheville available on our platform have all the supplies you need during your relocation. Make sure you key in all your moving details, including the items you plan to move with to get the right supplies from our movers.
You are also advised to look for any additional fees. We value transparency a lot, that is why we are always open about our prices. All the charges for your move are indicated on your receipt. iMoving also has multiple payment methods, so you don't have to struggle to clear your moving fees. With a wide range of trucks in our collection, you can never go wrong when you hire a mover in Asheville from our platform to help you complete your move.
The Role of Moving Boxes During Your Move
These are ordinary boxes where you pack your items as you get ready for your move. One primary benefit of using a moving box during your move is that they help ensure that all your belongings are well organized. You will have a smooth time loading and unloading your items and also ensure they are in a perfect place. Moving services in Asheville from our platform will come with the right boxes to ensure your items are well organized for your move.
Moving boxes are also vital for the transportation of fragile items. Appliances, certain utensils, office equipment, and other glass materials can break easily if not transported in the right way. Asheville moving companies you hire from our platform will utilize their expertise to ensure your fragile items are packed correctly. They have the right materials that minimize the chances of your fragile goods breaking when they come into contact with each other.
Moving boxes are also vital for the handling process. Different people offering moving labor will have a smooth time carrying your items. You have to ensure they are correctly labeled to grant the handlers a smooth time loading and unloading your items. Look for the right types and sizes of a moving box for a smooth move. Our movers will sort you out with the right boxes. Key in the correct details and the kind of supplies you need when planning your move using our website.
What to Do When You Experience Challenges With Our Moving Services
Challenges are a common thing when moving. You may have difficulties hiring a mover in Asheville through our platform. We have 'How to' video guides on our platform to help you understand the whole booking process. Contacting our customer support is the other option you have. Our lines are active 24/7, and you will always get an assistant ready to attend to your needs.
The other challenge you are likely to experience is poor service from the moving company you have hired. Movers on our platforms must adhere to all the set guidelines. Feel free to call us when you experience such a challenge.
Any moving company that does not comply with our guidelines is delisted from our platform with immediate effect. You may also lack enough supplies of various items that may prove essential during your move. This should also not worry about you.
All our movers have everything needed to help you relocate to your new spot. They will come with the right items to help you get to your new place. If you forget to key in certain information when planning your move on our site, you can reach out to us through our customer service lines.
All the missing details will be included to ensure everything is in check for your move. iMoving is the best moving facilitator to connect you to the best Asheville moving services. You are guaranteed a smooth move when you choose us.