Total of
1
movers in
Cedar Fork
Distinctive Moving and Storage
Cedar Fork

Cedar Fork, NC

4.6
1

Years in Business

1

Trucks

6

Workers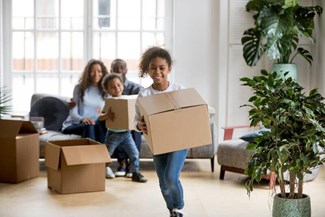 Cedar Fork Movers
Moving across the country or even across state lines to a neighboring state is a significant challenge, as you are packing up your life and going somewhere you have never lived before. Not only do you have to deal with finding a new apartment or home, changing jobs, and making new friends, but you must also navigate the logistical struggle of getting all your belongings to the new location.
Finding movers, especially on short notice, is not an easy task. While there are plenty of movers in every major city and small town in the United States, not all of them are reputable. Differentiating the quality movers from less reputable companies is difficult and time consuming. iMoving makes the entire process easier.
The iMoving network includes local movers, cross country movers and truck rental companies, ensuring you have nearly unlimited choice on who to hire from your upcoming move. The platform also makes it effortless for you to identify who can best help with your relocation, as you can select your inventory, move size and add specific requests such as special handling or full packing.
If you are stressed about an upcoming relocation and you have no idea how to find the best movers in your area, trust iMoving. Our platform only includes vetted providers who continue to demonstrate high-quality services, affordable prices, and excellent customer service. The process of moving is a lot easier when entering a few details on the iMoving website is all that separates you from hiring a reputable, affordable mover.
Moving Services in Cedar Fork, NC
Finding the best mover is not only about connecting with an established firm, but knowing whether they offer the services you require. Each move is different, depending on the size of your home and apartment, the nature of your possessions, and the distance you are moving. Below are some of the moving services offered by movers within the iMoving network.
Full Packing: When you request a full packing service, you do not have to lift a finger during your move. The movers arrive on the agreed day, pack up your belongings into boxes, and then transport those boxes onto the moving van. The moving cost does go up with such a service, but it is so much more convenient.
Storage: Relocating to another state can sometimes mean downsizing your living arrangements. If the home you found in Cedar Fork is smaller than your current residence, you may need to place some items in storage. iMoving is happy to connect you with self storage providers.
Local Movers: Local moving companies specialize in handling moves within the local area, which is typically defined as being within 50 or 100 miles. Local movers usually charge by the hour rather than weight which is what long distance carriers or cross country moving companies use to calculate moving cost.
Special Item Handling: Individuals and families that own special or heavy items such as pianos, pool tables, or very heavy furniture must provide that information to movers ahead of time. For large instruments, valuable artwork, antiques, etc. movers in our network offer special handling to ensure they're properly cared for.
Moving Tips
There is understandable trepidation when you are moving across the country, or to a nearby state. Relocating from your present home, job, and circle of friends for the unknown of the Raleigh area of North Carolina may feel scary. The below tips can help you ensure the move goes smoothly and with minimal stress.
Obtain Proper Insurance
The basic insurance packages offered by most moving companies do not provide much coverage for your belongings. If you want adequate compensation for an item being lost or damaged in transit, purchase the premium insurance policy the mover offers.
Create an Inventory
Ensure you have a moving checklist of every item that is being transported during your move. It will be easier to account for specific belongings when everything is unpacked at your destination. It also helps to have your own moving checklist, which you can cross-reference with the inventory the movers create while packing.
Purge When Possible
The number one reason people overpay for moving services is that they have so many items to pack and transport. Then half those items end up being thrown into the closet for long-term storage at the new home or apartment. Avoid that outcome by purging your home or apartment of any items you have not used within the past year or two.
Place Mattresses in Boxes
Many families make the mistake of only putting a plastic cover on their mattress when it is being moved. Leaving it so exposed not only results in the mattress getting dirtier, but could also result in it losing its shape. Ensure you are placing your mattress in a large box so it is in good shape when it arrives at your new residence.
Things To Know When Moving to Cedar Fork
Cedar Fork is one of the most desirable communities in the Raleigh, North Carolina area within which to live. It is a beautiful residential area that is secluded enough to feel quiet and comfortable, but within driving distance of downtown Raleigh, Cary and other hotspots.
The area where you are moving is often called the Research Triangle, and includes the cities of Raleigh, Chapel Hill, Durham and Cary. It is a unique combination of traditional southern communities and more modern, diverse city life, which makes it a very fun place to live.
If your family loves culture, you will be happy to know there are plenty of museums in the area. The North Carolina Museum of Natural Sciences is a must visit, as is the North Carolina Museum of Art.
Outdoor enthusiasts will not be short of things to do, as there are excellent trails, hiking spots and state parks in the region.
Job opportunities are plentiful in the Research Triangle, as many tech firms and major companies hire from the highly rated universities of the area - such as NC State, UNC Chapel Hill and Duke University.
While you may be nervous about your upcoming move, you can rest easy knowing Cedar Fork, North Carolina is a thriving and peaceful community where you can enjoy the next few years of your life.