Total of
2
movers in
Raleigh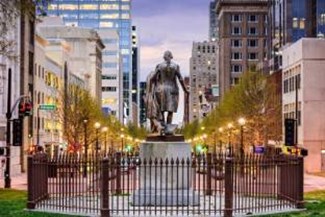 Movers in Raleigh, NC
If you have moved house before, you know what a stress it is. If you're thinking 'it doesn't have to be like this', at iMoving, a new way of finding Raleigh movers, we have to agree.
When you're looking for local moving companies in Raleigh, NC you start with an internet search which gives you a list of possible companies, but really you weren't any further forward. Who honestly has the time to call each one and tell the story of your move five or six times?
iMoving has changed the moving game. Now, there's someone on your side.
It really is true. The task of finding Raleigh NC moving companies has just become a lot simpler. Here's how it works. We are a referral company. That means we don't do the move, we will not show up at your door, but we do partner with a lot of great Raleigh, NC movers who will.
You put in a few details on our website such as where you're going and approximately how big a move you have. (Don't worry we ask you simple questions– and from your information, we work out the rest.)
Next, we will match you with a list of fully-vetted and highly qualified right long-distance Raleigh NC moving companies or local ones if you're only going down the block. Best of all, we can provide you with a fixed quote, the price you will actually pay. Or we will give you a quick quote a ball-park figure which you can measure against.
With iMoving, it's a brand new moving day.
Moving Services in Raleigh, NC
Movers have way more than strong hands. They also provide services like:
Full packing: If you have never seen a professional team pack and wrap a house, just stand back and admire their work.
Packing materials: Movers will supply materials on consignment; you pay for what you use and they take back the rest. No more running to the store for extra tape.
Special Handling: Are you moving your grandma's settee or a collection of paintings? Find the mover to handle them properly with us.
Local Moving: Local movers often do more than one job a day. Working through iMoving can often get you a prime time slot with the best Raleigh movers.
Long Distance Moving: We know how to manage your move properly with long-distance movers carrying 2 or 3 families at once.
Storage: Most of the movers we work with can offer clean, dry, and secure storage anywhere in the US
Commercial Moving: With a qualified and experienced moving company from our affiliate movers, all the staff will need to do is pack their boxes.
Moving Tips
How do you make moving day easier? Here are some ideas that might help.
Schedule donation pick-ups early on: If you're giving things away to charity start early. The charity stores will often come and get your donations, but ask them to come long before moving day. You clear clutter, you get a tax donation, and space to stack the boxes too.
Move mid-week and mid-month: If you can, schedule your moves in the middle of the week and the month. Most people want to move on the weekend and in line with mortgage and rent payments. If you can move on off times the move will cost less.
Make the beds first: You're going to be tired after the move is completed. Once the movers leave you will want a bite to eat and then you might just need to fall into bed. Having to put beds together at midnight is absolutely no fun.
Things to Know When Moving to Raleigh NC
Money magazine recently voted Raleigh, NC the #1 place to live in the USA. The reasons are obvious. For a start there is the great climate; not too hot in the summer, not as cold as the northeast in the winter either.
There's plenty of work to be found because it is a bit of a booming city. If one of you has a job and the other doesn't, you needn't be too worried because there's a good job market in Raleigh.
If you are a foodie or into craft beer, then this is your town. There are more than 1,200 restaurants in the locale so there's bound to be something you like even if you don't want to go the latest and greatest vegan joint.
Plus, Raleigh has the largest beer garden ever - and we are talking about the world here. Raleigh's beer garden is bigger than the one in Munich, Germany.