Total of
1
movers in
Equinunk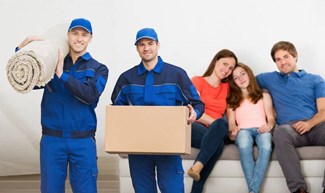 Equinunk Movers
Have you been getting ready to relocate, but you aren't sure how to get your move taken care of? A great moving company can make a huge difference in relation to whether or not you'll feel stressed out during your move. That's where iMoving can give you a hand – we're a moving facilitator company that connects you directly with our reliable and trustworthy moving partners.
When you start exploring iMoving.com, you'll find that it's really simple to go ahead and start looking for quotes. All you need to do is provide us with the appropriate information related to where you're starting and where you're headed. After you hit enter, you are provided with multiple Equinunk moving companies and quotes for them based on the info that you provided.
One of the best features of iMoving is that we keep your money safe until your move is completed. So, you will pay us the money based on your quote, and when your local or long-distance Equinunk movers unload the last box and you see that it's all there and nothing is broken or lost, we release it to the moving company. Our customer support team is ready to give you help before, during, and after your move has been completed.
Your move is already a bit of a stressful situation, so you want to be sure that finding the right moving company in Equinunk is a simple process, and that you have a company that you can rely on backing you up. At iMoving, we're here to make sure that you know that you're a priority and that you're going to be able to take care of all of the details easily.
Moving Services in Equinunk, PA
Moving Long Distances: If you're moving further away than 100 miles or so, you will be working with a long-distance moving company in Equinunk to take care of things for you. They charge by the mile and by weight.
Moving Locally: Are you moving down the street or across the county? Then local movers can take care of every aspect of your move in a few hours.
Office Moves: Electronics and furniture are at the center of many business relocations, so you want movers that know how to take care of those things for you.
Special Handling: Looking to move antiques, instruments, or large furniture? Special handling services may be necessary.
Storage: Many movers offer storage options for customers who may experience a delay in their move-in date.
Moving Supplies: Some moving companies that work with iMoving may offer moving supplies for sale.
Packing and Unpacking: Need help with getting your items packed or unpacked? For an additional fee, your movers can assist you with this service.
Moving Tips
Don't do it alone
Many people try to deal with packing by themselves – and in all honesty, that's going to take a ton of time and effort! Instead, enlist some friends and family that will be willing to give you a hand.
Pack one room at a time
Don't jump between rooms and put different things from different rooms in the same box. Instead, take your time and pack one room at a time. It'll be less hassle and it'll be easier to unpack once you get to your new place.
Donate items while packing
Don't feel like you absolutely must pack everything that you have. If there are things that you no longer use or that you want to give away, just do it! It'll lessen the cost of your move and it'll make the process of moving a whole lot easier when all is said and done.
Shop around for a moving company
Choosing an Equinunk mover is a big deal and you want to be sure that you do everything possible to find the right one. Use iMoving to search for quotes and compare moving companies in Equinunk and their prices. You'll get a wide array of options that you can choose from and you'll find that you feel better about your choice.
Use garbage bags for closets
When you've got clothes hanging in the closet, just put a bunch of them together and pull up a plastic bag up from the bottom of them, closing it around the hangers and tying it shut. That way, your clothing won't get dirty, it stays together, and it's easy to transport.
What is There to Know About Equinunk, PA?
Equinunk is a quiet little area in northeastern Pennsylvania, about an hour north of the Scranton/Wilkes-Barre metropolitan area. Found in the corner of Wayne County, this small town is a great place to get a job in agriculture, wildlife conservation, or environmental conservation. The proximity to the Delaware River makes it ideal for those who are interested in preserving waterways.
When you move to this region, you'll find many of the people to be quite friendly, and many people from different backgrounds reside in the region. Over the weekends and during the summer months, a number of people from New York City, which is only about 2.5 hours away, reside in their summer homes, allowing them to get away from the hustle and bustle.
The region is incredibly safe, and crime is very low no matter where in the Equinunk area you decide to live. You also have easy access to New York State – it's less than 15 minutes from certain parts of the Equinunk area.
There's no shortage of outdoor activities that you'll be able to enjoy when you move to this region. The river is clean and provides a number of areas where people can swim, canoe, boat, and more. Numerous festivals happen throughout the region, celebrating agriculture, nature, heritage, and more. You're always going to be able to find something to do.
Equinunk is a lovely place to raise your family, but be prepared to drive quite a bit to get to any significant city or town. The closest small towns are Honesdale (PA) and Hancock (NY); then it takes an hour or more to get to any city. The school districts in this region are very good and while many students just take up the family business, work on the family farm, or get apprenticed to get into manual labor-based jobs, the ones that go on to higher education are well-prepared.