Total of 1 carriers in
Nottingham
A & M Friendly Movers Tri State
Nottingham

Nottingham, PA

3.82
6

Years in Business

5

Trucks

55

Workers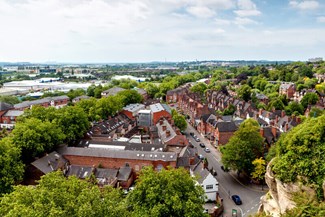 Nottingham Movers
If you are thinking about relocating in or around the Nottingham area, then you need to make sure you are using iMoving to find your movers. With iMoving you can browse through all of the top movers in Nottingham, PA and sort them by rating, reviews, prices and quality of service. There has never been an easier way to ensure your move is a fast, easy, and cost-effective one.
The moving company you use will have a profound effect on your move and the wrong choice can cause delays, damages, fees and frustration. iMoving offers only top-quality, pre-screened moving services that have been proven to follow a professional and safe moving process. Best of all, we help you lock in these movers at pre-agreed prices so you no longer need to worry about hidden fees popping up.
Work With the Best Local Movers in Nottingham, PA
There are hundreds of options that you can choose from when you go looking for generic local moving companies in Nottingham, PA. The problem is that many of these companies are not properly licensed or certified and sorting out and locating the good options can be incredibly time-consuming. The other problem is that many do not think that a local move will provide much of a challenge and so wait until the last minute to look for local movers. What ends up happening is that you are forced to rush a decision and end up with a bad moving company.
IMoving solves all of these issues. We not only provide you with a fast and easy-to-use service that helps you locate the best local movers in Nottingham, PA in only a few minutes, but we also ensure that every single company that we list has been properly licensed and insured. In fact, all the movers we list are personally vetted by iMoving for overall quality and reliability.
How to Find Long Distance Movers in Nottingham, PA
There is also a huge selection of long-distance movers in Nottingham, PA with all of the same problems as the local movers, as well as a few new ones. With long-distance moves there is even more room for error, so we spend incredible amounts of time regularly sourcing, updating, and vetting our database of the very best long-distance moving companies in Nottingham, PA.
There are also extra benefits to using iMoving for your long-distance move besides simply sourcing the top companies. We also ensure that when you work with these companies you are getting a service that is fully transparent. A common issue with long-distance moves is that movers will add on extra hidden fees for things like gas prices or toll booths (and many other things). With iMoving we ensure that you can lock in a binding price well before the move ever begins.
Calculating the Cost of Movers in Nottingham, PA
Moving is complex, and there are plenty of little ways for the whole process to get more complex and for extra costs to appear. For example, will the members need to use an elevator, go up stairs, or park a long distance from the building? All of these things can add up and make costs for one move very different from the costs for another move.
This is why we also provide you with our moving cost calculator. Our cost calculator allows you to plan ahead and figure out what a typical move like yours should cost. With this information, you will be able to look through your options knowing which deals are good, and which ones are exploitative.  Take the time to do things right with the easy-to-use tools and services at iMoving and stop paying more than you need to.
Things You to Know About Nottingham, PA Before You Go
A good idea is to put together a moving checklist so you can be sure that you are not forgetting things and you are planning ahead for all possible contingencies. Then, when you are ready to make the move to Nottingham, you'll need to make sure you have given yourself plenty of time to explore and get to know the area.
Nottingham, PA is an incredibly old city dating back well before the founding of the country. Even so this is a quiet, pleasant area that is perfect for raising a family. Many young professionals are also beginning to move to Nottingham to take advantage of the better living conditions while working online.
So ready to make a move? When you need to make a move in or around Nottingham, iMoving is here for you!