Total of 2 carriers in
Harrisburg
Bright Eye Movers
Harrisburg

Harrisburg, PA

4.78
3

Years in Business

0

Trucks

5

Workers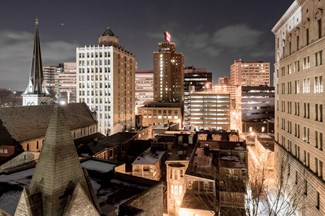 Harrisburg, PA Movers
With a beautiful location by the Susquehanna River and all the activities associated with a busy state capital, Harrisburg, PA is the ideal place to start a new life. As you make preparations for a move in the coming months, ensure you are hiring the very best movers in Harrisburg, PA to help with your relocation.
The iMoving platform takes away a lot of the guesswork from hiring movers. Rather than worrying about the reliability or availability of a specific company, you can rest easy knowing every mover that comes up in your search lists is top-rated.
There is no easier way to search for, communicate with, hire, and pay movers than our iMoving secure platform. Ensure you relocate seamlessly with our help.
Find the Best Local Movers in Harrisburg, PA 
You may be experiencing some tension as you try and find the best local moving companies in Harrisburg, PA for your move. There are so many movers in the area that you would have to go through multiple pages of Google search results to assess all the options. Such a process could take hours.
There is a much simpler way to secure an agreement with top local movers in Harrisburg, PA for your relocation. The iMoving platform is the best place to search for movers available on your dates. You can even filter the results based on the services they offer.
Trust that our iMoving team has done the relevant research on all the movers featured on our platform. We comprehensively vet the movers by assessing every pertinent detail. Our team also conducts interviews with the movers, while we monitor their circumstances every few months to ensure they are still offering top service.
Choose Reliable Cross-Country Movers in Harrisburg, PA 
Relocating across the country or to a nearby state is a daunting process. Not only are you leaving behind a place that you love, friends, and family, but you are starting new in an area you may not know too well.
There may be a lot on your mind as you prepare to move. Rather than adding to your burdens, allow iMoving to lessen the load. Use our service to search for and hire the most dependable and experienced cross-country movers in Harrisburg, PA that fit in your budget.
Our platform is entirely safe, which means that you can chat with cross-country moving companies in Harrisburg, PA to understand their rates and availability. When you are ready, request a binding quote from the movers by providing every bit of information about your relocation. You can also use the platform to pay your moving deposit and the final bill in a more secure way.
What About The Cost of Movers in Harrisburg, PA? 
If you are moving on a strict budget and your employer is not covering the costs to relocate, you may want to use the iMoving instant moving cost calculator to understand the expenses associated with moving locally or long-distance. We only need a few details, such as the starting and ending zip codes, to give you ballpark information about your moving expenses.
Such a feature is helpful during the early planning phase of relocation. Rather than wait several hours for a mover to provide you with a quote, use our calculator to get a rough estimate in a minute or two. Then you can plan out the finances related to your move and decide on what moving services you need.
If the cost to move appears too high, you can downsize your belongings so the movers can use a smaller truck. Another helpful option is to pack and unpack everything yourself, and only ask the movers to load and unload.
A Helpful Tip For Moving to Harrisburg, PA 
One of the most frustrating feelings while moving is when you realize too late that you forgot an important task. Imagine moving into your new home and realizing after a week that you forgot to forward your mail from your previous address.
Such a mistake may seem minor, but can cause a lot of disruption. That is why having a moving checklist is such a useful way to stay on top of all the tasks you must complete ahead of your relocation.
Use the printable checklist on the iMoving website to stay on top of all your moving-related tasks.