Total of 1 carriers in
Haverford Township
Suburban Solutions
Haverford Township

Haverford Township, PA

4.20
6

Years in Business

2

Trucks

25

Workers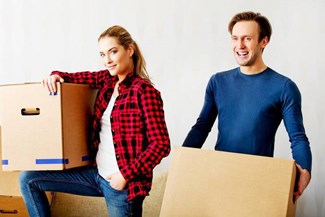 Haverford Township Movers
Have you ever attempted to find professional movers on your own? The process consumes a lot of time and energy if you want to make sure you're working with the right company. Every moving company offers different services and specializes in different areas, making it imperative that you do ample research to find the one that is right for your move.
Luckily, you can relax and let iMoving do all of the heavy research for you. Our network is compiled of thousands of movers throughout the country that are qualified, professional, and dependable. The benefits of using iMoving are vast and include:
Each moving company is verified
There is no other website that will allow you to connect with movers that have been put through a verification system as thorough as ours. Every one of our local and cross country movers has been vetted to ensure that they have the proper training and experience as well as all required licenses and insurance.
You can make secure payments
When paying for services using iMoving, you won't have to worry about paying any extra fees or having surprise costs added to your final bill. Your payments are kept secure and movers are not paid until you have verified that your move has been successfully completed.
Make and adjust your inventory
When you sign up to use iMoving, you gain the ability to create a virtual inventory checklist for your move. You can add or remove items as you go through your move, making sure movers know what to expect.
Get an accurate estimate of your moving costs
With iMoving, there is no doubt in how much your move will cost. Our moving inventory list will allow you to enter the items you are moving and get the price of each individual item you want movers to transport. Once you've gotten your moving cost estimate, budgeting for your move will be a piece of cake.
Moving Services in Haverford Township, Pennsylvania
Commercial Moves: Moving a business? It takes more than the usual moving company to ensure that all of your company's belongings are kept safe and functional while relocating to a new city or state. Whether you are moving heavy equipment or office supplies and furniture, having experienced commercial movers is the best option.
Full Packing & Unpacking: Full packing or unpacking services make getting your old and new home prepared easier than ever before. Movers will pack all of your items before loading them onto the moving truck and then unload and unpack them when arriving to your new home, so all you have to do is relax and let them handle everything.
Storage: Any furniture or household items that will need to be stored can be kept safe from the elements using storage units from moving companies in Haverford Township. Storage keeps items from being exposed to rain, wind, and other natural elements and conditions so they can be brought into the home once they are needed.
Car Transportation: If you have a vehicle, you'll likely want to arrange for vehicle transportation services unless you plan on leaving it behind. With vehicle transportation services, it's possible to make sure that your car or truck is waiting in your new city for pick-up.
Local Moves: Moving locally can mean moving to a different city or moving just up the road, keeping you in the area while providing you with a new home to relax and work in. Local movers can vary vastly depending on the moving company, but iMoving companies will always provide the best services available.
Long Distance Moves: Long-distance moves are completed by trained and qualified professionals that must have a USDOT number when performing moves. These movers can go beyond state lines, taking your belongings most anywhere in the United States.
Make Moving Even Easier
Some cross-country and local moving companies offer full services, which mean you don't have to go through the hassle of the hardest parts of your move. Packing, loading, and other services can make it so that you don't have to lift a finger.
However, there are still some things that will need to be taken care of before the arrival of local or cross-country movers. So, let's get into how you can prepare for a move even if you've already got a full-service moving team.
1. Make an inventory checklist
A moving checklist for your items can be an invaluable source of information, allowing you to know exactly what you have and what condition it is in. This is an especially good idea if you won't be packing items on your own and instead will have movers doing it. By making an inventory checklist, you can keep track of your belongings and check things off as you unpack to ensure every item is present.
2. Designate personal items
When working with movers, they will load your items onto the truck and pack them if you choose to add that service to your move. It is recommended, though, that you pack certain items on your own and keep them close to you, such as clothing and essential items. Make sure movers know what they should not pack by labelling boxes, letting movers know, and keeping items in a separate area from others.
Items you should consider keeping on your person include:
Chargers for portable devices
Toiletries
Snacks
Extra clothing
Cash
First aid products
Important documents
3. Downsize
Downsizing your belongings can make moving much easier and less frustrating. If you're working with cross country moving companies, you'll even save money by getting rid of some of your items because these professionals charge based on weight as well as the distance travelled. Local moving companies charge by the hour, but the more items you have the more time it will take to pack, load, and unload your belongings.
Life in Haverford Township
Haverford Township is a city like no other, with its own rustic charm that keeps locals entertained and relaxed throughout the year. This area of Pennsylvania was established over 300 years ago and used to be nothing but farmland. Now, Haverford Township has plenty of beauty and entertainment for its residents to enjoy.
The community has remained small and tightly knit, making it ideal for families looking to settle down and households with children. It's a small haven that gives you the small-town aesthetic that can be missing from other cities.
The History of Haverford Township
Haverford Township's history is long and varied, with many neighborhoods being utilized during wars to produce goods and supplies for soldiers. One mansion, known as the Grange Estate, was patronized by George Washington himself and has become a historic home in the township of Haverford. Another historic building is Nitre Hall, which you can visit to see exhibits detailing the city's history.
Homes in Haverford Township
There are numerous styles of homes available in Haverford Township, though you are most likely to find an abundance of single-family homes and detached properties with plenty of space. Many homes were built long ago and are adorned with fascinating and gorgeous architectural details that are absent in many modern homes. You'll also find apartments available as well, which are ideal for the young professional seeking a new start in a great place.
Commuting
Commuting to nearby Philadelphia? Haverford Township isn't far from the Center City, which is where you can find plenty of Fortune 500 companies. You can also easily journey to other nearby places thanks to the ideal location of Haverford Township. If you prefer riding bikes or jogging, there are also over 15 miles of trails that are perfect for getting out and about.
Haverford Township is really a place that offers it all, so it's no surprise that movers are in high demand in the area. Start getting your move organized and ready using iMoving, making it easy to get moved into your new home or apartment in Haverford Township.